PENGEMBANGAN BAHAN AJAR MULTIMEDIA INTERAKTIF PADA PEMBELAJARAN PKN KELAS V SEKOLAH DASAR BERORIENTASI TEKNIK KLARIFIKASI NILAI
Kukuh Andri Aka

Sutrisno Sahari
Abstract

This study aims to develop interactive multimedia on Civic Education learning oriented value clarification techniques that are valid, practical, effective, and interesting for students. Interactive multimedia is selected to maximize available technological facilities, innovate learning and enhance learning attractiveness. Value clarification techniques are used to innovate a series of learning steps on interactive multimedia and can be used to train students to discover, select, analyze, decide, take on their own values ​​of life they want to fight for. The material on this multimedia is about legislation. The models used in this development study are modification of Borg & Gall (1987) and Lee & Owen (2004) models. Through expert validation and product trials, this interactive multimedia is included in valid criteria (4,60), practical (4,53), attractive (4,31), and effective (85,2). For further product development, it should be innovated with strategies or other learning models and different materials.
 
Keywords: interactive multimedia, Civic, value clarification techniques
Downloads
Download data is not yet available.
References
Aka, K. A. 2014. Pengembangan Multimedia Interaktif Pada Pembelajaran Pendidikan
Kewarganegaraan (PKn) Berorientasi Strategi Pembelajaran Inkuiri Sosial (Studi
pada siswa kelas V SDN Sawojajar 02 Kecamatan Kedungkandang Kota
Malang). DISERTASI dan TESIS Program Pascasarjana UM.
Akker, J. V. D. 1999. Principles and Methods of Development Research. Dalam J. van
den Akker, R. M. Branch, K. Gustafson, N. Nieveen, T. Plomp (Eds.), Design
Approaches and Tools in Education and Training (hlm. 1-14). Netherland:
Kluwer Academic Publishers
Ariani, N. & Dany, H. 2010. Pembelajaran Multimedia di sekolah pedoman
Pembelajaran Inspiratif, Konstruktif, dan Prospektif. Jakarta: PT Prestasi
Pustakarya
Arief, F. 2013. Globalisasi Pendidikan, (Online),
(http://edukasi.kompasiana.com/2011/06/08/globalisasi-pendidikan-
371426.html), diakses 11 April 2013
Borg, W. R. & Gall, M.D. 1987. Educational Research. An Introduction (4th ed.).New
York: Longman IncDjahiri, A. K. 1992. Panduan Metodologi Pengajaran Pendidikan Nilai Moral.
Bandung: Lab. PMP IKIP.
Frydaki, E & Mamoura, M. 2008. Exploring teachersvalue orientations in literature and
history secondary classrooms. Teaching and teacher education. An Journal of
research and studies. 24 (6): 1487-1501.
Garcia, R. R. 2007. Interactive multimedia animation with Macromedia Flash in
Descriptive Geometry teaching. Computers & Education. 49 (3): 615–639
Hardianto, D. 2013. Telaah Kritis Pemanfaatan Teknologi Komputer Dalam
Pembelajaran,(Online),
(http://staff.uny.ac.id/sites/default/files/penelitian/Deni/Hardianto/
M.Pd./Telaah/Kritis/Pemanfaatan/Teknologi/Komputer/Dalam/Pembelajaran.pdf
), diakses 11 April 2013
Herlina, I. 2001. Pengembanagan Model Pembelajaran VCT PPKn Di Sekolah
Lanjutan Tingkat Pertama. Tesis tidak diterbitkan. Bandung: SPS UPI
Hobri. 2010. Metodologi Penelitian Pengembangan. Jember: Pena Salsabila.
Kartawisastra, dkk. 1980. Strategi Klarifikasi Nilai. Jakarta: Depdikbud.
Lasmawan, W. 2005. Pengembangan Buku Ajar PPKn Sekolah Dasar Yang
Berwawasan VCT (Values Clarification Technique). Singaraja: Universitas
Pendidikan Ganesha. (Online), (http://pasca.undiksha.ac.id/elearning/
staff/images/img_info/6/34-303.pdf), diakses 15 April 2013.
Lee, W.W. & Owens, D. L. 2004.Multimedia-Based Instructional Design. San
Francisco: Pleiffer
Mayer, R. E. Tanpa Tahun. Multimedia Learning Prinsip-Prinsip Dan Aplikatif (Baroto
Tavip Indrojarwo, Ed.). Terjemahan Teguh Wahyu Utomo. 2009. Yogyakarta:
Pustaka Belajar.
McKenney, S., Nieveen, N., & Akker, J.V.D. 2002. Computer support for curriculum
developers: CASCADE. Educational technology research and development,
50(4), 25-35.
Nieveen, N.M. (1999). Prototyping to reach product quality. In J. van den Akker, R.
Branch, K. Gustafson, N. Nieveen & T. Plomp (Eds.) Design approaches and
tools in education and training (pp. 125–136). Dordrecht, The Netherlands:
Kluwer Academic Publishers
Niswa, A. 2012. Pengembangan Bahan Ajar Mendengarkan Berbasis Multimedia
Interaktif Bermedia Flash Kelas VIID SMP Negeri 1 Kedamean. Jurnal Bahasa
dan Sastra Indonesia, 01 (01): 16-17.
Praherdhiono, H. & Adi, E. P. 2008. Panduan Praktikum Multimedia. Malang: FIP
Universitas Negeri Malang.Permendikbud No 22 tahun 2016 Tentang Standar Proses Dikdasmen
Permendiknas No. 22 Tahun 2006 Tentang Standar Isi.Setiawan, A. 2007. Dasar-dasar Multimedia Interaktif (MMI). Bandung: SPs UPI
Bandung.
Smaldino, S. E. dkk.Teknologi Pembelajaran dan Media untuk Belajar (edisi 9)
(Triwibowo B.S, Ed.). Te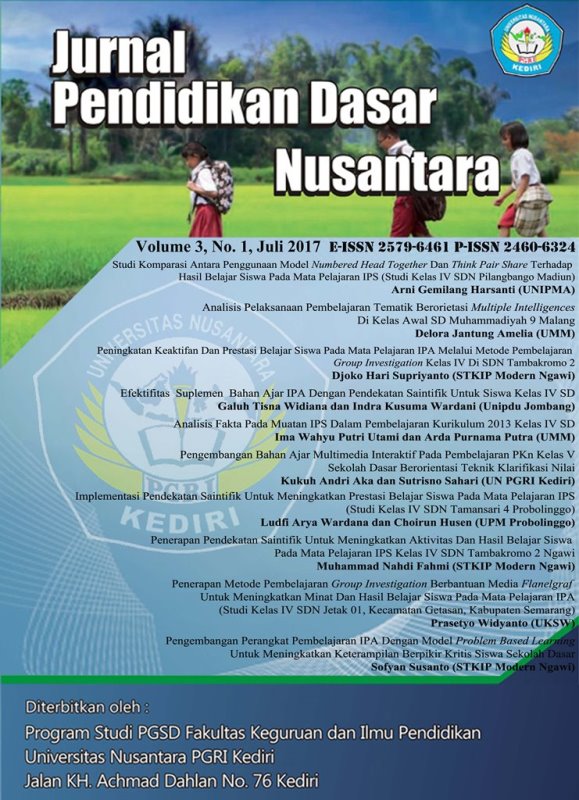 How to Cite
AKA, Kukuh Andri; SAHARI, Sutrisno. PENGEMBANGAN BAHAN AJAR MULTIMEDIA INTERAKTIF PADA PEMBELAJARAN PKN KELAS V SEKOLAH DASAR BERORIENTASI TEKNIK KLARIFIKASI NILAI.
JURNAL PENDIDIKAN DASAR NUSANTARA
, [S.l.], v. 3, n. 1, p. 70-96, july 2017. ISSN 2579-6461. Available at: <
http://ojs.unpkediri.ac.id/index.php/pgsd/article/view/805
>. Date accessed: 21 nov. 2019.