MENINGKATKAN PRESTASI BELAJAR SISWA MENGGUNAKAN MEDIA GAMBAR BIDANG STUDI ILMU PENGETAHUAN SOSIAL DI SEKOLAH DASAR
Farida Catur Wahyu Anggriyani
Abstract

Abstract : Applying the model Learning to use media gambarpada subject of the development of technology for the production , transportation komonikasi and aims to describe the activities of students , describing the results of students ' understanding of the concept of mastery learning seen and describe the students' responses to learning activities . By using a variety of learning models can create a pleasant classroom atmosphere , so that students do not feel pressured to follow the lessons at school and at home . A use of media image is also greatly assist students in learning the IPS material so as to improve learning achievement IPS .   Keywords : improve student achievement, media images.   Abstrak :Menerapkan model Pembelajaran menggunakan media gambarpada pokok bahasan perkembangan teknologi untuk produksi, komonikasi dan transportasi bertujuan untuk mendiskripsikan aktivitas siswa, mendiskripsikan hasil pemahaman konsep siswa dilihat dari ketuntasan belajarnya dan mendiskripsikan respon siswa terhadap kegiatan belajar mengajar. Dengan menggunakan model pembelajaran yang bervariasi dapat menciptakan suasana kelas yang menyenangkan, sehingga siswa tidak merasa tertekan dan betah mengikuti pelajaran disekolah. Penggunakaan media gambar juga sangat membantu siswa dalam mempelajari materi IPS sehingga dapat meningkatkan prestasi belajar IPS. Kata kunci : meningkatkan prestasi belajar siswa, media gambar.
Downloads
Download data is not yet available.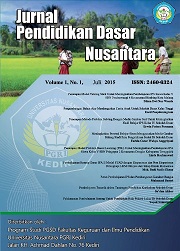 How to Cite
ANGGRIYANI, Farida Catur Wahyu. MENINGKATKAN PRESTASI BELAJAR SISWA MENGGUNAKAN MEDIA GAMBAR BIDANG STUDI ILMU PENGETAHUAN SOSIAL DI SEKOLAH DASAR.
JURNAL PENDIDIKAN DASAR NUSANTARA
, [S.l.], v. 1, n. 1, july 2015. ISSN 2579-6461. Available at: <
http://ojs.unpkediri.ac.id/index.php/pgsd/article/view/146
>. Date accessed: 18 nov. 2019.