Sinkronisasi Kurikulum Mata Kuliah Wajib Umum Pancasila, Kewarganegaraan, dan Agama di Perguruan Tinggi Dalam Melawan Radikalisme
Zulkarnain

Politeknik Negeri Balikpapan

Basri

Politeknik Negeri Balikpapan

Matang

Universitas Muhammadiyah Riau

Irawan Hadi Wiranata

Universitas Nusantara PGRI Kediri
Abstract views:
521
,
PDF downloads:
391
Keywords:
Pancasila, Citizenship, Religious, Radicalism, Curriculum, Synchronization
Abstract
This paper wants to explain the efforts that lecturers should make in universities to
fight and prevent the development of radicalism in universities by synchronizing the
curriculum in general compulsory subjects such as Pancasila, Citizenship, and
Religious education. This research uses a descriptive qualitative method with a case
study approach. This research was conducted at the internal quality assurance center
of the Politeknik Negeri Balikpapan in curriculum development for general courses
in fighting radicalism and the civic education lecturer team outside the Politeknik
Negeri Balikpapan. The results of the study would like to recommend curriculum
synchronization, among others: first, synchronizing the design of semester learning
materials about radicalism in Pancasila, Citizenship, and Religious Education,
secondly implementing a hidden curriculum in countering the development of
radicalist ideology, third conducting joint evaluations and research on the
development of radicalism in higher education. Sustainable.
Downloads
Download data is not yet available.
References
Apple, M. W. (2019). Ideology and Curriculum (4th ed.). Taylor & Francis Books. https://doi.org/10.4324/9780429400384
Azami, T. (2018). Kurikulum Kontra Radikalisme. In UIN Walisongo Semarang. UIN Walisongo Semarang.
Basri, B., & Dwiningrum, N. R. (2019). Potensi Radikalisme di Perguruan Tinggi (Studi Kasus di Politeknik Negeri Balikpapan). JSHP: Jurnal Sosial Humaniora dan Pendidikan, 3(1), 84–91. https://doi.org/10.32487/jshp.v3i1.546
Beauchamp, G. A. (1982). Curriculum Theory: Meaning, Development, and Use. Theory into Practice, 21(1), 23–27. https://doi.org/10.1080/00405848209542976
Chalim, S. (2018). Terhadap Perilaku Anti-Radikalisme Mahasiswa the Impact of University's Mission, Curriculum , and Leadership Toward Students ' View of Anti-Radicalism. Jurnal Pendidikan Dan Kebudayaan, 3(2013), 33–43. https://doi.org/10.24832/jpnk.v3i1.728
Fealy, G. (2004). Islamic Radicalism in Indonesia: The Faltering Revival ? Author (s): Greg Fealy Source: Southeast Asian Affairs, (2004), pp . 104-121 Published by: ISEAS - Yosuf Ishak Institute Stable URL: http://www.jstor.org/stable/27913255 The Faltering Reviv. 2004, 104–121.
Fitriani, E. (2017). Implementasi Hidden Curriculum dalam Pembentukan Karakter Religius Peserta Didik. Universitas Islam Negeri Maulana Malik Ibrahim.
Giroux, H. A. (1980). Critical Theory and Rationality in Citizenship Education. Curriculum Inquiry, 10(4), 329–366. https://doi.org/10.1080/03626784.1980.11075229
Halili. (2019). Wacana dan Gerakan Keagamaan di Kalangan Mahasiswa. Https://Setara-Institute.Org, 1–9. https://setara-institute.org/wacana-dan-gerakan-keagamaan-di-kalangan-mahasiswa-2/
Hasani, I., & Naipospos, B. T. (2012). Dari Radikalisme Menuju Terorisme Studi Relasi dan Transformasi Organisasi Islam Radikal Di Jawa Tengah & D.I. Yogyakarta. Setara Institute.
Magdalena, I., Fauzi, H. N., Putri, R., & Tangerang, U. M. (2020). Pentingnya Evaluasi dalam Pembelajaran Dan Akibat Memanipulasinya. Bintang: Jurnal Pendidikan Dan Sains, 2, 244–257.
Masyithoh, N. D. (2016). Dialektika Pluralisme Hukum: Upaya Penyelesaian Masalah Ancaman Keberagaman dan Keberagamaan di Indonesia. Walisongo: Jurnal Penelitian Sosial Keagamaan, 24(2), 359–378.
McLean, S., & Dixit, J. (2018). The Power of Positive Thinking: A Hidden Curriculum for Precarious Times. Adult Education Quarterly, 68(4), 280–296. https://doi.org/10.1177/0741713618777817
Murtadlo, M. (2019). Menakar Moderasi Beragama di Perguruan Tinggi. Badan Litbang Dan Diklat Kementerian Agama RI.
Null, W. (2011). Curriculum from Theory to Practice. Rowman & Littlefield Publishers.
Nurhakiky, S. M., & Mubarok, M. N. (2019). Pendidikan Agama Islam Penangkal Radikalisme. IQ (Ilmu Al-Qur'an): Jurnal Pendidikan Islam, 2(01), 101–116. https://doi.org/10.37542/iq.v2i01.27
Portelli, J. P. (1993). Exposing the Hidden Curriculum. Journal of Curriculum Studies, 25(4), 343–358. https://doi.org/10.1080/0022027930250404
Putera, E. P. (2018). Pengaruh Media Sosial sebagai Sumber Belajar IPS Terhadap Motivasi Belajar, Kemampuan Berpikir Kritis dan Berpikir Kreatif Siswa Sekolah Dasar. Jurnal PINUS, 4(1), 54–59. http://dx.doi.org/10.1016/j.cirp.2016.06.001%0Ahttp://dx.doi.org/10.1016/j.powtec.2016.12.055%0Ahttps://doi.org/10.1016/j.ijfatigue.2019.02.006%0Ahttps://doi.org/10.1016/j.matlet.2019.04.024%0Ahttps://doi.org/10.1016/j.matlet.2019.127252%0Ahttp://dx.doi.o
Rodin, D. (2016). Islam dan Radikalisme: Telaah atas Ayat-ayat "Kekerasan" dalam al-Qur'an. Addin, 10(1), 29. https://doi.org/10.21043/addin.v10i1.1128
Ruslan, I. (2017). Islam dan Radikalisme: Upaya Antisipasi dan Penanggulangannya. Kalam, 9(2), 215. https://doi.org/10.24042/klm.v9i2.329
Sirry, M. (2020). Muslim Student Radicalism and Self-Deradicalization in Indonesia. Islam and Christian-Muslim Relations, 31(2), 241–260. https://doi.org/10.1080/09596410.2020.1770665
Suarga, S. (2019). Hakikat, Tujuan dan Fungsi Evaluasi dalam Pengembangan Pembelajaran. Inspiratif Pendidikan, 8(1), 327–338. https://doi.org/10.24252/ip.v8i1.7844
Supriadi, E., Ajib, G., & Sugiarso, S. (2020). Intoleransi dan Radikalisme Agama: Konstruk LSM tentang Program Deradikalisasi. JSW (Jurnal Sosiologi Walisongo), 4(1), 53–72. https://doi.org/10.21580/jsw.2020.4.1.4544
Suyanto, B., Sirry, M., & Sugihartati, R. (2019). Pseudo-Radicalism and the De-Radicalization of Educated Youth in Indonesia. Studies in Conflict and Terrorism, 0(0), 1–20. https://doi.org/10.1080/1057610X.2019.1654726
Voogt, J. M., Pieters, J. M., & Handelzalts, A. (2016). Teacher Collaboration in Curriculum Design Teams: Effects, Mechanisms, and Conditions. Educational Research and Evaluation, 22(3–4), 121–140. https://doi.org/10.1080/13803611.2016.1247725
Wiranata, I. H., & Marzuki, M. (2018). Kerukunan Antarumat Beragama Sebagai Dasar City Branding Harmoni Kediri The Service City. Jurnal Ilmiah Pendidikan Pancasila dan Kewarganegaraan, 3(1), 64-73.
zuhairi, M. (2010). Al-Qur'an Kitab Toleransi: Tafsir Tematik Islam Rahmatulil 'alamin. Kompas Gramedia.
Zulkarnain. (2017). Warga Negara Religius sebagai Identitas Kewarganegaraan di Indonesia. Pendidikan Pancasila Dan Kewarganegaraan UNY, November, 38–44.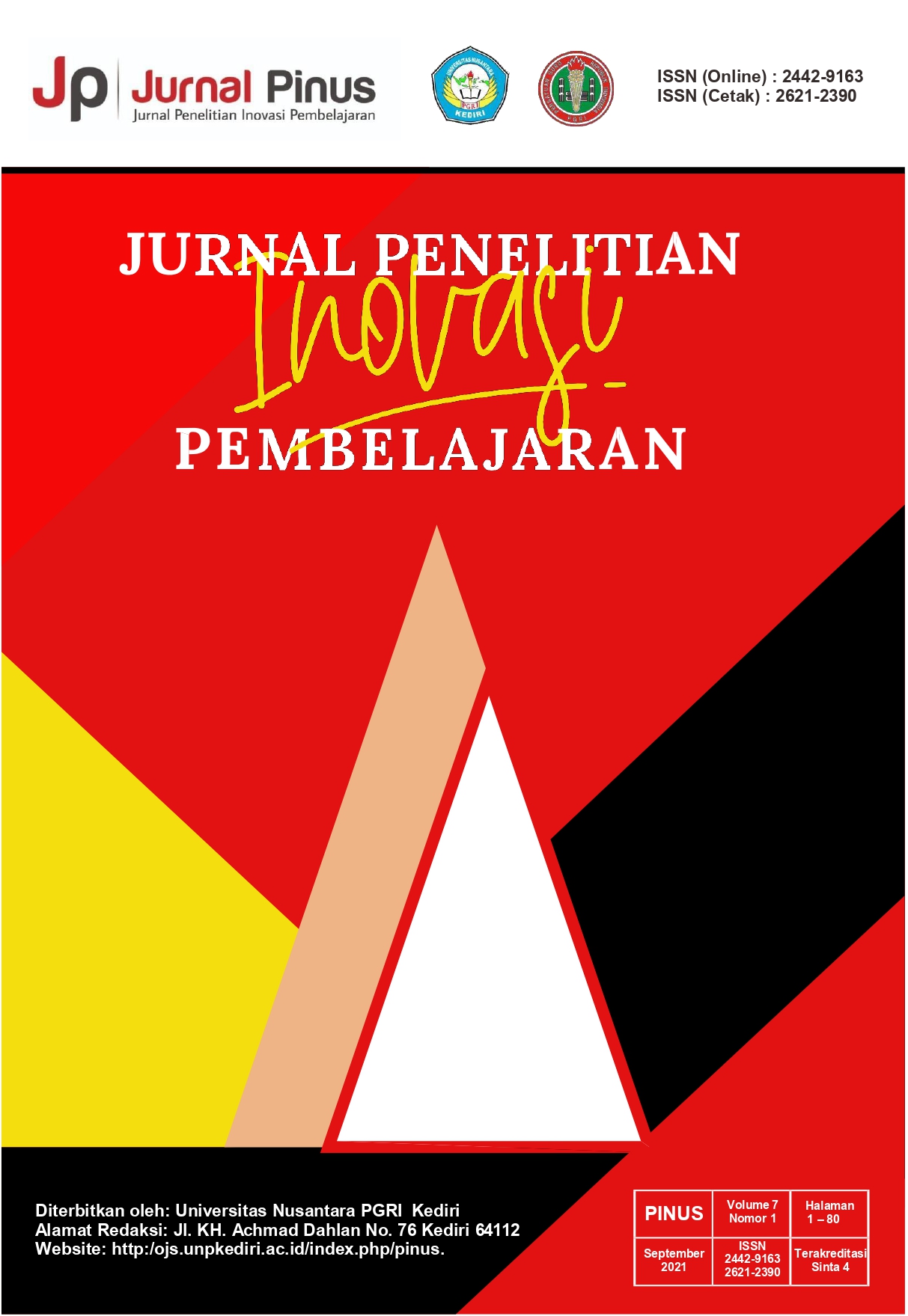 How to Cite
Zulkarnain, Z., Basri, B., Matang, M., & Wiranata, I. H. (2021). Sinkronisasi Kurikulum Mata Kuliah Wajib Umum Pancasila, Kewarganegaraan, dan Agama di Perguruan Tinggi Dalam Melawan Radikalisme. PINUS: Jurnal Penelitian Inovasi Pembelajaran, 7(1), 31 - 42. https://doi.org/10.29407/pn.v7i1.16140
Copyright (c) 2021 ZULKARNAIN, Basri, Matang, Irawan Hadi Wiranata
This work is licensed under a Creative Commons Attribution-ShareAlike 4.0 International License.
Authors who publish with this journal agree to the following terms:
Copyright on any article is retained by the author(s).
The author grants the journal, right of first publication with the work simultaneously licensed under a Creative Commons Attribution License that allows others to share the work with an acknowledgment of the work's authorship and initial publication in this journal.
Authors are able to enter into separate, additional contractual arrangements for the non-exclusive distribution of the journal's published version of the work (e.g., post it to an institutional repository or publish it in a book), with an acknowledgment of its initial publication in this journal.
Authors are permitted and encouraged to post their work online (e.g., in institutional repositories or on their website) prior to and during the submission process, as it can lead to productive exchanges, as well as earlier and greater citation of published work.
The article and any associated published material is distributed under the Creative Commons Attribution-ShareAlike 4.0 International License