KETERSEDIAAN DAN PEMANFAATAN MEDIA KOMPONEN INSTRUMEN TERPADU (KIT) IPA DI SD NEGERI KECAMATAN NANGGALO KOTA PADANG
Siska Angreni

Universitas Bung Hatta

Rona Taula Sari

Universitas Bung Hatta
Abstract views:
291
,
PDF (Bahasa Indonesia) downloads:
3482
Abstract
This study aimed to analyze the availability and utilization of media components Integrated Instrument in science teaching in elementary schools throughout the District Nanggalo. The method used is descriptive method with survey forms. Instruments used observation sheets, questionnaires and interview guides. The results of the study science components Integrated Instrument media availability at the elementary school districts Nanggalo already sufficient for use in the learning process, with the condition science components Integrated Instrument media for use in learning is not damaged. As for the utilization of science components Integrated Instrument media in Elementary School District of Nanggalo not maximized in learning. Factors why teachers do not use science components Integrated Instrument media due to lack of teachers' skills in using these media.
References
Anitah, S. 2009. Media Pembelajaran. Jakarta: LPP UNS dan UNS PRESS. Azhar Aryad. 2011. Media Pembelajaran. Jakarta. PT Raja Grafindo Persada. Hadari Nawawi. 2007. Metode Penelitian Bidang Sosial. Yogyakarta. Gajah Mada University Press. Iif Khoiru Ahmadi dan Sofan Amir. 2010. Strategi Pembelajaran Sekolah Berstandar Internasional dan Nasional. Jakarta. Pertasi Pustaka. Iyoen Tansari. 2013. Ketersediaan dan Pemanfaatan Media Komponen Instrumen Terpadu. 1 (1): 4-5 Muhammad Ali. 2005. Metode Kependidikan, Prosedur, dan Strategi. Bandung: Angkasa. Rahayu, Endang Sadbudhy dan I Made Nuryata. 2010. Pembelajaran Masa Kini. Jakarta. Sekarmita. Singarimbun, M dan Effendi S.2011. Metode Penelitian Survei. Jakarta. LP3ES. Sudjana, N. Dan Rivai, A. 2005. Media Pengajaran. Bandung: Sinar Baru Algensindo.
Sudjana. 2005. Metode Statistik. Bandung:Transito. Sugiyono. 2007. Statistika Untuk Penelitian. Cetakan Keduabela. Alfabeta, Bandung. Trisnoherawati, Nanik. (2001). Pengaruh KIT IPA Terhadap Prestasi Belajar Siswa. (online) tersedia : http://www.damandiri.or.id/file/naniktunpabs bab II Pdf. 10 Januari 2016.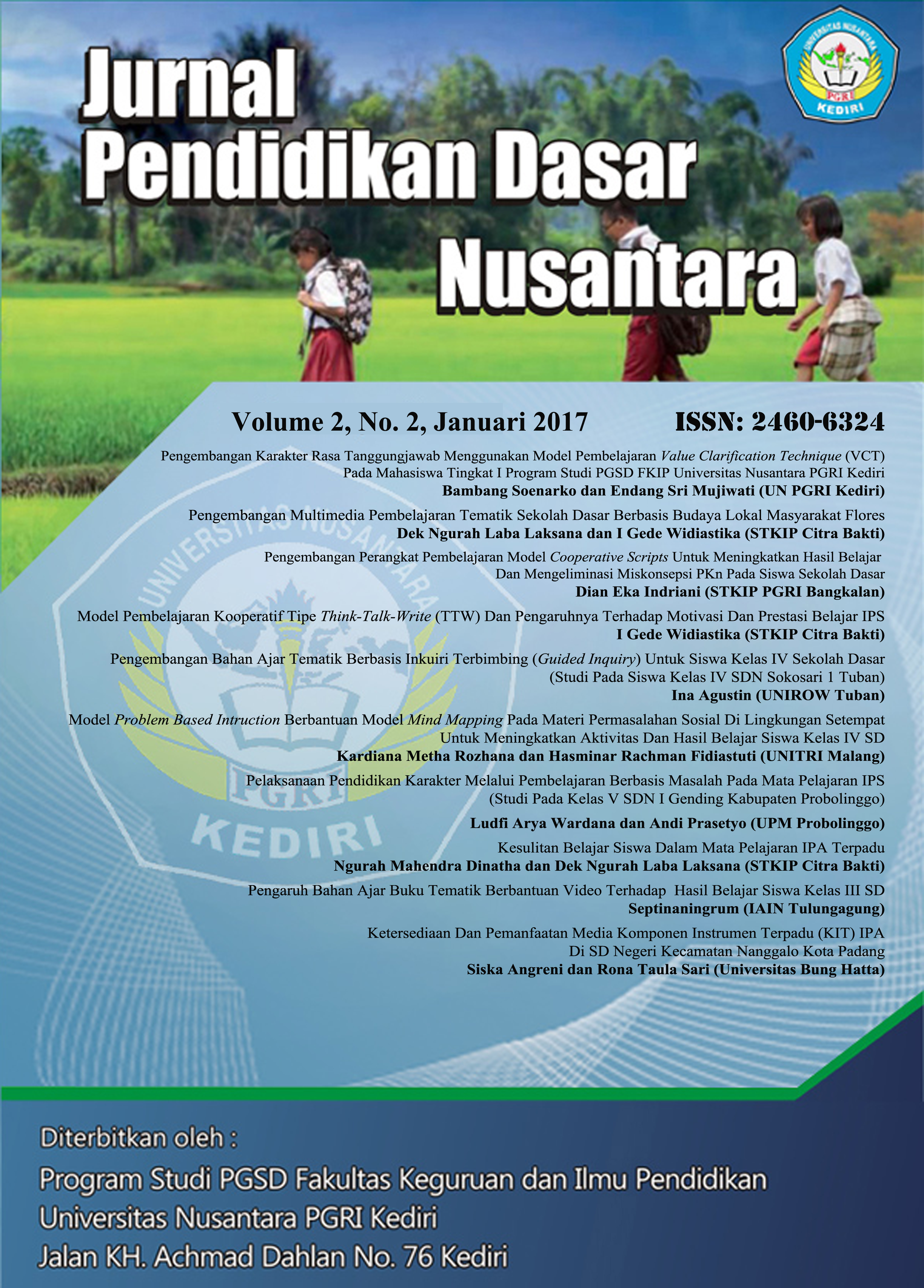 How to Cite
Angreni, S., & Sari, R. T. (2017). KETERSEDIAAN DAN PEMANFAATAN MEDIA KOMPONEN INSTRUMEN TERPADU (KIT) IPA DI SD NEGERI KECAMATAN NANGGALO KOTA PADANG. JURNAL PENDIDIKAN DASAR NUSANTARA, 2(2). Retrieved from https://ojs.unpkediri.ac.id/index.php/pgsd/article/view/557