EFEKTIFITAS MEDIA BECAK DALAM PEMBELAJARAN IPA UNTUK MENINGKATKAN KETRAMPILAN BERFIKIR KRITIS SISWA SD/MI
Galuh Tisna Widiana

Universitan Pesantren Tinggi Darul Ulum Jombang

Maufuzul Ulum

Universitan Pesantren Tinggi Darul Ulum Jombang

Triya Nurrrohmah

Universitas Pesantren Tinggi Darul Ulum Jombang

Achmad Zainul Hasan Arobi

Universitas Pesantren Tinggi Darul Ulum Jombang
Abstract views:
124
,
PDF (Bahasa Indonesia) downloads:
232
Keywords:
effectiveness, media, critical.
Abstract
"Becak" is one of three dimensional visual media that can be concrete the student's understanding towards the material of transplantation. Because of becak media, student's can see participate. Student's will be easy to understand the material because it's practical and should be visualized. The aim of this media is student's can practice "Becak" (Belajar Cangkok) media in the IPA learning. It's to develop the critical thinking skills of student's elementary school. This research uses experiental method and research variabel uses pre-test and post-test. By using this method, the researcher will know the understanding from each student. How the apply the media correctly. By the concrete media  and the participation of students's the learning process will be impressive. So that the student's understanding will grow on their own in the way they participate in the learning process.
Keywords: effectiveness, media, critical.
References
Abdullah. 1998. Pendidikan Sains Yang Humanistis. Surabaya: Kanisius.
Ennis Hugh Robert. 1996. Critical Thinking
Rini, dkk. Meningkatkan Hasil Belajar Siswa Melalui Penggunaan Metode Demonstrasi Pada Mata Pelajaran IPA Di Kelas III SDN Inpres Tunggaling. Jurnal Kreatif Tadulako Online Vol. 2 No. 1
Sudjana, D. 2001. Metode dan Teknik Pembelajaran Partisipatif. Bandung : Falah Production.
Sulistyorini, Sri. 2007. Pendidikan Ilmu Pengetahuan Alam UMS.
Suyitno, Amin. 2006. Pemilihan Model-model Pembelajaran dan di Sekolah. Semarang : Universitas Negeri Semarang.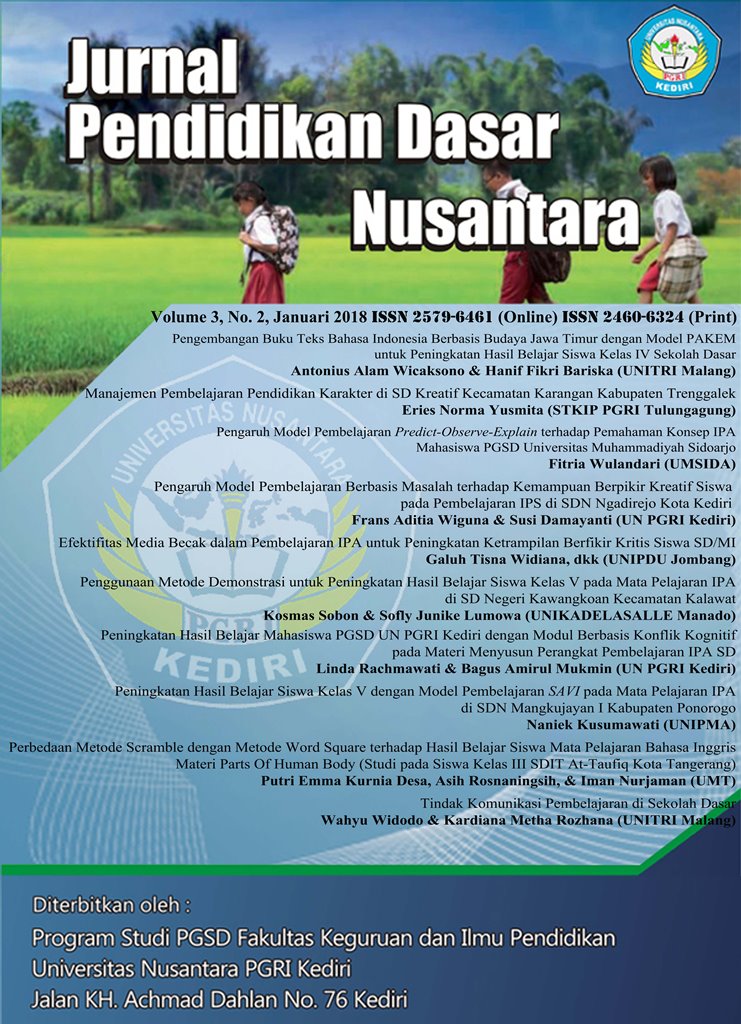 How to Cite
Widiana, G. T., Ulum, M., Nurrrohmah, T., & Arobi, A. Z. H. (2018). EFEKTIFITAS MEDIA BECAK DALAM PEMBELAJARAN IPA UNTUK MENINGKATKAN KETRAMPILAN BERFIKIR KRITIS SISWA SD/MI. JURNAL PENDIDIKAN DASAR NUSANTARA, 3(2), 189-195. https://doi.org/10.29407/jpdn.v3i2.11781
Copyright (c) 2018 JURNAL PENDIDIKAN DASAR NUSANTARA
This work is licensed under a Creative Commons Attribution 4.0 International License.