PREFERENSI KONSUMEN PRODUK KEFIR SUSU KAMBING DI MALANG
Zaenal Fanani

Universitas Brawijaya Malang

Imam Thohari

Universitas Brawijaya Malang
Abstract views:
524
,
PDF downloads:
649
Keywords:
Preferensi Konsumen, Kefir
Abstract
Suatu penelitian  menganalisis faktor-faktor  yang  berpengaruh terhadap keputusan pembelian kefir susu kambing dan menganalisis faktor-faktor yang berpengaruh terhadap preferensi konsumen kefir susu kambing.
               Materi yang digunakan dalam penelitian ini adalah konsumen  kefir susu kambing yang ada di Kabupaten Malang. Populasi dalam penelitian ini adalah seluruh konsumen kefir susu kambing di Kabupaten Malang, sedangkan populasi targetnya adalah konsumen kefir susu kambing di Jawa Timur. Pengambilan sampel dilakukan melalui 3 tahap yaitu  penentuan sampel lokasi dilakukan dengan metoe  Purposive Sampling. Pengambilan sampel  responden  dilakukan secara aksidental  Sampling sebanyak 100-200 orang. Data penelitian terdiri dari data primer dan data sekunder. Instrumen penelitian menggunakan kuisioner dengan skala Likert. Sumbangan variabel yang mempengaruhi keputusan pembelian dan preferensi konsumen  diuji menggunakan regresi linier berganda,  secara matematis adalah Y = a+β1X1+ β2X2+ β3X3+ β4X4+ ......+ βnXn+e. 
Hasil penelitian bahwa Faktor-faktor yang berpengaruh terhadap pengambilan keputusan pembelian kefir susu kambing adalah faktor jaminan keamanan, kepuasan fisiologis, kepuasan sosiologis, kepuasan harga diri, dan aktualisasi dengan  persamaan regresi  berganda Y=0,629+0,056X1+0,159X2+0,080X3-0,053X4+0,048X5.  
Faktor-faktor yang berpengaruh terhadap preferensi konsumen adalah faktor halal, ingredient, nilai gizi, kesehatan, kebiasaan, dan faktor nature produc  dengan persamaan regresi berganda  Y=1,857+0,065X1+0,082X2 +0,112X3+ 0,123X4 +0,067X5 +0,045
Downloads
Download data is not yet available.
References
Aaker D.A, Kumar, V. and Day, G.S., 1995. Marketing Research. John, Wiley and Sons, Inc. New York.

Adamczyk, G. 2005. Food Preference of Young Consumers on The Example of Milk. Roezniki Akademii Rolniezej W Posnantu.Ccclxvii.

Asseal, H., 1998. Consumer Behaviour and Marketing Action. Vol I. Kent Publishin Company. Boston.

Engel , J.F., Blackwell, R.D. and Miniard, P.W., 2006. Consumer Behaviour. 8th Ed. The Dryden Press. Philadelphia.

Krasaekoopt, W. and Kitsawad, K., 2010. Sensory Characteristics and Consumer Acceptance of Fruit Juice Containing Probioitcs Beads in Thailand. Au J.T., 14(1): 33-38.

Libudzisz, Z. and Piatkiewicz, A., 1990. Kefir Production in Poland. Dairy Ind. Int., 55:31-32.

Liljander, V and Strandvik,T., 1996. Emotions in Service Satisfaction. Int. J. Service Industry Manag., 8(2): 148 169.
Liu, J.R. and Lin, C.W., 2000. Production of Kefir From Soymilk With Or Without Added Glucose, Lactose, or Sucrose. J. Food Sci., 65(4): 716-719.

Loudon, D.L. and Bitta, A.J.D., 1988. Consumer Behaviour : Concept and Aplications, 2nd Edition. McgrawHill Book Company, Singapore.

Lucas, A., Sodini, I., Monnet, P., Jolivet, P. and Corrieu, G., 2004. Probiotic Counts and Acidifacation in Fermented Milks Supplemented with Milk Protein Hydrolysates. Int. Dairy J., 14(1):47-53.

Maholtra, N.K., 1993. Marketing Research: An Applied Orientation. Printice Hall. Upper Saddle Rive, New Jersey.

Mangkunegara, A.P., 2005. Perilaku Konsumen. Ed. Revisi. PT. Revika, Bandung.

Murofushi, M., Mizuguchi, J., Aibara, K. and Matuhasi, T., 1986. Immunopotentiative Effect of Polysaccharide From Kefir Grain, Kgfc, Administered Orally in Mice. Immunopharmacology, 12:29-35.

Mutlu, S., 2007. Consumer Attitute and Behaviour Towards Organic Food: Cross-culture study of Turky and Germany. Institute for Agricultural Policy and Markets. Stuttgart-Hohenheim. Germany.

Nasir, M., 2005. Metod Penelitian. Cet. 6. Ghalia Indonesia. Bogor.


Paucean, A., Rotar, MA, Jimborean, M., Mudura, E. and Socaciu, C. 2009. A Study on Sensory Characteristics of A Kefir Type Produced Using Starter Cultures and Brewer's Yeast. J. Agroalim. Proc. and Tech., 15(2), 267-272.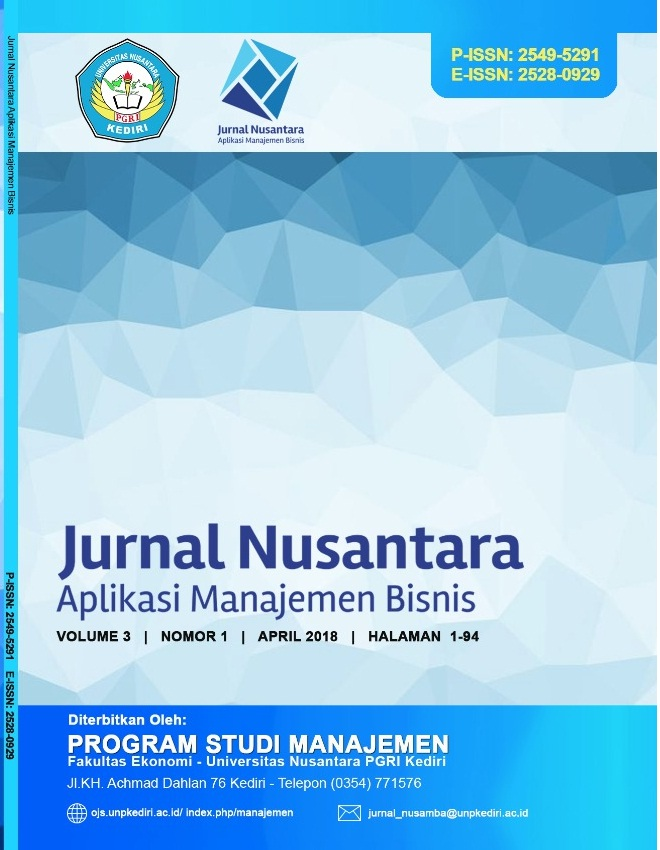 How to Cite
Fanani, Z., & Thohari, I. (2018). PREFERENSI KONSUMEN PRODUK KEFIR SUSU KAMBING DI MALANG. JURNAL NUSANTARA APLIKASI MANAJEMEN BISNIS, 3(1), 54-64. https://doi.org/10.29407/nusamba.v3i1.12029
Copyright (c) 2018 JURNAL NUSANTARA APLIKASI MANAJEMEN BISNIS
This work is licensed under a Creative Commons Attribution-ShareAlike 4.0 International License.