Peranan Customer Satisfaction dan Customer Commitment terhadap e-WOM dalam Pengguna Aplikasi Gopay di Yogyakarta
Valinda Carolina De Quelyu

Universitas Kristen Duta Wacana

Singgih Santoso

Universitas Kristen Duta Wacana
Abstract views:
521
,
pdf downloads:
489
Keywords:
kualitas layanan, kualitas produk, promosi, kewajaran harga, loyalitas konsumen
Abstract
Customer satisfaction that takes place consistently will make consumers have a commitment to a brand and can further encourage promotion through word of mouth activitie. The purpose of this study was to determine the effect of customer satisfaction on customer commitment, and the impact on consumer commitment to do e-wom activities. This research uses Gopay service as the research object and gender as the moderating variable. With the survey method on 377 respondents and the structural model testing hypotheses process, the results show that consumer satisfaction has a positive effect on consumer commitment, and consumer commitment has a positive effect on e-WOM activities; while gender is proven to moderate the relationship between these variables.
Downloads
Download data is not yet available.
References
Adi, F., Sumarwan, U., & Fahmi, I. (2018). Pengaruh Faktor Sikap, Norma Subjektif, Demografi, Sosioekonomi serta Literasi Keuangan Syariah dan Konvensional terhadap Minat Berwirausaha pada Mahasiswa. Al-Muzara'ah, 5(1), 1–20. https://doi.org/10.29244/jam.5.1.1-20
Alkilani, K., Ling, K. C., & Abzakh, A. A. (2012). The impact of experiential marketing and customer satisfaction on customer commitment in the world of social networks. Asian Social Science, 9(1), 262–270. https://doi.org/10.5539/ass.v9n1p262
Bansal, H. S., Irving, G., & Shirley, F. (2004). A three-component model of customer commitment to service providers. Journal of the Academy of Marketing Science, 32(3), 234–250. https://doi.org/10.1177/0092070304263332
Čater, T., & Čater, B. (2010). Product and relationship quality influence on customer commitment and loyalty in B2B manufacturing relationships. Industrial Marketing Management, 39(8), 1321–33.
Çera, G., Cepel, M., Zakutna, S., & Rozsa, Z. (2018). Gender differences in perception of the university education quality as applied to entrepreneurial intention. Journal of International Studies, 11(3), 147–160. https://doi.org/10.14254/2071-8330.2018/11-3/13
Chan, Y., & Ngai, E. W. T. (2011). Conceptualising electronic word of mouth activity: An input-process-output perspective. Marketing Intelligence & Planning, 29, 488–516. https://doi.org/10.1108/02634501111153692
Evanschitzky, H. Ramaseshan, B. Woisetschläger, D. M. (2011). Consequences of customer loyalty to the loyalty program and to the company. Journal of the Academy of Marketing Science, 40, 625–638. https://doi.org/10.1007/s11747-011-0272-3
Fullerton, G. (2011). Creating advocates: The roles of satisfaction, trust and commitment. Journal of Retailing and Consumer Services, 18(1), 92–100.
Goyette, I., Ricard, L., Bergeron, J., & Marticotte, F. (2010). e-WOM scale: Word-of-Mouth measurement scale for e-services context. Canadian Journal of Administrative Sciences, 27, 5–23. https://doi.org/10.1002/CJAS.129
Hair, J. F., William C, B., Babin, B. J., & Anderson, R. E. (2014). Multivariate Data Analysis. Pearson.
Jalilvand, M. R., & Samiei, N. (2012). The effect of electronic word of mouth on brand image and purchase intention: An empirical study in the automobile industry in Iran. Marketing Intelligence and Planning, 30(4), 460–476. https://doi.org/10.1108/02634501211231946
Kotler, P., & Keller, K. L. (2016). Marketing Management, 16 ed.. Pearson.
Lee, Z. W.-Y., & Cheung, C. M.-K. (2014). Problematic Use of Social Networking Sites: The Role of Self-Esteem. International Journal of Business and Information, 9(2), 143–159.
Moran, G., & Muzellec, L. (2017). eWOM credibility on social networking sites: A framework. Journal of Marketing Communications, 23(2), 149–161. https://doi.org/10.1080/13527266.2014.969756
Nusair, N., Ababneh, R., & Bae, Y. K. (2012). The impact of transformational leadership style on innovation as perceived by public employees in Jordan.International. Journal of Commerce and Management, 22(3), 182–201.
Oktaviani, N., Astuti, W., & Firdiansjah, A. (2019). PENGARUH KEPUASAN KONSUMEN TERHADAP PEMBENTUKAN KOMITMEN PELANGGAN DAN e-WOM PADA PENGGUNA APLIKASI e-MONEY "OVO." Jurnal Manajemen Dan Pemasaran Jasa, 12(1), 93. https://doi.org/10.25105/jmpj.v12i1.3757
Purnasari, H., & Yuliando, H. (2015). How Relationship Quality on Customer Commitment Influences Positive e-WOM. Agriculture and Agricultural Science Procedia, 3, 149–153. https://doi.org/10.1016/j.aaspro.2015.01.029
Rahmawaty, A. (2011). PENGARUH SERVICE PERFORMANCE, KEPUASAN, TRUST DAN KOMITMEN TERHADAP LOYALITAS NASABAH DI BANK SYARI'AH MANDIRI KUDUS. INFERENSI, Jurnal Penelitian Sosial Keagamaan, 5(1), 53–80.
Renfree, I., Harrison, D., Marshall, P., & Stawarz, K. (2016). Don't kick the habit: The role of dependency in habit formation apps. Dl.Acm.Org, 1. https://dl.acm.org/citation.cfm?id=2892495
San-Martín, S., Prodanova, J., & Catalán, B. L. (2016). What makes services customers say "buy it with a mobile phone"? Journal of Services Marketing, 30(6), 601–614.
Serra-Cantallops, A., Ramon-Cardona, J., & Salvi, F. (2018). The impact of positive emotional experiences on eWOM generation and loyalty. Spanish Journal of Marketing - ESIC, 22(2), 142–162. https://doi.org/10.1108/SJME-03-2018-0009
Setiawan, H., & Sayuti, A. J. (2017). Effects of service quality, customer trust and corporate image on customer satisfaction and loyalty: an assessment of travel agencies customer in South Sumatra Indonesia. IOSR Journal of Business and Management, 19(5), 31-40.
Soliana, D. S., & Pratomo, L. A. (2016). ANTESEDEN DARI WORD OF MOUTH. Jurnal Ekonomi, 7(01), 1–10.
Stan, V. (2015). Does Consumer Gender Influence The Relationship Between Consumer Loyalty And Its Antecedents? Journal of Applied Business Research, 31(4), 1593–1604. https://doi.org/10.19030/jabr.v31i4.9339
Sumaedi, S., Juniarti, R. P., & Bakti, I. G. M. Y. (2015). Understanding trust & commitment of individual saving customers in Islamic banking: The role of ego involvement. Journal of Islamic Marketing, 6(3), 406–428. https://doi.org/10.1108/JIMA-06-2013-0045
Syahrivar, J., & Ichlas, A. (2018). The Impact of Electronic Word of Mouth (E-WoM) on Brand Equity of Imported Shoes: Does a Good Online Brand Equity Result in High Customers' Involvements in Purchasing Decisions?. (AJTM). 11. 57-69. 10.12695/ajtm.2018.11.1.5. The Asian Journal of Technology Management, 11(1), 57–69. https://doi.org/10.12695/ajtm.2018.11.1.5
Teo, R., & Soutar, G. (2012). Word of mouth antecedents in an educational context: A Singaporean study. International Journal of Educational Management, 26(7), 678–695. https://doi.org/10.1108/09513541211263746
Wang, T., Yeh, R. K. J., Chen, C., & Tsydypova, Z. (2016). What drives electronic word-of-mouth on social networking sites? Perspectives of social capital and self-determination. Telematics and Informatics, 33(4), 1034–1047. https://doi.org/10.1016/j.tele.2016.03.005
Wirtz, J., & Chew, P. (2002). The effects of incentives, deal proneness, satisfaction and tie strength on word-of-mouth behaviour. International Journal of Service Industry Management, 13(2), 141–162. https://doi.org/10.1108/09564230210425340
Yaqub, M. Z., Malik, A., & Shah, H. (2015). The roles of satisfaction, trust and commitment in value-creation in strategic networks. European Journal of Economics, Finance and Administrative Sciences, 18(1), 133–145.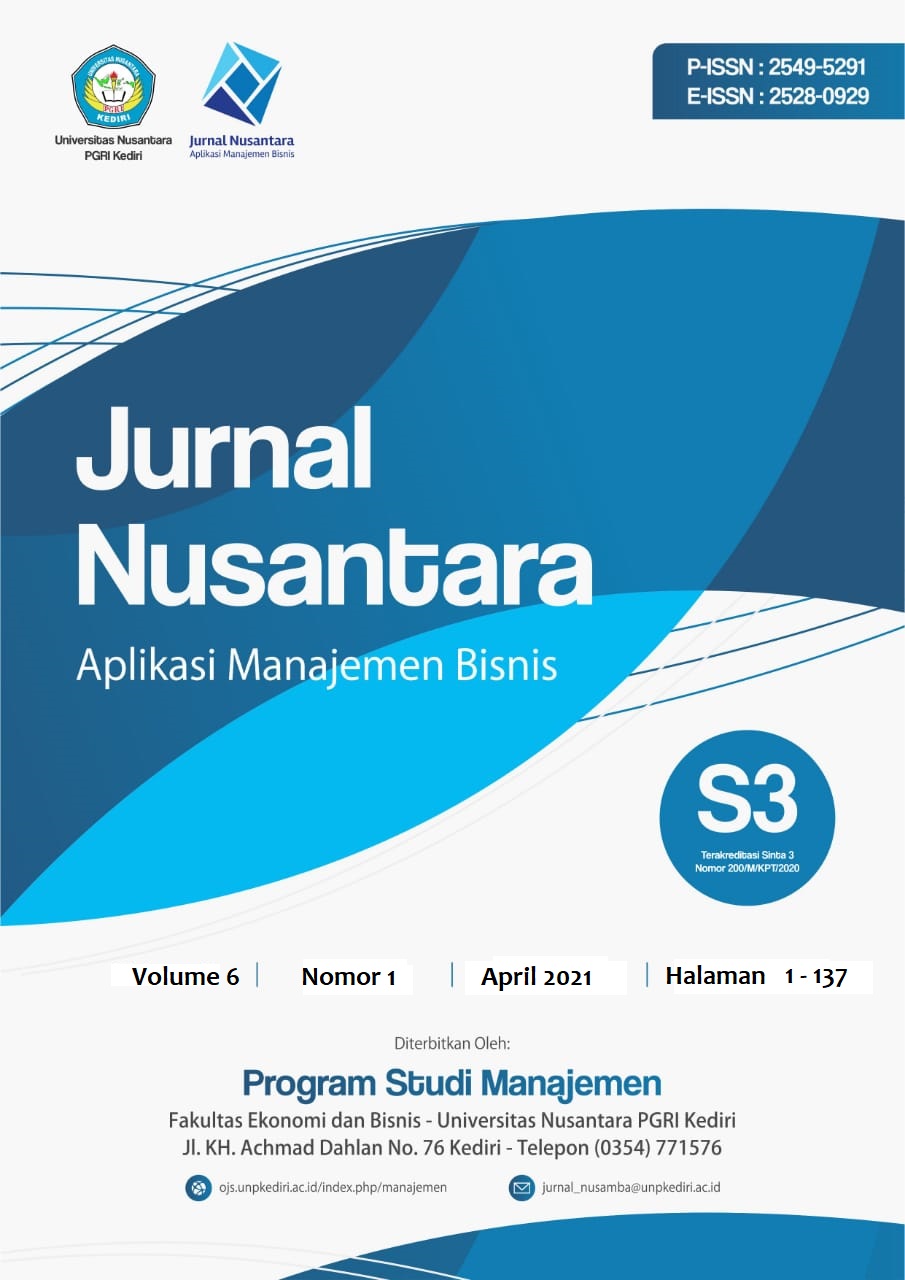 How to Cite
Quelyu, V. C. D., & Santoso, S. (2021). Peranan Customer Satisfaction dan Customer Commitment terhadap e-WOM dalam Pengguna Aplikasi Gopay di Yogyakarta. JURNAL NUSANTARA APLIKASI MANAJEMEN BISNIS, 6(1), 1 - 14. https://doi.org/10.29407/nusamba.v6i1.14533
Copyright (c) 2021 Singgih Santoso
This work is licensed under a Creative Commons Attribution-ShareAlike 4.0 International License.