Analisis Customer Value Index dalam Menggunakan Mobile Payment di DKI Jakarta
Sarah Khairunnisa Zukhrufiah Mulyawan

Telkom University

Osa Omar Sharif

Telkom University
Abstract views:
163
,
pdf downloads:
184
Keywords:
Analisis Konjoin, Customer Value Index, DKI Jakarta, Mobile Payment, Preferensi Konsumen, Value Driver
Abstract
Tujuan penelitian ini adalah mengetahui kombinasi atribut yang menghasilkan customer value index tertinggi dari ShopeePay, OVO, Gopay, DANA, dan LinkAja sehingga mengetahui preferensi konsumen terhadap mobile payment tersebut. Kemudian, tujuan lainnya adalah mengetahui atribut yang merupakan value driver. Atribut mobile payment pada penelitian ini adalah lima atribut, yaitu mobile payment platform, assurance policy, mileage program, authentication method, dan affiliate store. Penelitian ini memiliki 400 responden, dengan kriteria pengguna mobile payment dan tinggal di DKI Jakarta. Teknik analisis yang digunakan adalah analisis konjoin. Hasil penelitian menunjukan bahwa preferensi konsumen terhadap setiap mobile payment memiliki perbedaan beradasarkan atribut mileage program dan authentication method, tetapi terdapat persamaan untuk atribut assurance policy dan affiliate store. Konsumen menyukai mobile payment yang menyediakan jaminan kompensasi atas kerugian finansial dan data pengguna, dan bermitra dengan usaha kecil yang berjumlah banyak. Value driver pada mobile payment adalah assurance policy.
References
Herdyanto A. 10 Negara Pengguna Ponsel Terbanyak di Dunia, Indonesia Nomor Berapa? 2019.
Galih D. Beginilah Cara Orang Indonesia Menggunakan Smartphone Langkah Tepat Hadapi Ancaman Cyber Attack di Tengah Penerapan 2020.
Arhando P. Jangan Remehkan Mobile Payment, Ini Dampaknya Bagi Pelaku Bisnis 2020:2020.
Limantara N, Jingga F, Surja S. Factors Influencing Mobile Payment Adoption in Indonesia. Proc 2018 Int Conf Inf Manag Technol ICIMTech 2018 2018:373–7. https://doi.org/10.1109/ICIMTech.2018.8528143.
Setyowati D. ShopeePay Punya Tiga Strategi Menantang Dominasi Gopay dan Ovo 2020.
Annur CM. ShopeePay Kalahkan OVO & GoPay saat Pandemi Corona 2020.
Kotler P, Keller KL. Marketing Management Global Edition. 15th ed. New Jersey: Pearson; 2016.
Putri NE, Iskandar D. Analisis Preferensi Konsumen dalam Penggunaan Social Messenger di Kota Bandung Tahun 2014 (Studi Kasus : Line, KakaoTalk, WeChat, WhatsApp). J Manaj Indones 2014;14:110. https://doi.org/10.25124/jmi.v14i2.356.
Solomon MR. Consumer Behavior: Buying, Having, and Being. 12th ed. New Jersey: Pearson; 2018.
Al Basya MFY, Mawardi MK, Nuralam IP. Analisis Preferensi Konsumen terhadap Keputusan Menggunakan Jasa Kursus Bahasa Inggris (Studi Pada Pelanggan Lembaga Kursus Bahasa Inggris di Kampung Inggris Pare). J Adm Bisnis 2018;58:197–205.
Indrawati. Metode Penelitian Manajemen dan Bisnis: Konvergensi Teknologi Komunikasi dan Informasi. Bandung: Refika Aditama; 2015.
Best RJ. Market-based management: strategies for growing customer value and profitability. Upper Saddle River: Pearson; 2013.
Meilisa H. Penggunaan Mobile Payment Jatim Terbesar Ketiga di Pulau Jawa 2019.
Choi H, Park J, Kim J, Jung Y. Consumer Preferences of Attributes of Mobile Payment Services in South Korea. Telemat Informatics 2020;51:101397. https://doi.org/10.1016/j.tele.2020.101397.
Dahlberg T, Guo J, Ondrus J. A Critical Review of Mobile Payment Research. Electron Commer Res Appl 2015;14:265–84. https://doi.org/10.1016/j.elerap.2015.07.006.
Bezhovski Z. The Future of the Mobile Payment as Electronic Payment System. Eur J Bus Manag 2016;8:127–32.
Lu Y, Yang S, Chau PYK, Cao Y. Dynamics Between the Trust Transfer Process and Intention to Use Mobile Payment Services: A Cross-Environment Perspective. Inf Manag 2011;48:393–403. https://doi.org/10.1016/j.im.2011.09.006.
De Reuver M, Verschuur E, Nikayin F, Cerpa N, Bouwman H. Collective Action for Mobile Payment Platforms: A Case Study on Collaboration Issues Between Banks and Telecom Operators. Electron Commer Res Appl 2015;14:331–44. https://doi.org/10.1016/j.elerap.2014.08.004.
Köster A, Matt C, Hess T. Carefully Choose Your (Payment) Partner: How Payment Provider Reputation Influences M-Commerce Transactions. Electron Commer Res Appl 2016;15:26–37. https://doi.org/10.1016/j.elerap.2015.11.002.
Indrawan R, Yaniawati RP. Metodologi Penelitian Kuantitatif, Kualitatif, dan Campuran: untuk Manajemen, Pembangunan, dan Pendidikan. Bandung: Refika Aditama; 2017.
Sekaran U, Bougie R. Research Methods for Business: A Skill-Building Approach. 2016.
Hair JF., Black WC., Babin BJ., Anderson RE. Multivariate Data Analysis. Harlow: 2014. https://doi.org/10.4324/9781351269360.
Santoso S. Statistik Multivariat dengan SPSS. Jakarta: Elex Media Komputindo; 2017.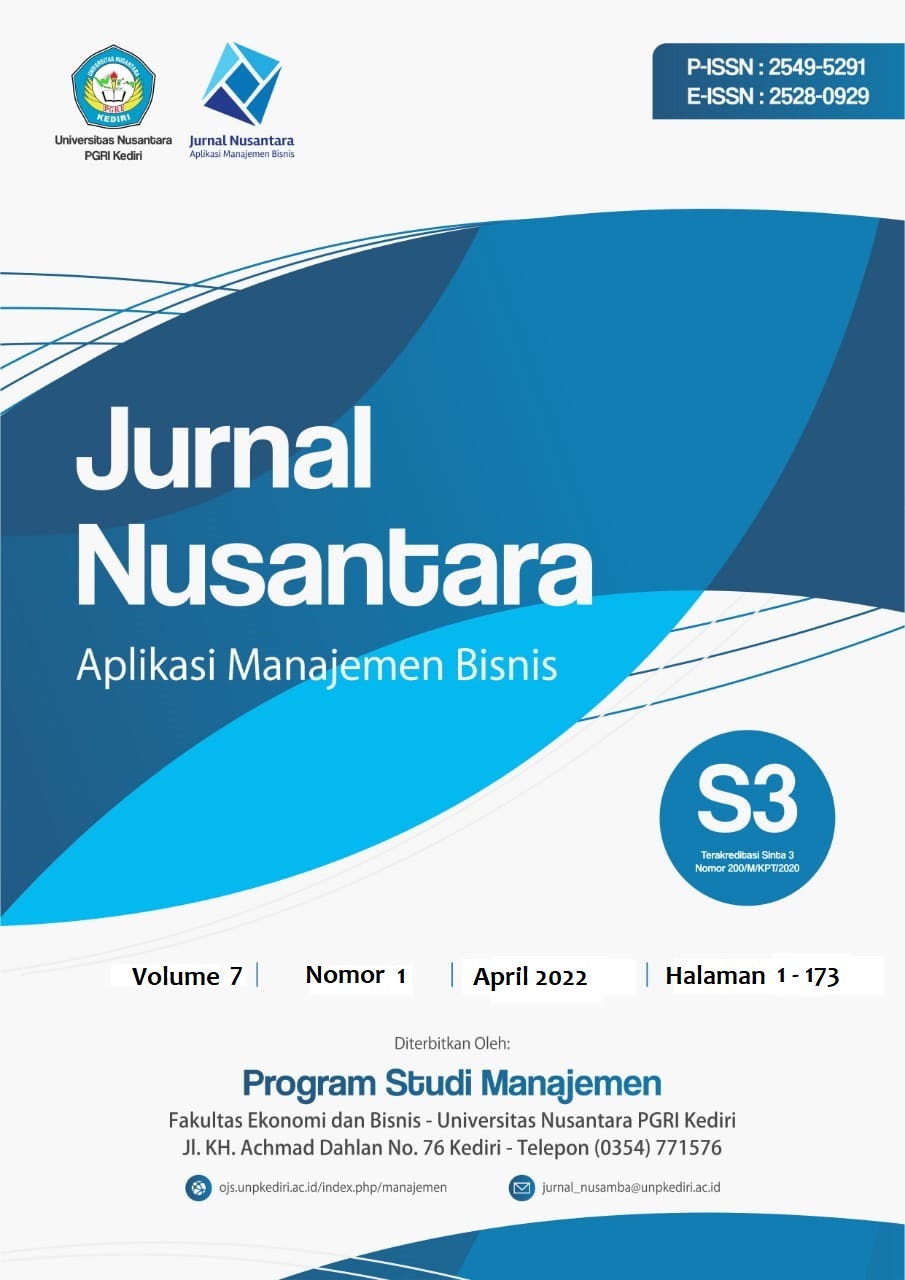 How to Cite
Mulyawan, S. K. Z., & Sharif, O. O. (2022). Analisis Customer Value Index dalam Menggunakan Mobile Payment di DKI Jakarta. JURNAL NUSANTARA APLIKASI MANAJEMEN BISNIS, 7(1), 54 - 72. https://doi.org/10.29407/nusamba.v7i1.16179
Copyright (c) 2022 Sarah Khairunnisa Zukhrufiah Mulyawan, Osa Omar Sharif
This work is licensed under a Creative Commons Attribution-ShareAlike 4.0 International License.