TINGKAT PARTISIPASI DAN KESEJAHTERAAN PETERNAK SAPI POTONG DI KABUPATEN KEDIRI
Nur Solikin

Universitas Nusantara PGRI Kediri

Budi Hartono

Universitas Brawijaya

Zaenal Fanani

Universitas Brawijaya Malang

M Nur Ihsan

Universitas Brawijaya
Abstract views:
693
,
PDF downloads:
722
Keywords:
Partisipasi, kesejahteraan, peternak sapi potong.
Abstract
Peran serta masyarakat sangat menentukan arah dan percepatan pencapaian tujuan dalam pembangunan, partisipasi kelompok masyarakat yang memiliki kesamaan harapan dan profesi menjadi pemersatu sekaligus energy social. Tujuan penelitian ini untuk menganalisis partisipasi dan tingkat kesejahteraan peternak sapi potong di Kabupaten Kediri. Responden sebanyak 150 peternak yang dipilih secara sengaja. Data penelitian dicari melalui wawancara dan pengisian angket, metode analis data mengunakan analisis deskriptif.  Hasil penelitian menunjukan bahwa partisipasi peternak dalam kelompok tergolong tinggi, sehingga memperngaruhi kesejahteraan dengan indicator peningkatan pendapatan peternak.
References
Anggraeni, L. 2009. Factors influencing participation and credit constraints of a financial self- help group in remote rural area: The case of ROSCA and ASCRA in Kemang Village West Java. Journal of Applied Sciences, 1: 1-11
Baba, S. 2008. Analisis tingkat adopsi usaha ternak sapi perah di Kabupaten Enrekang. JITP Vol. 1 No.3, Juli 2011
Budhi, G.S. 2006. Factors influencing payment of irrigation service fees. Makara, Sosial Humaniora, 10(1): 8-14
Coggan, A., S.M. Whitten and J. Bennet. 2010. Influences of transaction costs in environmental policy. Ecological Economics, 69: 1777-1784.
Dolisca, F., D. R. Carter, J. M. McDaniel, D. A. Shannon, and C. M. Jolly. 2006. Factors influencing farmer's participation in forestry management programs: A Case study from Haiti. Forest Ecology and Management, 236: 324-331.
Norland, E. V. T. 1992. Why Adult Participate? Journal of Extension March 1992. Available online at www.joe.org/1992fall/a2.html. (24 Desember 2016).
Pinstrup-Andersen, P. 2009. Food security: definition and measurement. Food Security 1: 5-7.
Putra, R. A. R. S. 2006. Motivasi untuk mengkonsumsi protein hewani pada guru Sekolah Menengah Atas di Kota Yogyakarta. Buletin Peternakan 30:154-160.
Soedjana, T. D. 2005. Prevalensi usaha ternak tradisional dalam perspektif peningkatan produksi ternak nasional. Jurnal Litbang Pertanian 24: 11.
Todaro, M. P. dan S. C. Smith. 2006. Ekonomi Pembangunan. Erlangga, Jakarta.
Wilson, G. A. 1997. Factor Influencing Farmer Participation in the Environmentally Sensitive Areas Scheme. Journal of Environ. Manag., 50: 67-93.
Yokoyama, S. and A. K. Ali. 2009. Social capital and farmer welfare in Malaysia. Japan Agricultural Research Quarterly 43: 323-328.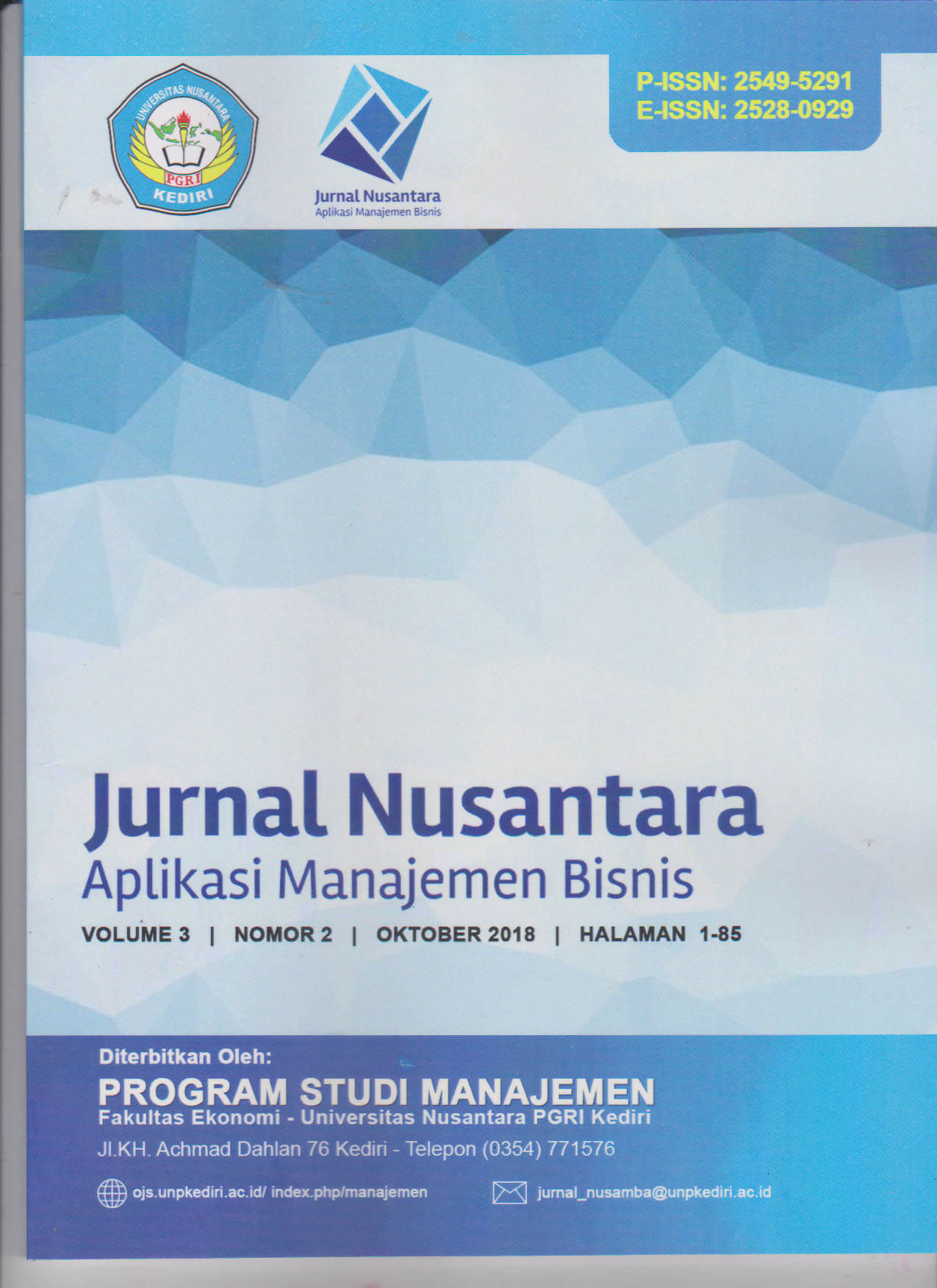 How to Cite
Solikin, N., Hartono, B., Fanani, Z., & Ihsan, M. N. (2018). TINGKAT PARTISIPASI DAN KESEJAHTERAAN PETERNAK SAPI POTONG DI KABUPATEN KEDIRI. JURNAL NUSANTARA APLIKASI MANAJEMEN BISNIS, 3(2), 81-85. https://doi.org/10.29407/nusamba.v3i2.12543
Copyright (c) 2018 JURNAL NUSANTARA APLIKASI MANAJEMEN BISNIS
This work is licensed under a Creative Commons Attribution-ShareAlike 4.0 International License.