DEVELOPMENT OF INDONESIAN LANGUAGE AND LITERATURE TEACHING MATERIALS WITH TECHNOLOGY INITIATIONS FOR GENERATION Z TEACHERS
ariva luciandika

Universitas Negeri Malang

kusubakti andajani

Universitas Negeri Malang
Abstract views:
48
,
pdf downloads:
66
Keywords:
learning methods, technology initiation, generation Z
Abstract
One way to create good quality learning is to design methods according to students' cognitive and social conditions. Students can be categorized as generation Z. The purpose of this study is to design teaching materials for Indonesian Language and Literature learning methods which are initiated by technology for generation Z students. This type is research development. Data obtained from the results of expert testing with learning methods experts and Indonesian Language and Literature learning experts. Based on the results of expert tests, teaching materials can be categorized as feasible to be implemented, but with some revisions.
References
Aunurrahman. 2009. Belajar dan Pembelajaran. Bandung : Alfabeta.
Criswell, Eleanor L. 1989. The Design of Computer Based Instruction. New Jersey: Macmilan Publishing Comnany.
Efendi, Neng Marlina. 2018. "Revolusi Pembelajaran Berbasis Digital (Penggunaan Animasi Digital pada Start-Up sebagai Metode Pembelajaran Siswa Belajar Aktif)", Habitus, Jurnal Pendidikan, Sosiologi, dan Antropologi. Volume 2, Nomor 2, hlm. 173-182. (Online)
(https://jurnal.uns.ac.id/habitus/article/view/28788/19628), diakses 1 Juni 2020.
Muslich, Masnur. 2010. Text Book Writing: Dasar-dasar Pemahaman, Penulisan, dan Pemakaian Buku Teks. Jogjakarta: Ar-Ruzz Media.
Panen, Paulina, Purwanto. 2001. Penulisan Bahan Ajar. Jakarta: PAU-PPAI, Universitas Terbuka.
Qurniawati, Rina Sari & Yulfan Arif Nurohman. 2018. "eWOM pada Generasi Z di Sosial Media", Daya Saing, Jurnal Ekonomi Manajemen Sumber Daya. Volume 20, Nomor 2, hlm. 70-80. (Online) (http://journals.ums.ac.id/index.php/dayasaing/article/view/6790/4402), diakses 28 Maret 2020.
Rawal, Sangita dan Pandey, US. 2013. "e-Learning: Learning for Smart Generation Z", International Journal of Scientific and Research Publications, Volume 3, Issue 5, May 2013. ISSN 2250-3153. (online) (www.ijsrp.or.bvg-research-paper-0513-ijsrp-p1794.pdf, diakses tanggal 12 Maret 2020).
Rusman, Deni Kurniawan, Cepi Riyana. 2015. Pembelajaran Berbasis Teknologi Informasi dan Komunikasi: Mengembangkan Profesionalitas Guru. Jakarta: Rajawali Pers.
Romansyah, Khalimi. 2016. "Pedoman Pemilihan dan Penyajian Bahan Ajar Mata Pelajaran Bahasa dan Sastra Indonesia", Jurnal Logika. Volume XVII, Nomor 2, hlm. 59-66. (Online) (www.jurnal.unswagati.ac.id), diakses 4 Juli 2020.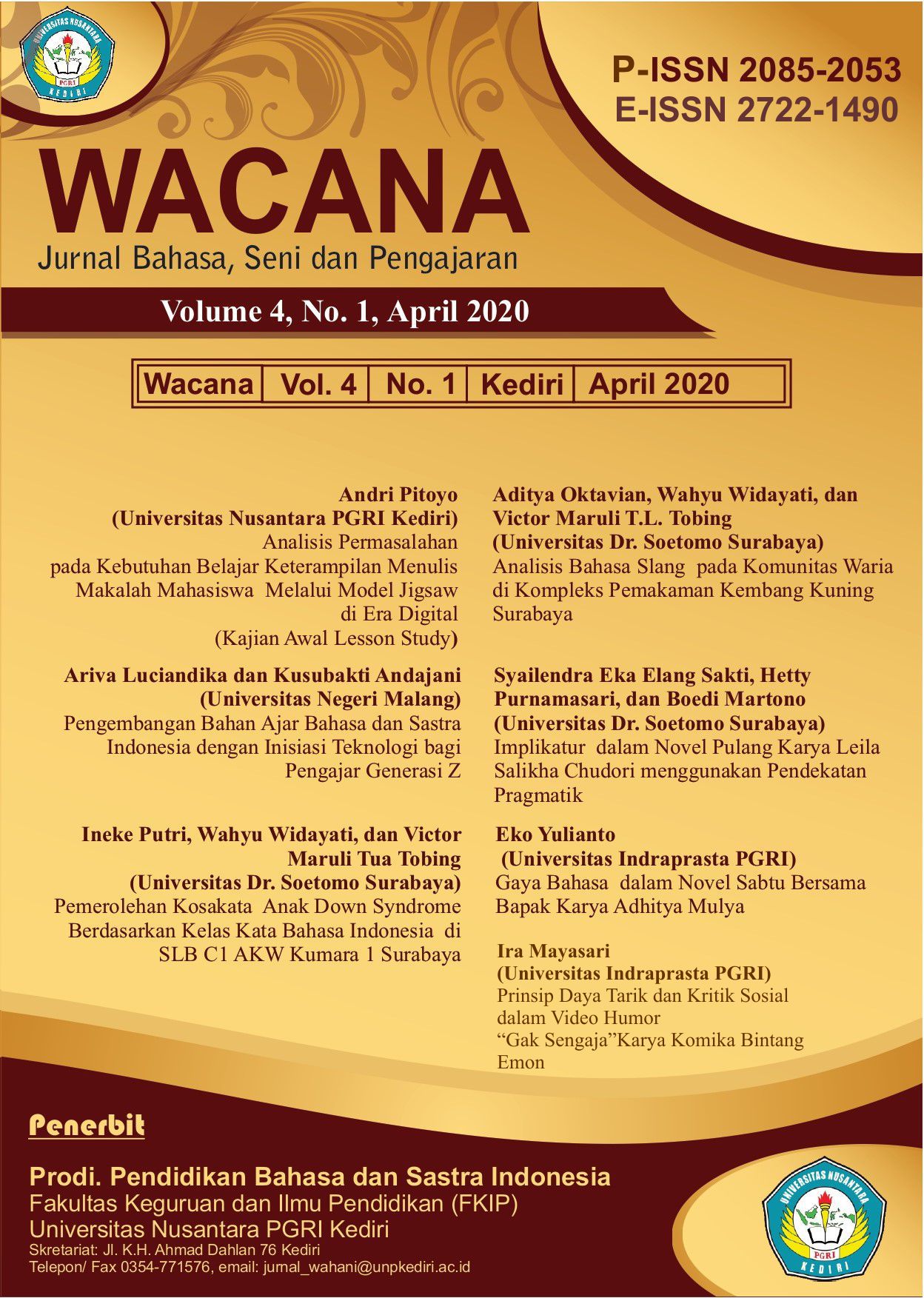 How to Cite
luciandika, ariva, & andajani, kusubakti. (2020). DEVELOPMENT OF INDONESIAN LANGUAGE AND LITERATURE TEACHING MATERIALS WITH TECHNOLOGY INITIATIONS FOR GENERATION Z TEACHERS. Wacana : Jurnal Bahasa, Seni, Dan Pengajaran, 4(1), 12-21. https://doi.org/10.29407/jbsp.v4i1.15235