Kemampuan Pemecahan Masalah Siswa SMP Negeri 1 Papar pada Materi Bangun Ruang
Destri Mega Arumanita

Universitas Negeri Malang

Hery Susanto

Universitas Negeri Malang

Rustanto Rahardi

Universitas Negeri Malang
Abstract

Abstrak: Kemampuan pemecahan masalah adalah suatu kecakapan atau potensi yang dimiliki dalam diri individu untuk menyelesaiakan suatu masalah dari permasalahan yang berbeda-beda. Tujuan penelitian ini adalah mendeskripsikan kemampuan pemecahan masalah pada tingkatan sangat baik dan kurang. Kemampuan ini diteliti terkait dengan materi bangun ruang dengan menggunakan pendekatan kualitatif, dengan sampel 4 siswa SMPN 1 Papar kelas VIII-I. Teknik pengumpulan data yang digunakan dalam penelitian ini adalah tes dan wawancara. Hasil penelitian menunjukkan bahwa sampel berkemampuan: (1) Pada tingkat sangat baik, mengalami kesulitan dalam menstranfer pengetahuan (2) Pada tingkat baik, mengalami kesulitan dalam memahami dan memvisualisasikan konsep matematika karena terbiasa dengan soal-soal rutin (3) Pada tingkat cukup baik, mengalami kesulitan yaitu lemah dalam perhitungan (4) Pada tingkat sangat kurang, mengalami kesulitan yaitu  lemah dalam melakukan perhitungan dan membuat koneksi.
Kata Kunci: kemampuan pemecahan masalah, tingkat kemampuan pemecahan masalah, kesulitan, bangun ruang
 Abstract: The ability to solve problems is a skill or potential possessed in an individual to solve a problem from different problems. The purpose of this study is to describe problem-solving abilities at very good and poor levels. This ability was examined in relation to space building material using a qualitative approach, with a sample of 4 students of Papar 1 Junior High School class VIII-I. Data collection techniques used in this study are tests and interviews. The results showed that the sample was capable of: (1) at a very good level, having difficulty in transferring knowledge (2) At a good level, having difficulty understanding and visualizing mathematical concepts because they are familiar with routine questions (3) At a fairly good level, experiencing difficulties that is weak in calculation (4) At a very low level, having difficulties is weak in performing calculations and making connections.
Keywords: problem-solving ability, level of problem-solving ability, difficulty, building space

Keywords

pemecahan masalah, tingkat kemampuan pemecahan masalah, kesulitan, bangun ruang
Downloads
Download data is not yet available.
References
Chairani, Z. (2013). Implikasi Teori Van Hielle Dalam Pembelajaran Geometri. LENTERA Jurnal Ilmiah Kependidikan, 8(1), 20–29. Tersedia di https://anzdoc.com/implikasi-teori-van-hielle-dalam-pembelajaran-geometri.html

Creswell, J. W. (2012). Educational research: Planning, conducting, and evaluating quantitative and qualitative research. Educational Research (Vol. 4). https://doi.org/10.1017/CBO9781107415324.004.

Erfan M., Ratu T. 2016. Identifikasi Kesulitan Belajar Mahasiswa Pada Materi Elektrodinamika Ditinjau Dari Kemampuan Matematika. Prosiding Seminar Nasional Pendidikan 2016 "Revitalisasi Budaya Lokal Dalam Menghadapi Tantangan Pendidikan Pada Era Masyarakat Ekonomi ASEAN (MEA)"332-338. Tersedia di http://ejurnal.mandalanursa.org.

Ifamuyiwa, A. S., & Ajilogba, S. I. (2012). A Problem Solving Model as a Strategy for Improving Secondary School Students ' achievement and Retention in Further Mathematics. ARPN Journal of Science and Technology, 2(2), 122–130.

Kannan dkk. (2016). A Study on Problem Solving Ability in Mathematics of IX Standard Students in Dindigul District. International Journal of Applied Research, 2(1), 797–799. https://doi.org/10.9790/0837-21223540.

Kemendikbud. (2016). Lampiran 15 Permendikbud Nomor 24. Kompetensi Inti dan Kompetensi Dasar Matematika SMP/MTs. Permendikbud Nomor 24 Tahun, (1), 1–6.

Kuzle, A. (2013). Patterns of metacognitive behavior during mathematics problem-solving in a dynamic geometry environment. International Electronic Journal of Mathematics Education, 8(1), 20–40. https://doi.org/mathedu.2013.002.

Polya, G. (1945). Polya ' s Problem Solving Techniques. How To Solve It, 1–4.

Rickard, A. (2005). A case study of aligning teaching practice with reform in middle school mathematics. RMLE Online, 29(1), 1–15.

Sajadi, M., Amiripour, P., & Rostamy-Malkhalifeh, M. (2013). The Examinig Mathematical Word Problems Solving Ability under Efficient Representation Aspect. Mathematics Education Trends and Research, 2013, 1–11. https://doi.org/10.5899/2013/metr-00007

Sholihah, S. Z., Alfiansyah, E. A. (2017). Analisis Kesulitan Siswa dalam Proses Pemecahan Masalah Geometri Berdasarkan Tahapan Berpikir Van Hiele. Jurnal Mosharafa , 6(12), 77–110. Tersedia di www.neliti.com . diakses pada tanggal 08 Mei 2018.

Siswono, T.Y.E. (2008). Model Pembelajaran Matematika Berbasis Pengajuan dan Pemecahan Masalah untuk Meningkatkan Kemampuan Bepikir Kreatif. Unesa University Press: Surabaya

Tambychik, T., & Meerah, T. S. M. (2010). Students' difficulties in mathematics problem-solving: What do they say? Procedia - Social and Behavioral Sciences, 8(5), 142–151. https://doi.org/10.1016/j.sbspro.2010.12.020.

Yuan, S. (2013). Incorporating Pólya's Problem Solving Method in Remedial Math. Journal of Humanistic Mathematics, 3(1), 96–107. https://doi.org/10.5642/jhummath.201301.08.

Wikipedia. Kemampuan. [Online.] https://id.wikipedia.org/wiki/Kemampuan . Diakses pada tanggal 08 Mei 2018.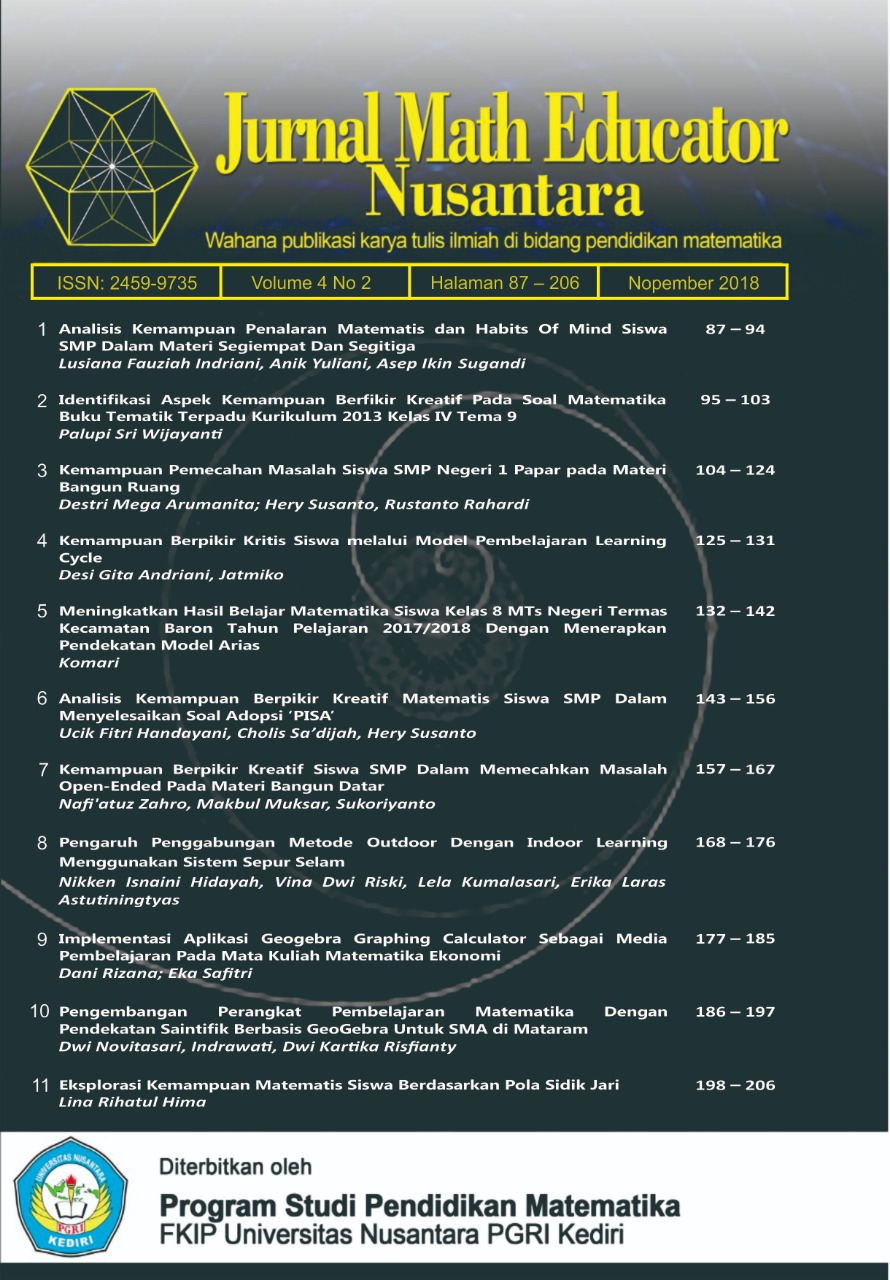 This work is licensed under a Creative Commons Attribution 4.0 International License.

Jurnal Math Educator Nusantara by http://ojs.unpkediri.ac.id/index.php/matematika is Licensed Under a Creative Commons Attribution 4.0 Internasional License