Teacher Learning Strategies to the Slow Learner Students in Thematic Learning
(Case Study at SDN 006 Kampung IV Tarakan, North Kalimantan).
Ipon Nonitasari Noni

Universitas Negeri Yogyakarta
Abstract views:
34
,
pdf downloads:
30
Keywords:
Teacher Learning Strategy, Slow Learner Students, Thematic Learning
Abstract
Dealing with slow learner students in non-inclusive schools is not an easy thing to do. Not all teachers are able to teach slow learner students who are in the same class as regular students. Especially, if the number of slow learner students is not small. So that the teacher must have an ideal learning strategy in thematic learning. Thematic learning is learning that places one theme on several subjects. This study aims to determine how the teacher's strategy in dealing with slow learner children who are in the same class as regular children so that the learning carried out can still improve the thinking skills of slow learner children at SDN 006 Kampung IV Tarakan, North Kalimantan. Researchers used qualitative research using a case study approach. Researchers used interview, observation, and documentation of data collection techniques. Based on the results of data analysis, the researcher found that the teachers used a variety of lecture learning strategies, discussions, and problem solving with alternating seating management, using fun, relaxed, but serious learning accompanied by the use of a reward and punishment system. The teacher also provides additional lessons after school based on the needs and the cooperation between parents and teachers is expected to be able to assist teachers in making lesson plans as well as determining appropriate alternative treatments, especially for slow learners.
References
Dewantara, Ki Hajar. (1938). Dasar-dasar Pendidikan. Majelis Luhur Taman siswa: Jogjakarta
Abu, Ahmadi dan Joko Prasetya.(1997). Strategi Belajar Mengajar. Bandung: Pustaka Setia.
Efendi, Mohamad. (2009). Kurikulum dan Pembelajaran. Malang: FIP Universitas Negeri Malang
Ghony, Djunaidi dan Fauzan. (2012). Metode Penelitian Kualitatif. Jogja: Ar-Ruzz Media.
Gafur, Abdul. (2007). Evaluasi Penilaian Pembelajaran PKN. Yogyakarta: Depdiknas
Hamalik, Omar. (2006). Profesionalisasi Tenaga Kependidikan. Bandung: Angkasa
Hamdani. (2010). Strategi Belajar Mengajar. Bandung: Pustaka Setia.
Karwati, Euis dan Doni Juni Priansa. (2015). Manajemen Kelas. Bandung: Alfabeta.
Rianto, Milan. (2006). Pendekatan, Strategi, dan Metode Pembelajaran. Depdiknas
Trianto. (2007). Model Pembelajaran Terpadu dalam Teori dan Praktek (Jakarta: Prestasi Pustaka.
UU RI Nomor 20 tahun 2003. Pendidikan Nasional . Bandung: Citra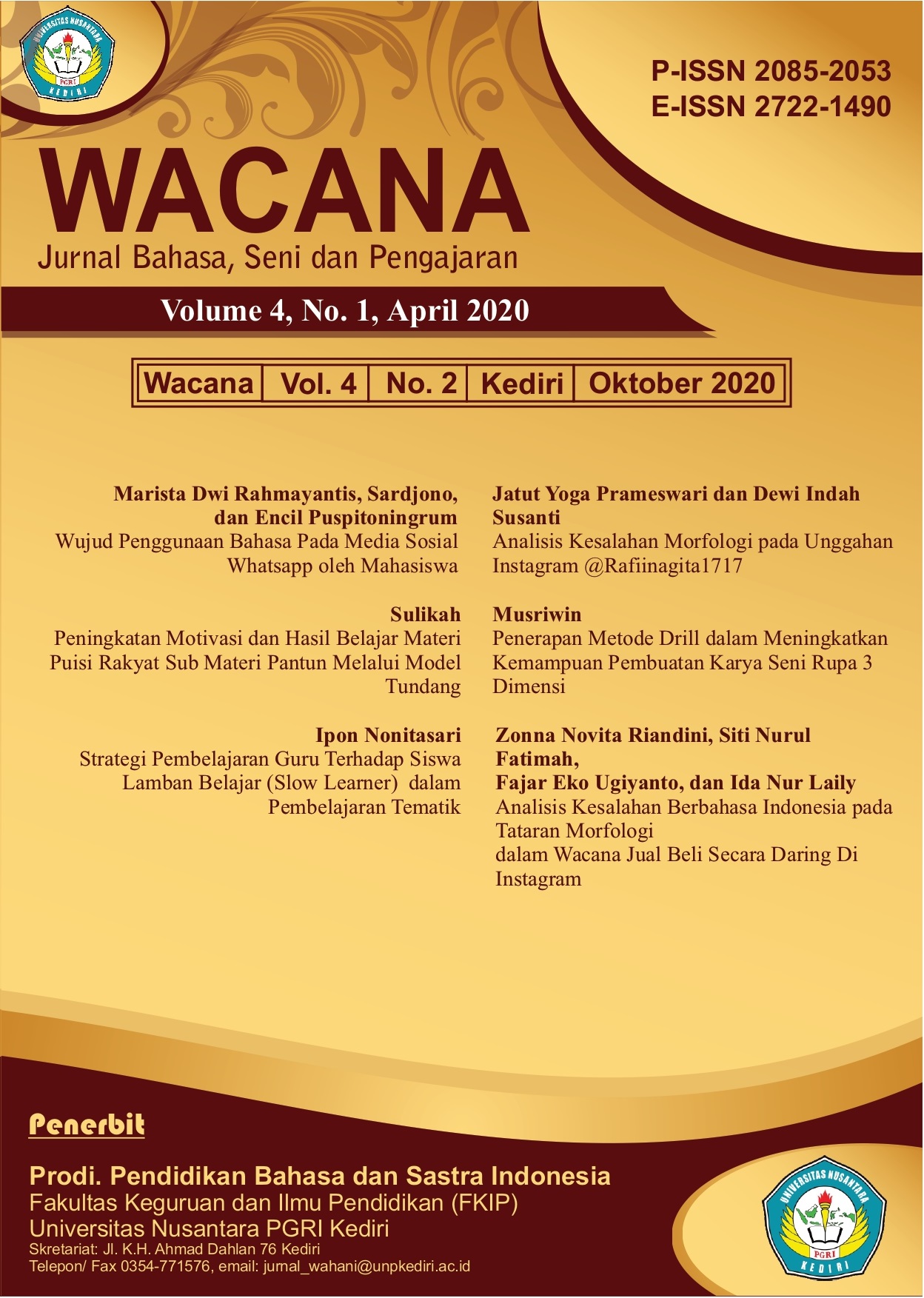 How to Cite
Noni, I. N. (2021). Teacher Learning Strategies to the Slow Learner Students in Thematic Learning : (Case Study at SDN 006 Kampung IV Tarakan, North Kalimantan) . Wacana : Jurnal Bahasa, Seni, Dan Pengajaran, 4(2), 19-26. https://doi.org/10.29407/jbsp.v4i2.14939