PENGEMBANGAN KARAKTER RASA TANGGUNGJAWAB MENGGUNAKAN MODEL PEMBELAJARAN VALUE CLARIFICATION TECHNIQUE (VCT) PADA MAHASISWA TINGKAT I PROGRAM STUDI PGSD FKIP UNIVERSITAS NUSANTARA PGRI KEDIRI
Bambang Soenarko

Universitas Nusantara PGRI Kediri

Endang Sri Mujiwati
Abstract views:
95
,
PDF (Bahasa Indonesia) downloads:
127
Keywords:
VCT, the characters' sense of responsibility
Abstract
Today the life of the Indonesian people to experience a friction in values. This condition is then said to moral decadence, which marked the rise of crime and deviant behavior, the perpetrator of the younger generation, in addition to children and parents, even with the title of community leaders and officials. Increasingly felt moral decline to a level that is quite disturbing classified as "immoral". These conditions require the need for the development of the characters' sense of responsibility through the use of learning model Clarification Technique (VCT). VCT learning model as affective learning model that aims to improve the ability to make moral judgments in a way to provide stimulation in the form of moral dilemmas that come from social problems in life. The aim of this study reveal that "The use of the learning model VCT provides better effect on morality, especially the characters' sense of responsibility in students PGSD study program, rather than the use of conventional learning model". Results of helpful evidence to provide input/alternative models that can be used by teachers in the field.
This study uses a pretestposttest control group design, in the form of learning models VCT treatment. The treatment effect in the form of character Taste responsibility on students of the University FKIP PGSD Nusantara PGRI Kediri. Furthermore, the data will be analyzed by ttests comparative analysis. From the research findings of significant differences, which means the use of the learning model VCT provides better effect than conventional models.
Keywords: VCT, the characters' sense of responsibility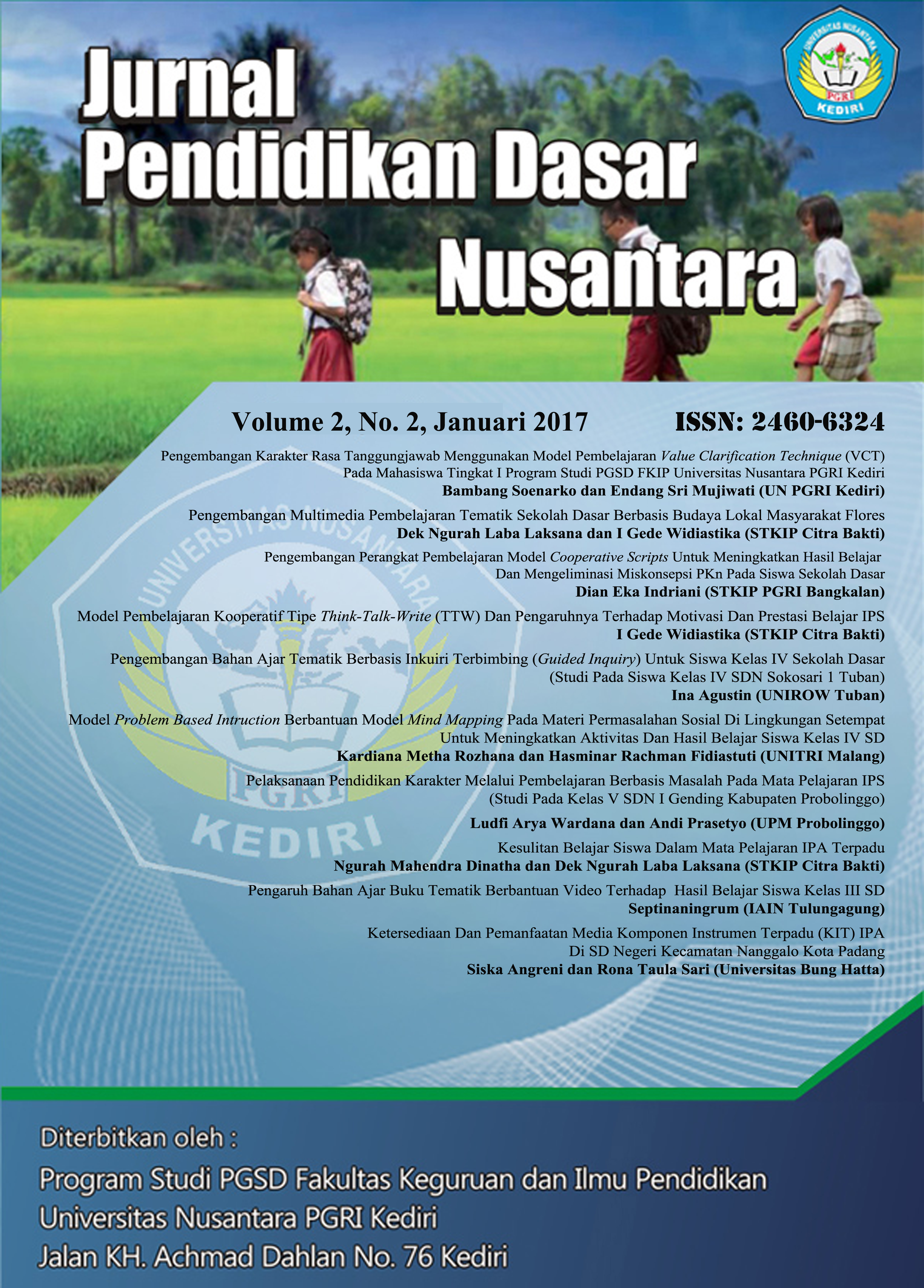 How to Cite
Soenarko, B., & Mujiwati, E. S. (2017). PENGEMBANGAN KARAKTER RASA TANGGUNGJAWAB MENGGUNAKAN MODEL PEMBELAJARAN VALUE CLARIFICATION TECHNIQUE (VCT) PADA MAHASISWA TINGKAT I PROGRAM STUDI PGSD FKIP UNIVERSITAS NUSANTARA PGRI KEDIRI. JURNAL PENDIDIKAN DASAR NUSANTARA, 2(2). Retrieved from https://ojs.unpkediri.ac.id/index.php/pgsd/article/view/548