Total Cost Dan Net Profit Margin Usaha Abon Ikan Madurasa Provinsi Papua Barat
Sarah Usman

universitas papua

Roni Bawole

Universitas Papua

Mudji Rahayu

Universitas Papua

Tresia Tururaja

Universitas Papua

Marthin Matulessy

Universitas Papua
Abstract views:
155
,
pdf downloads:
214
Keywords:
Financial,, Management, fish business
Abstract
The purpose of the study is to see how much the total cost and net profit margin issued by the Madurasa abon business.The results of the study obtained a total cost of Rp. 7,041,850 using 14.6% fixed cost and 85.4% variable cost. Percentage of production costs not standardized or production Based on orders. NPM is 57.68%. This means that the profits obtained have the potential in the future.
However, there is still a large allocation of variable costs. Where the variable cost should have a smaller value than the fixed cost. This means that in carrying out production and cost management, there is still no good standardization in terms of time and costs incurred. 
References
Botutihe, N. A. " Analisis Rasio Profitabilitas Laporan Laba Rugi Pada Home." Jurnal EMOR Vol. 2, No. 2, 2016: 33 – 46.
Dedi Albertus Ada, Sarah Usman, Makarius Bajari. "PENILAIAN PEMAHAMAN KEUANGAN PEMILIK USAHA KEDAI KOPI DI AREA PERKOTAAN MANOKWARI PAPUA BARAT." SENMEA. Kediri: Universitas PGRI Kediri, 2019. 117-128.
Fitri, Oi Sarah Magfirah dan Yulia. "ANALISIS EFISIENSI BIAYA PRODUKSI DENGAN PENGGUNAAN BIAYA STANDAR DALAM MENINGKATKAN RASIO NET PROFIT MARGIN (STUDI EMPIRIS PADA UMKM DENDENG SAPI DI BANDA ACEH)." Jurnal Ilmiah Mahasiswa Ekonomi Akuntansi (JIMEKA), 2019: 334-343.
Marwan, Asri. Marketing. Yogyakarta: Penerbit UPP-AMP YKPN, 2009.
Melda Panjaitan, Siti Nurhabibah Hutagalung. "Perhitungan Biaya Promosi Dan Volume Penjualan Pada Suatu Perusahaan Dengan Metode Analisis Regresi Linear Dan Korelasi." Seminar Nasional Sains & Teknologi Informasi (SENSASI) . Sumatera Utara: STMIK Budi Darma, Indonesia, 2019. 103-108.
Nurdin, H. Sabri. "ANALISIS PENERIMAAN BERSIH USAHA TANAMAN PADA PETANI NENAS DI DESA PALARAN SAMARINDA ." EKSIS Riset, 2010: 1415-1428.
Rahmawaty, Ruthia Bahri dan. "ANALISIS PENENTUAN HARGA POKOK PRODUKSI DALAM MENENTUKAN HARGA JUAL PRODUK (STUDI EMPIRIS PADA UMKM DENDENG SAPI DI BANDA ACEH)." Jurnal Ilmiah Mahasiswa Ekonomi Akuntansi, 2019: 344-358.
Sakti, Vincensia Jelita. "PENERAPAN ANALASIS COST VOLUME PROFIT DALAM PERENCANAAN LABA." Jurnal Hasil Riset, 2013: 1-23.
Sri Diniarti, S. "ANALISA VARIABEL-VARIABEL YANG Mempengaruhi Profitabilitas Net Margin." EKUITAS ISSN 1411-0393,, 2006: 115-135.
Suci Riskia Vonna, Rulfah M. Daud. "ANALISIS PERILAKU STICKY COST PADA BIAYA PRODUKSI DAN NON-PRODUKSI (Studi Empiris Pada Perusahaan Manufaktur Yang Terdaftar diBursa Efek Indonesia Periode 2011-2014)." Jurnal Ilmiah Mahasiswa Ekonomi Akuntansi (JIMEKA), 2016: 120-132.
Sugiyono. Metode Penelitian Manajemen. Bandung: Alfabeta , 2015.
Usman, Sarah. Perencanaan dalam Keuangan Perusahaan. Yogyakarta: Deepublish (CV. Budi Utama), 2017.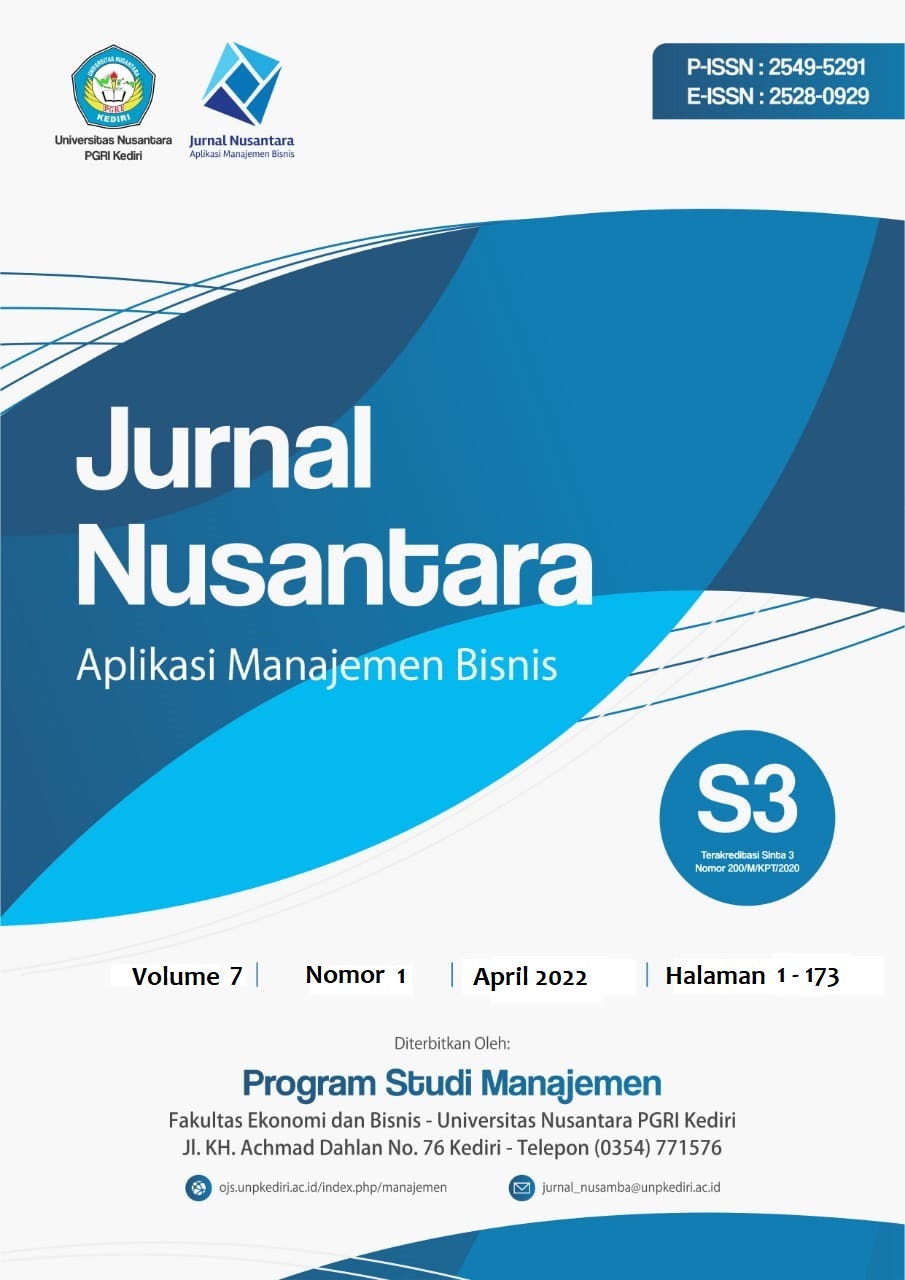 How to Cite
Usman, S., Bawole, R., Rahayu, M., Tururaja, T., & Matulessy, M. (2022). Total Cost Dan Net Profit Margin Usaha Abon Ikan Madurasa Provinsi Papua Barat. JURNAL NUSANTARA APLIKASI MANAJEMEN BISNIS, 7(1), 107-117. https://doi.org/10.29407/nusamba.v7i1.16486
Copyright (c) 2022 sarah usman
This work is licensed under a Creative Commons Attribution-ShareAlike 4.0 International License.