MENGUKUR KINERJA KEUANGAN KOPERASI SIMPAN PINJAM (KSP) CU BANGUN SEJAHTERA BANGUNTAPAN KABUPATEN BANTUL
Mujino Mujino

UNIVERSITAS SARJANAWIYATA TAMANSISWA

Ibn Udayana

UNIVERSITAS SARJANAWIYATA TAMANSISWA
Abstract views:
429
,
PDF downloads:
667
Keywords:
Productivity, effiensy, input, output, profit margin, owners equity, rate of return
Abstract
This research drive to study and analysing about financial performent on Bangun Sejahtera cooperative enterprise in Banguntapan, Bantul, stressing of  Efficiency and productivity.  Effisiency and productivity are very importance to survival enterprise, and it tools valuetion manajemen performent. Productivity and efficiency are the key success in business action now and to the future.
Productivity shown from two viewpoints as, psychological and technical viewpoint. From psichologicaly, productivity is a mentality behavior, that present must be best than yesterday, and the future must be best than to day. Manager must be has  character, value system and personal believe system.
Base on technical method, productivity beable formula as:  output / input, and to measure, how many output unit will be get from unit input expenditure. Increasing Productivity shown that its best management kinerja and if decreasing productivity, show that is bad management kinerja. In this research, productivity proxy as : Operational productivity, profit margin and owners equity rate of return. Effisiency is a tools to measure unit input expenditure,to get output unit. The following efficiency formula as: input : output
Research result  a long in seven years shown that  productivity on Bangun Sejahtera cooperaitive enterprise go to decreasing, but no significant. Operiting productivity from elevent year (2011) to 2017 shown as : 1,72 , 1,49 ,  1,57  , 1,45 , 1,29  , 1,30  , 1,26, avarage 1,44.  Profit margin from elevent year to 2017 show as: 41,71 , 32,74 , 36,45 , 31,16  , 22,23 , 23,12 , 20,58 avarage 29,71.
Effisientcy a long a sevent year shown as: 2011 = 0,58,  2012 = 0,67, 2013 = 0,64, 2014 = 0,69, 2015 = 0,78, 2016 = 0,77  , 2017 = 0,79.   Avarage= 0,73.
Downloads
Download data is not yet available.
References
Aczel,Amir D., 1999. Complete Business Statistic ,Ed.4,Mc.Grrow-Hill Comp. Boston.
Atmaja,Lukas1 Setia,2001.Manajemen Keungan,Ed.2,Cet.2, Andi, Yogyakarta.
Aristo Suryo Gunawan dan Ati Cahayani, 2014. Prosiding, Conference On Management and Behavioral Studies, Untar, Jakarta.
Berbah Dalam Angka, 2010. Statistik Berbah.
Brigham,Eugene F.,2001.Manajemen Keungan, Buku II, Ed.8, Erlangga, Surabaya
D.Dwi Prastowo,1995. Analisis Laoporan Keungan,Konsep dan Aplikasi,Ed.1, UPP AMP YKPN, Yogyakarta.
Djarwanto,Subagyo,Pangestu,1998.StatistikIndoktif,Ed.4, PFE,Yogyakarta
Ensiklopendi Ekonomi, Bisnis dan Manajemen,2004. PT Sinar Lendoh Terang, Semarang.
Hanafi,Mamduh M,1996. Analisis Laporan Keangan, Ed.1, Cet.1,UPP AMP YKPN, Yogyakarta.
Husnan,Suad,2001. Dasar-dasar Teory Fortofolio dan analisis Securitas, UPP AMP YKPN, Yogyakarta.
Kamus Besar Bahasa Indonesia, 2001. Pusat Bahasa Departemen Pendidikan Nasional, Edisi Ketiga, Jakarta.
Mulyadi,2001. Akuntansi Manajemen,Konsep, Manfaat dan Rekasaya,Ed.3,Cet.3, Salemba Empat, Yogyakarta.
Mujino,2014. Pengaruh Partisipasi Anggota Koperasi Terhadap Rentabilitas Ekonomi di Kabupaten Bantul, DIY.
Pedoman Penelitian,2015. LP3M Universitas Sarjanawiyata Tamansiswa, Yogyakarta.
Peraturan Menteri Koperasi, Usaha Kecil dan menengah, No.14/M.KUKM/XII/ 2009
Sri-Edi Swasono,2015. Demokrasi Ekonomi Keberdaulatan dan Kemandirian, Cet.1, Aditya Media, Yogyakarta.
Sri-Edi Swasono,2016. Pendidikan Demi Ibu Pertiwi , Ceceran Bunga Rampai Cet 1. Aditya Media, Yogyakarta.
Ropita,2017. Analisis Kinerja Keungan Koperasi Simpan Pinjam (KSP) Credit Union (CU) Bangun Sejahtera, Skripsi, Fakultas Ekonomi UST, Yogyakarta.
Tandelilin,Eduardus,2001.Analisis Investasi dan Management Portofolio, Ed.1, BPFE-UGM, Yogyakarta.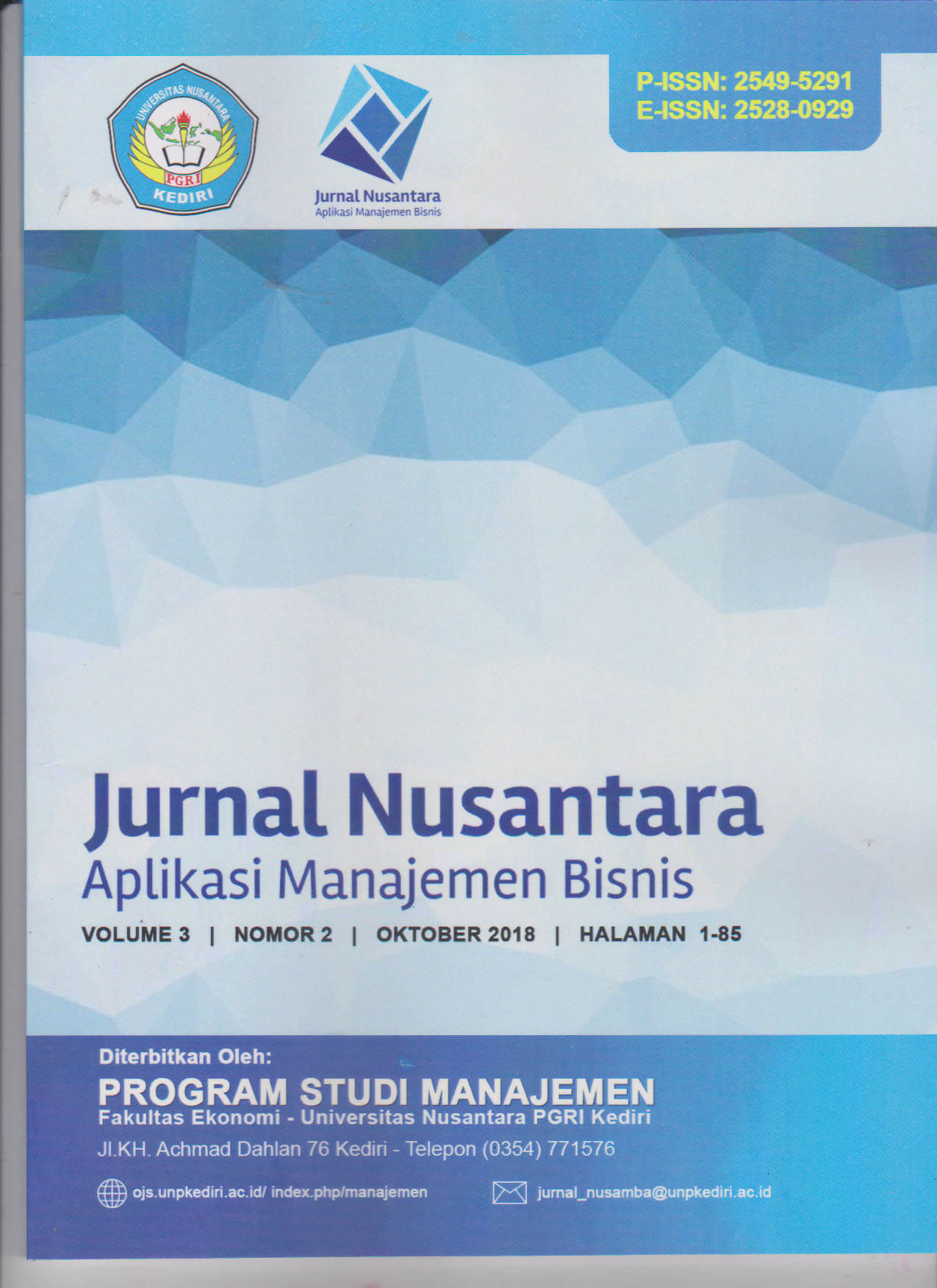 How to Cite
Mujino, M., & Udayana, I. (2018). MENGUKUR KINERJA KEUANGAN KOPERASI SIMPAN PINJAM (KSP) CU BANGUN SEJAHTERA BANGUNTAPAN KABUPATEN BANTUL. JURNAL NUSANTARA APLIKASI MANAJEMEN BISNIS, 3(2), 73-80. https://doi.org/10.29407/nusamba.v3i2.12535
Copyright (c) 2018 JURNAL NUSANTARA APLIKASI MANAJEMEN BISNIS
This work is licensed under a Creative Commons Attribution-ShareAlike 4.0 International License.