Validitas Media Pembelajaran E-learning Berbasis Edmodo tentang Materi Genetika
Reni Alfionora

Universitas Negeri Padang

Ardi

Syamsurizal

Fitri Arsih

Novia Erlinda
Abstract views:
115
,
PDF downloads:
127
Keywords:
e-learning, genetika, validitas
Abstract
The rapid development of technology and information affect many fields, including education. In field of education, the development of technology and information can be observed in the use of e-learning in learning activities. E-learning is a systems that allows learning activities to occur without being limited by space and time so tha learning activities can be carried out even though teachers and students do not meet face to face. One of the easiest to use e-learning is edmodo. Edmodo is an e-learning platform that has easy acces like the facebook social media platform. Research on edmodo was carried out with the aim of producing valid edmodo learning media. The research was carried out using the Research and Development (R&D) method with 4-D model. Validation is carried out on four main aspect, namely the feasibility of content, language, presentation, and graphics. From the validation process on these four aspects, the validity value is 89,51% with valid category. Therefore, the edmodo learning media that was developed was valid.
References
Alwan, M. (2017). Pengembangan model blended learning menggunakan aplikasi Edmodo untuk mata pelajaran geografi SMA. Jurnal Inovasi Teknologi Pendidikan, 4(1), 65. https://doi.org/10.21831/jitp.v4i1.10505
Amri, Iful., Syuhendri.,& Wiyono, Ketang. (2015). Pengembangan Media Pembelajaran E-learning Berbasis WEB untuk Mata Kuliah Fisika Inti. Jurnal Inovasi dan Pembelajaran Fisika,2(1)
Arsyad,A. (2010). Media Pembelajaran. Jakarta: PT Raja Grafindo Persada.
Asyhari, Ardian., Silvia, Helda. (2016). Pengembangan Media Pembelajaran Berupa Buletin Dalam Bentuk Buku Saku untuk Pembelajaran IPA Terpadu. Jurnal Ilmiah Pendidikan Fisika Al Biruni, 5(1).
Cenkaya, Serkan., Durak., Gurhan.,& Yunkul,Eyup. (2013). Using Educational Social Networking Sites in Higher Education: Edmodo through the Lenses of Undergraduate Students. European Journal of Educational Technology, 1(1), 3-23.
Delipiter, Lase. (2019). Pendidikan di Era Revolusi Industri 4.0. Jurnal Sundermann: JCTES, 1(1), 28-43. https://doi.org/10.36588/sundermann.v1i1.18 .
Depdiknas. (2008). Panduan Pengembangan Bahan Ajar. Jakarta:Direktorat Jendral Manajemen Pendidikan Dasar dan Menengah.
Galang, Akbar., Suryaningtiyas, Wahyuni., & Kristanti, Febriana. (2015). Pengaruh Model Pembelajaran Blended Learning terhadap Hasil Belajar Matematika Kelas VII SMP 38 Surabaya. Jurnal FKIP UM Surabaya, 3(2). http://journal.umsurabaya.ac.id/index.php/matematika/article/download/97/233 .
Hidayat, Rachmad., Lufri., Handayani,Dezi.,& Darussyamsu, Rahmawati. (2019). Validitas Media Pembelajaran E-learning Berbasis Edmodo Pada Materi Kingdom Protista Kelas X SMA/MA. Atrium Pendidikan Biologi, 4(1), 106-114. http://dx.doi.org/10.24036/apb.v4i1.5436 .
Lufri dan Ardi. (2017). Metodologi Penelitian. Padang: UNP Press
Maryanto, Agus., Ardi., & Alberida, Heffi. (2021). Media Pembelajaran Berbasis Edmodo Mengenai Materi Virus. Jurnal Penelitian dan Pengembangan Pendidikan,5(3),457-465.
Putri, Dwi Aprilia Heni., Ardi., Alberida, Heffi., & Yogica, Relsas. (2021). Validitas Media Pembelajaran E-learning Berbasis Edmodo pada Materi Sel untuk Peserta Didik Kelas XI SMA/MA. Journal for Lesson and Learning Studies, 4(2), 230-237.
Santosa, Tomi Apra., Sepriyani, Erina Marina., Lufri., Razak,Abdul., Chatri,Moralita., & Violita. (2021). Analisis E-learning Dalam Pembelajaran Evolusi Mahasiswa Pendidikan Biologi Selama Pandemi Covid-19. EDUMASPUL: Jurnal Pendidikan, 5(1), 66-70.
Sudewa, K. A., Sugihartini, N., & Divayana, D. G. H. (2021). Pengembangan Media Pembelajaran E-Learning Berbasis Edmodo Dengan Discovery Learning Pada Mata Pelajaran PPKN Kelas VIII Di SMP Lab Undiksha Singaraja. Kumpulan Artikel Mahasiswa Pendidikan Teknik Informatika (KARMAPATI), 10(1), 25. https://doi.org/10.23887/karmapati.v10i1.29407.
Suriadhi,Gede.,Tasra, Kade Dewa.,&Suwatra,Wayan. (2014). Pengembangan E-learning berbasis Edmodo pada Mata Pelajaran IPA Kelas VIII di SMPN 2 Singaraja. Jurnal Teknologi Pendidikan, 2(1).
Widyaningrum,H.K., Hasanudin,C., Fitrianingsih,A., Novianti,D.E., Saddhono,K.,& Supratmi,N. (2020). The Use of Edmodo Apps in Flipped Classroom Learning How is the Students' Creative Thinking Ability?. Ingénierie Des Systèmes d Inf, 25(1),69-74. https://doi.org/10.18280/isi.250109 .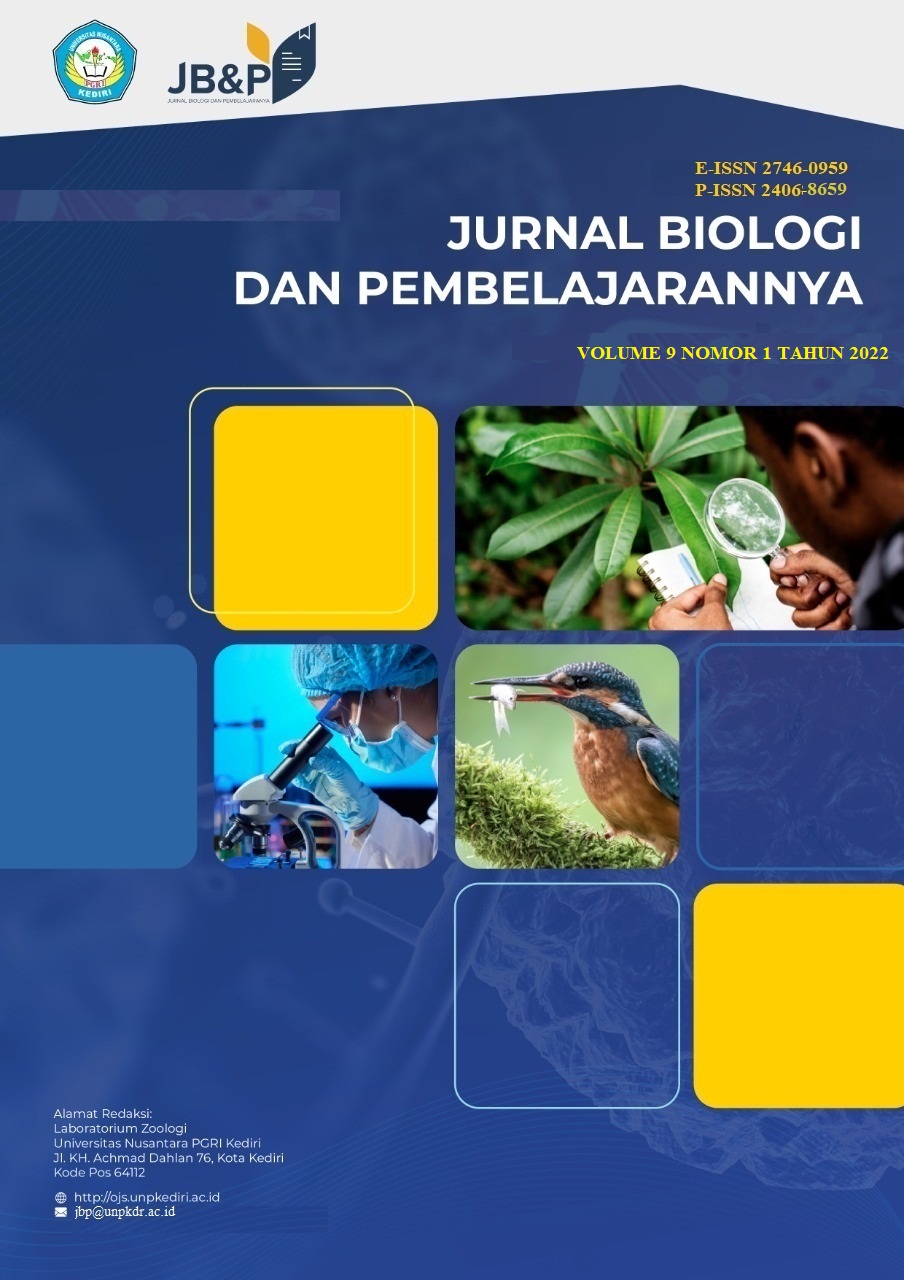 How to Cite
Reni Alfionora, Ardi, Syamsurizal, Fitri Arsih, & Novia Erlinda. (2022). Validitas Media Pembelajaran E-learning Berbasis Edmodo tentang Materi Genetika . Jurnal Biologi Dan Pembelajarannya (JB&P), 9(1), 42-47. https://doi.org/10.29407/jbp.v9i1.17691
Copyright (c) 2022 Reni Alfionora, Ardi, Syamsurizal, Fitri Arsih, Novia Erlinda
This work is licensed under a Creative Commons Attribution-ShareAlike 4.0 International License.
Authors who publish with this journal agree to the following terms:
Copyright on any article is retained by the author(s).
The author grants the journal, right of first publication with the work simultaneously licensed under a Creative Commons Attribution License that allows others to share the work with an acknowledgment of the work's authorship and initial publication in this journal.
Authors are able to enter into separate, additional contractual arrangements for the non-exclusive distribution of the journal's published version of the work (e.g., post it to an institutional repository or publish it in a book), with an acknowledgment of its initial publication in this journal.
Authors are permitted and encouraged to post their work online (e.g., in institutional repositories or on their website) prior to and during the submission process, as it can lead to productive exchanges, as well as earlier and greater citation of published work.
The article and any associated published material is distributed under the Creative Commons Attribution-ShareAlike 4.0 International License