Pengaruh Lama Penyimpanan Produk Ikan Cakalang (Katsuwonus pelamis) Asap Terhadap Nilai Mutu Organoleptik Dan Nilai Mutu Mikrobiologi Di Pasar Remu Kota Sorong
sukmawati

Universitas Muhammadiyah Sorong
Abstract views:
9
,
PDF downloads:
6
Keywords:
Ikan Cakalang Asap, Waktu, Total Mikroba, Sorong
Abstract
Proses pengasapan ikan di Indonesia khususnya di Sorong, masih dilakukan pengasapan secara tradisionall dengan modal dan skala usaha kecil sehingga penggunaan alat masih sederhana, selain itu sanitasi dan hygiene masih kurang diperhatikan dalam penanganan dan pengolahannya. Produk ikan yang diproses secara tradisional sangat rentan terhadap kerusakan mikrobiologi akibat kontaminasi bakteri patogen, jamur patogen maupun racun yang dihasilkan. Tujuan dari penelitian ini ialah untuk mengetahui pengaruh lama penyimpanan ikan cakalang (Katsuwonus pelamis)  asap tehadap nilai mutu organoleptik dan nilai mutu Mikrobiologi di Pasar Remu Kota Sorong, dan untuk mengetahui jumlah koloni pada ikan cakalang (Katsuwonus pelamis)  asap di Pasar Remu Kota Sorong. Metode yang dalam penalitian ini yakni deskriptif dan eksperimen. Perlakuan lama penyimpanan pada ikan cakalang (Katsuwonus pelamis) asap pada hari ke-1,hari ke-3,hari ke-5 memberikan pengaruh terhadap nilai mutu organoleptik untuk kenampakan ikan, tekstur ikan, bau ikan rasa ikan, dan terdapat jamur, sedangkan untuk pengamatan lendir tidak memberikan pengaruh pada ketiga sampel baik dari hari ke-1,hari ke-3, maupun hari ke-5 sampel tidak menunjukan  adanya lendir pada bagian dalam maupun luar daging ikan. Jumlah total plate mikroba pada ikan cakalang asap pada hari ke-1 untuk sampel A = 1,6X105 ,sampel B =1,2X105 dan sampel C = 3,6X104 menunjukan bahwa total plate count(TPC) tidak melwati batas standar maksimum SNI, Sedangkan untuk pengamatan hari ke-3 dan hari ke-5 baik sampel A, sampel B, maupun sampel C jumlah total plate count mikroba pada sampel tersebut melewati batas maksimum SNI.
References
Aberoumand A. 2010. Edible gelatin from some fishes skins as affected by chemicaltratments.World Journal of Fish and Marine Sciences. 2(1): 59-61.
Afolayan, A. J., & Jimoh, F. O. (2009). Nutritional quality of some wild leafy vegetables in South Africa. International journal of food sciences and nutrition, 60(5), 424-431.
Adeyemo, T. A., Ojewunmi, O. O., Diaku‐Akinwumi, I. N., Ayinde, O. C., & Akanmu, A. S. (2015). Health related quality of life and perception of stigmatisation in adolescents living with sickle cell disease in Nigeria: A cross sectional study. Pediatric blood & cancer, 62(7), 1245-1251.
Badan Standarisasi Nasional. 2009.SNI 2725.1.2009. Ikan Asap. Jakarta.
Butolo, A. S. (2020). Analisis Kontaminasi Total Bakteri Dan Kapang/Jamur Pada Ikan Cakalang (Katsuwonus Pelamis) Fufu Di Unit Pengolahan Ikan Asap. Skripsi, 1(811416028).
Darianto, D. (2018). Analisa Faktor-Faktor yang Mempengaruhi Proses Pengasapan Pada Mesin Pengasapan Ikan Lele. Journal Of Mechanical Engineering Manufactures Materials And Energy, 2(2), 56-66.
Detha, A. I. R., & Datta, F. U. (2015). Aktivitas antimikroba sopi terhadap bakteri patogen Salmonella typhimurium dan Salmonella enteritidis. Jurnal Kajian Veteriner, 3(1), 17-21.
Dotulong, V., & Montolalu, L. A. (2018). Perbaikan Mutu Organoleptik Ikan Roa (Hemirhamphus sp.) Asap Melalui Metode Pengasapan Ruang Tertutup. Media Teknologi Hasil Perikanan, 6(1), 14-19.
Ghazali, R. R., & Swastawati, F. (2014). Analisa tingkat keamanan ikan manyung (Arius thalassinus) asap yang diolah dengan metode pengasapan berbeda. Jurnal Pengolahan dan Bioteknologi Hasil Perikanan, 3(4), 31-38.
Hardianti, F., & Aziz, I. R. (2019). Identification of Pathogenic Bacteria on the Salted Fish Lutjanus Vivanus in Sorong City of West Papua. Malaysian Journal of Microbiology, 15(3), 237-244.
Karimela, E. J., Ijong, F. G., & Dien, H. A. (2017). Karakteristik Staphylococcus aureus yang di isolasi dari ikan asap pinekuhe hasil olahan tradisional Kabupaten Sangihe. Jurnal Pengolahan Hasil Perikanan Indonesia, 20(1), 188-198.
Mailoa, M. N., Lokollo, E., Nendissa, D. M., & Harsono, P. I. (2019). Karakteristik mikrobiologi dan kimiawi ikan tuna asap. Jurnal Pengolahan Hasil Perikanan Indonesia, 22(1), 89-99.
Prasetyo, D. Y. B., Darmanto, Y. S., & Swastawati, F. (2015). Efek perbedaan suhu dan lama pengasapan terhadap kualitas ikan bandeng (Chanos chanos Forsk) cabut duri asap. Jurnal Aplikasi Teknologi Pangan, 4(3).
Sakti, H., Lestari, S., & Supriadi, A. (2016). Perubahan mutu ikan gabus (Channa striata) asap selama penyimpanan. Jurnal FishtecH, 5(1), 11-18.
Sukmawati, S., Badaruddin, I., Dewi, N. K., Situmorang, N., Mahfut, M., & Mustapa, F. (2021, February). Analysis Of Organoleptic And Coliform Value In Fresh Mackerel (Rastrelliger Sp.) Fish In Tpi Sorong City. In Journal of Physics: Conference Series (Vol. 1764, No. 1, p. 012035). IOP Publishing.
Sukmawati, S., & Hardianti, F. (2018). Analisis Total Plate Count (TPC) mikroba pada ikan asin kakap di kota Sorong Papua Barat. Jurnal Biodjati, 3(1), 72-78.
Sukmawati, S., Badaruddin, I., & Simohon, E. S. (2020). Analysis of Total Plate Count Microba in Fresh (Rastrelliger sp.) Mackerel fishof Sorong City West Papua. Samakia: Jurnal Ilmu Perikanan, 11(1), 10-14.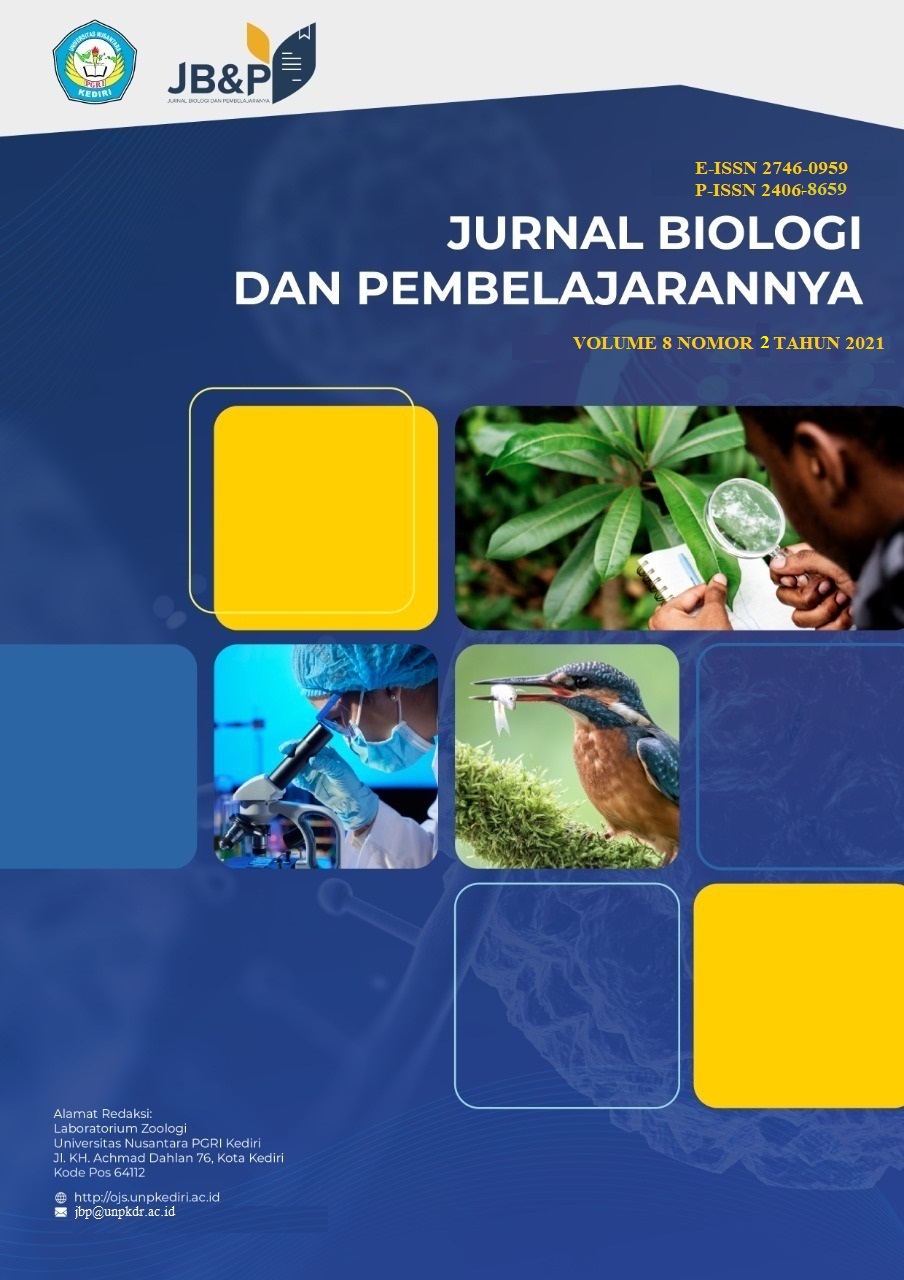 How to Cite
sukmawati. (2021). Pengaruh Lama Penyimpanan Produk Ikan Cakalang (Katsuwonus pelamis) Asap Terhadap Nilai Mutu Organoleptik Dan Nilai Mutu Mikrobiologi Di Pasar Remu Kota Sorong. Jurnal Biologi Dan Pembelajarannya (JB&P), 8(2), 102-112. https://doi.org/10.29407/jbp.v8i2.16824
Copyright (c) 2021 Jurnal Biologi dan Pembelajarannya (JB&P)
This work is licensed under a Creative Commons Attribution-ShareAlike 4.0 International License.
Authors who publish with this journal agree to the following terms:
Copyright on any article is retained by the author(s).
The author grants the journal, right of first publication with the work simultaneously licensed under a Creative Commons Attribution License that allows others to share the work with an acknowledgment of the work's authorship and initial publication in this journal.
Authors are able to enter into separate, additional contractual arrangements for the non-exclusive distribution of the journal's published version of the work (e.g., post it to an institutional repository or publish it in a book), with an acknowledgment of its initial publication in this journal.
Authors are permitted and encouraged to post their work online (e.g., in institutional repositories or on their website) prior to and during the submission process, as it can lead to productive exchanges, as well as earlier and greater citation of published work.
The article and any associated published material is distributed under the Creative Commons Attribution-ShareAlike 4.0 International License