Karakteristik Morfologi Ikan Gelodok (Periophthalmus chrysospilos) Di Area Hutan Mangrove Mundu, Kabupaten Cirebon
Muhimatul Umami

IAIN Syekh Nurjati Cirebon
Abstract views:
405
,
PDF downloads:
324
Keywords:
Ikan Gelodok, area mangrove pesisir, pengukuran morfometrik dan meristik
Abstract
Gelodok or mudskipper fish is a type of Gobiidae family that are dominant fishes in the mangrove forest, one of them Mangrove forest in the Coastal Cirebon. This study aims to identify species of mudskipper fish in the coastal Cirebon based on morphometric and meristic characters. This research method using purposive sampling, with two areas: Mundu Pesisir and Kanci river estuary. The mudskipper are collected when low tide use manually collection and uses the net fishing. The collected samples were then identified based on 17 morphometric measurment and 10 meristic characters. The identification results were compared with key identification books.The results shown that Periophthalmus chrysospilos has an elongated body shape with a rounded tail, brown body colour with golden spots, the dorsal fin has a black upper part while the dorsal fin has a golden spot accompanied by a black line, has eyes on the top of the head that can rotate around, inferior mouth. Body length 6.8–10.6 cm.
References
Astjario, P. (2006). Penelitian Lingkungan Pantai Wilayah Pesisir Kabupaten Cirebon, Jawa Barat. Jurnal Geologi dan Sumberdaya Mineral, 16(1), 41-49. http://dx.doi.org/10.32693/jgk.3.2.2005.125
Carpenter, K. E., & Niem, V. H. (2001). FAO species identification guide for fishery purposes. The living marine resources of the Western Central Pacific. Volume 6. Bony fishes part 4 (Labridae to Latimeriidae), estuarine crocodiles, sea turtles, sea snakes and marine mammals. FAO Library.
Djumanto, D., Setyobudi, E., & Rudiansyah, R. (2012). Fekunditas ikan gelodok, Boleophthalmus boddarti (Pallas 1770) di Pantai Brebes. Jurnal Iktiologi Indonesia, 12(1), 59-71. https://doi.org/10.32491/jii.v12i1.130
Dinh, Q. M., Nguyen, T. H. D., Truong, N. T., Tran, L. T., & Nguyen, T. T. K. (2021). Morphometrics, growth pattern and condition factor of Periophthalmus chrysospilos Bleeker, 1853 (Gobiiformes: Oxudercidae) living in the Mekong Delta. The Egyptian Journal of Aquatic Research. 1 – 5. https://doi.org/10.1016/j.ejar.2021.10.009
Jaafar, Z., & Larson, H. K. (2008). A new species of mudskipper, Periophthalmus takita (Teleostei: Gobiidae: Oxudercinae), from Australia, with a key to the genus. Zoological Science, 25(9), 946-952. DOI:10.2108/zsj.25.946
Gangan, S. S., Kumar, R., Ramteke, K. K., Kumar, A. P., & Jaiswar, A. K. (2016). Study of morphological variation discernible by multivariate analysis between the species of genus Setipinna (Teleostei: clupeiformes). Ecology Environment and Conservation, 22, 11-16.
Garbutt, N., & Prudente, J. C. (2006). Wild Borneo: the wildlife and scenery of Sabah, Sarawak, Brunei and Kalimantan (p. 176). Cambridge, Mass: MIT Press.
Ghanbarifardi. M., Aliabadian, M and Esmaeili, H.R. 2014. Morphometric variation of Periophthalmus waltoni Koumans, 1941 (Teleostei: Gobiidae) in the Persian Gulf and Gulf of Oman. Iranian Journal of Animal Biosystematics. 10 (2): 137- 144. ISSN: 1735-434X.
Kottelat, M. Anthony, J. Sri N. K. dan Soetikno, W. (1993). Freshwater Fishes of Western Indonesia and Sulawesi. Periplus Edition. Jakarta.
Kutschera, U., Elliott, J.M. (2013). Do mudskippers and lungfishes elucidate the early evolution of four-limbed vertebrates?. Evo Edu Outreach, 6(8). https://doi.org/10.1186/1936-6434-6-8
Lawson, E. O., & Whenu, O. O. (2010). Morphometric measurements and meristic counts in mudskipper (Periophthalmus papilio) from mangrove swamps of Lagos lagoon, Nigeria. Journal of Applied Biosciences, 34, 2166-2172.
Murdy, E. O. (1989). A taxonomic revision and cladistic analysis of the oxudercine gobies (Gobiidae: Oxudercinae). Records of the Australian Museum. ISBN: 7305 6374 X
Nugroho, E. D., Rahayu, D. A., & Rupa, D. (2016). Studi morfologi ikan mudskippers (Gobiidae: Oxudercinae) sebagai upaya karakterisasi biodiversitas lokal Pulau Tarakan. Jurnal Harpodon Borneo, 9(1).
Polgar, G., Jaafar, Z and Konstantinidis, P. (2013). A new species of mudskipper, Boleophthalmus poti (Teleostei: Gobiidae: Oxudercinae) from the Gulf of Papua, Papua New Guinea, and a key to the genus. The Raffles Bulletin of Zoology, 61(1): 311–321.
Yanti, A. (2000). Kebiasaan Makanan Ikan Blodok Boleophthalmus boddarti Pall., 1770 di Perairan Ujung Pangka, Jawa Timur. Skripsi. Institut Pertanian Bogor. Bogor.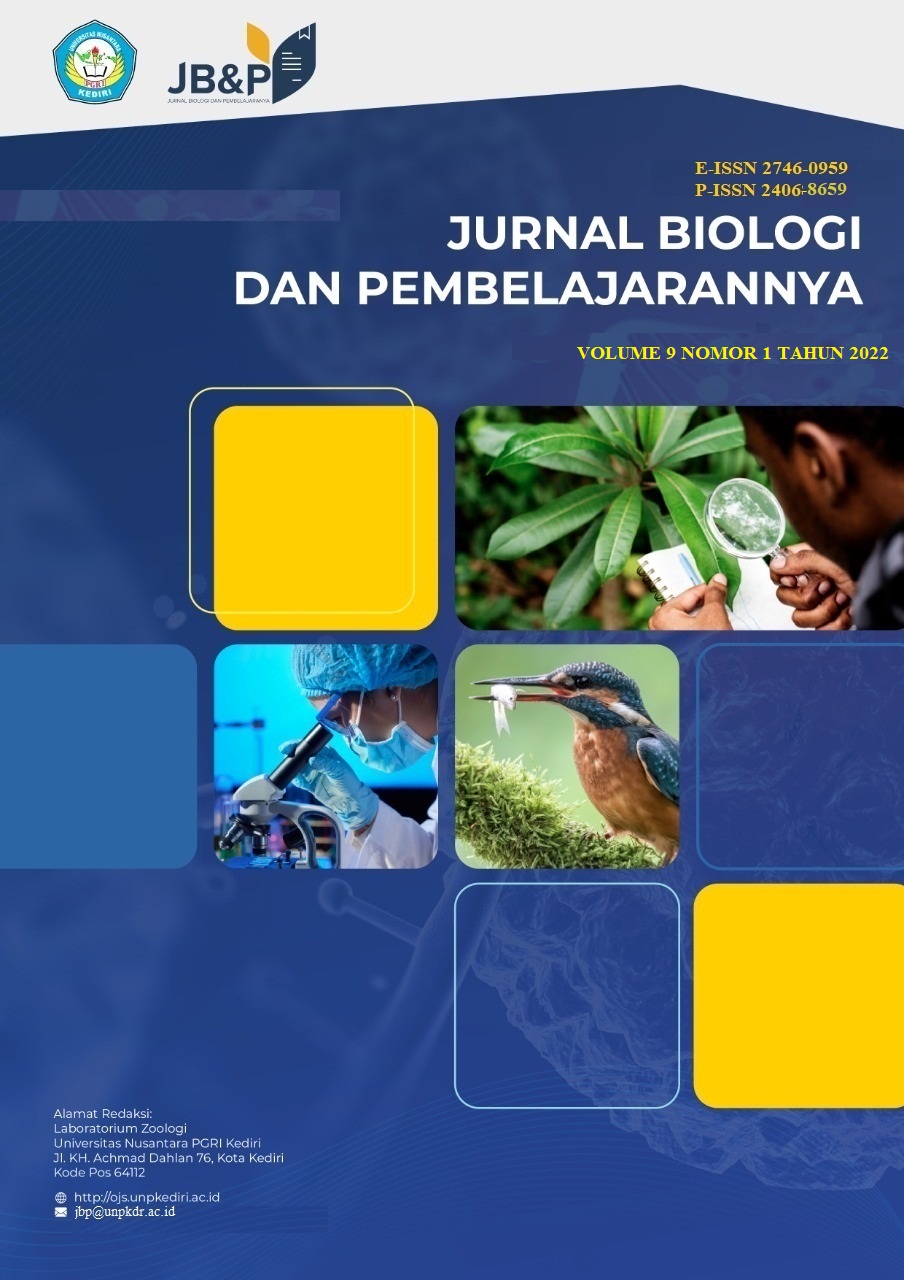 How to Cite
Umami, M. (2022). Karakteristik Morfologi Ikan Gelodok (Periophthalmus chrysospilos) Di Area Hutan Mangrove Mundu, Kabupaten Cirebon. Jurnal Biologi Dan Pembelajarannya (JB&P), 9(1), 48-54. https://doi.org/10.29407/jbp.v9i1.17783
Copyright (c) 2022 Muhimatul Umami
This work is licensed under a Creative Commons Attribution-ShareAlike 4.0 International License.
Authors who publish with this journal agree to the following terms:
Copyright on any article is retained by the author(s).
The author grants the journal, right of first publication with the work simultaneously licensed under a Creative Commons Attribution License that allows others to share the work with an acknowledgment of the work's authorship and initial publication in this journal.
Authors are able to enter into separate, additional contractual arrangements for the non-exclusive distribution of the journal's published version of the work (e.g., post it to an institutional repository or publish it in a book), with an acknowledgment of its initial publication in this journal.
Authors are permitted and encouraged to post their work online (e.g., in institutional repositories or on their website) prior to and during the submission process, as it can lead to productive exchanges, as well as earlier and greater citation of published work.
The article and any associated published material is distributed under the Creative Commons Attribution-ShareAlike 4.0 International License