Strategi Koping Mahasiswa Keperawatan Universitas Nusantara PGRI Kediri Selama Pembelajaran Jarak Jauh
Endah Tri Wijayanti

Universitas Nusantara PGRI Kediri
Abstract views:
96
,
PDF (Bahasa Indonesia) downloads:
113
Keywords:
strategi, koping, pandemi, pembelajaran jarak jauh, mahasiswa perawat
Abstract
Perkuliahan jarak jauh selama pandemi telah menciptakan kebiasaan baru dalam proses pembelajaran. Perubahan tersebut memberikan dampak psikologis terhadap mahasiswa. Penelitian ini bertujuan untuk mengetahui bagaimana strategi koping mahasiswa dalam menghadapi pembelajaran daring. Penelitian ini menggunakan desain deskriptif dengan sampel seluruh  mahasiswa yang menempuh pendidikan keperawatan di Universitas Nusantara PGRI Kediri. Hasil dari penelitian ini adalah bahwa strategi koping mahasiswa dalam kategori sedang sebesar 70% dan rata-rata menggunakan strategi behavioral disengagement sebesar 7,2. Kesimpulan dalam penelitian ini adalah mahasiswa telah mengembangkan sistem adaptasi dalam menghadapi situasi pembelajaran selama pandemi namun mereka juga merasakan bahwa pandemi merupakan tekanan eksternal yang terjadi diluar kontrol mereka sehingga mereka hanya bisa pasrah menghadapi perubahan model pembelajaran tersebut.
References
Alimul Hidayat, A. 2007. Metode Penelitin Keperawatan dan Teknik Analisis Data. Jakarta: Salemba Medika.
WHO Director-General's opening remarks at the media briefing on COVID-19 - 11 March 2020 [WWW Document], n.d. URL https://www.who.int/dg/speeches/detail/who- director-general-s-opening-remarks-at-the-media-briefing-on-covid-19—11-march- 2020 (accessed 4.8.20).
Anugrahana, A. (2020). Hambatan , Solusi dan Harapan : Pembelajaran Daring Selama Masa Pandemi Covid-19 Oleh Guru Sekolah Dasar. Scholaria: Jurnal Pendidikan Dan Kebudayaan, 10(3), 282–289.
Brougham, R. R., Zail, C. M., Mendoza, C. M., & Miller, J. R. (2009). Stress, Sex Differences, and Coping Strategies Among College Students. Current Psychology, 28(2), 85–97. https://doi.org/10.1007/s12144-009-9047-0
Collado-boira, E. J., Ruiz-palomino, E., Salas-media, P., Folch-ayora, A., Muriach, M., & Baliño, P. (2020). "The COVID-19 outbreak"-An empirical phenomenological study on perceptions and psychosocial consideration surrounding the immediate incorporation of final-year Spanish nursing and medical student into the health system. Nurse Education Today, 92(January), 1–6.
Diehl, M., Coyle, N., & Labouvie-Vief, G. (1996). Age and sex differences in strategies of coping and defense across the life span. Psychology and Aging. US: American Psychological Association. https://doi.org/10.1037/0882-7974.11.1.127
Javed, B., & Soto, E. B. (2020). The coronavirus ( COVID-19 ) pandemic ' s impact on mental health. International Jounal Health Plann Management, (April), 4–7. https://doi.org/10.1002/hpm.3008
Long, B. C. (1990). Relation between coping strategies, sex-typed traits, and environmental characteristics: A comparison of male and female managers. Journal of Counseling Psychology, 37(2), 185–194. https://doi.org/10.1037/0022-0167.37.2.185
Mukhtar, S. (2020). Mental health and emotional impact of COVID-19: Applying Health Belief Model for medical staff to general public of Pakistan. Brain , Behavior , and Immunity, (January).
Napitupulu, R. M. (2020). Dampak pandemi Covid-19 terhadap kepuasan pembelajaran jarak jauh. Jurnal Inovasi Teknologi Pendidikan, 7(1), 23–33.
Roca, J., Masot, O., Canet-v, O., Laved, A., Roca, J., & Canet-v, O. (2021). Experiences, emotional responses, and coping skills of nursing students as auxiliary health workers during the peak COVID-19 pandemic : A qualitative study. International Journal of Mental Health Nursing, 1–13. https://doi.org/10.1111/inm.12858
Sadikin, A., Hamidah, A., Pinang, K., Jl, M., Ma, J., Km, B., … Indonesia, P. (2020). Pembelajaran Daring di Tengah Wabah Covid-19 ( Online Learning in the Middle of the Covid-19 Pandemic ). BIODIK : Jurnal Ilmiah Pendidikan Biologi, 6(1), 214–224.
Savitsky, B., Findling, Y., Ereli, A., & Hendel, T. (2020). Anxiety and coping strategies among nursing students during the covid-19 pandemic. Nurse Education in Practice, 46(January).
Sheroun, D., Wankhar, D. D., Devrani, A., PV, L., Gita, S., & Chatterjee, K. (2020). A Study to Assess the Perceived Stress and Coping Strategies among B .Sc . Nursing Students of Selected Colleges in Pune during Covid-19 Pandemic. International Journal of Science and Healthcare Research, 5(2), 280–288.
Siswanto. 2007. Kesehatan Mental: Konsep Cakupan dan Perkembangannya. Yogyakarta : Andi Offset.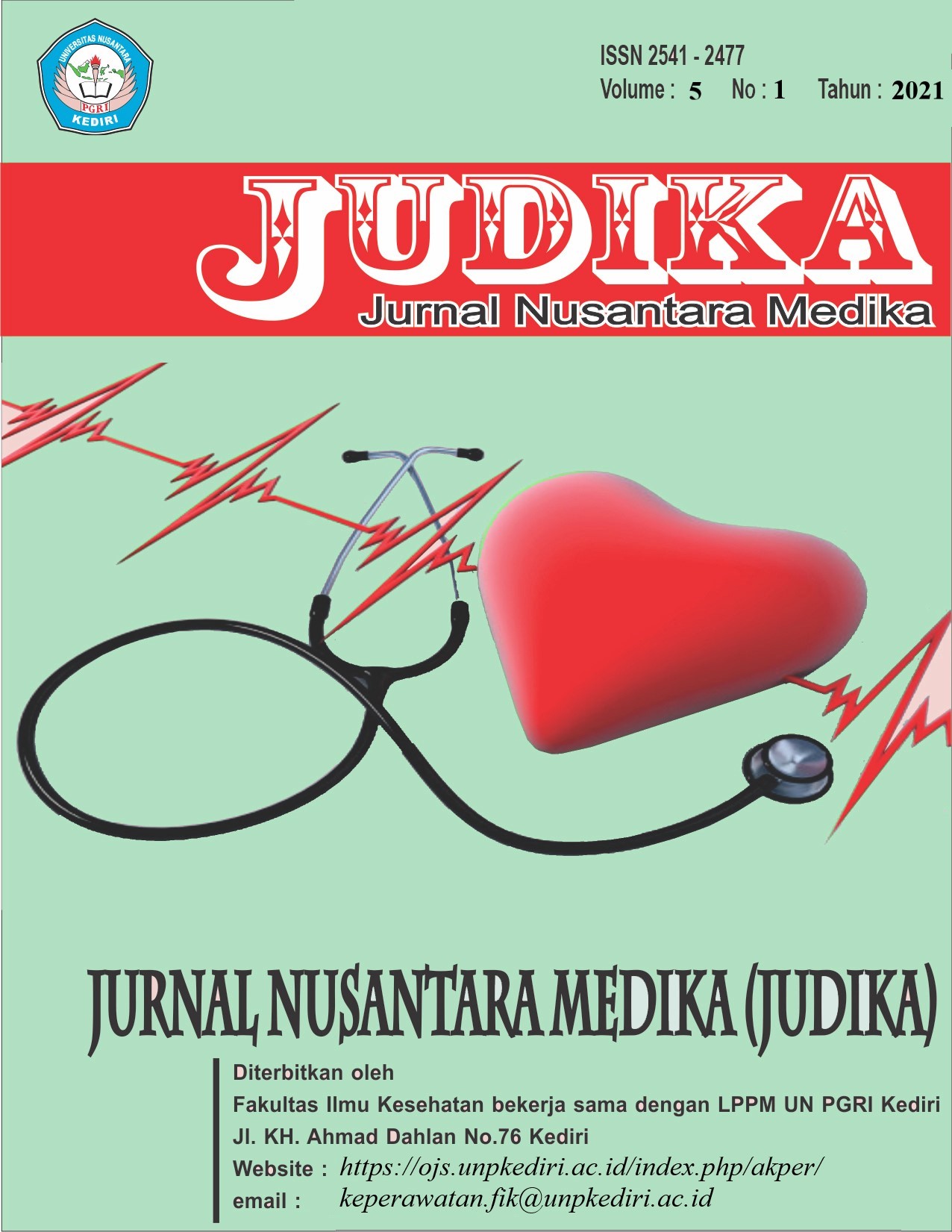 How to Cite
Wijayanti, E. T. (2021). Strategi Koping Mahasiswa Keperawatan Universitas Nusantara PGRI Kediri Selama Pembelajaran Jarak Jauh. Judika (Jurnal Nusantara Medika), 5(1), 43-48. https://doi.org/10.29407/judika.v5i1.16280
Copyright (c) 2021 Judika (Jurnal Nusantara Medika)
This work is licensed under a Creative Commons Attribution-ShareAlike 4.0 International License.
Authors retain copyright and grant the journal right of first publication with the work simultaneously licensed under a Creative Commons Attribution-ShareAlike 4.0 International License that allows others to share the work with an acknowledgment of the work's authorship and initial publication in this journal.