Analisis Bentuk Kedisiplinan Siswa Dalam Mengikuti Kegiatan Belajar Dengan Motivasi Belajar Siswa Kelas IV SDN I Gondosuli Gondang
Fitria Nindy Lestari

STKIP PGRI TULUNGAGUNG

Wisda Miftakhul'Ulum

STKIP PGRI Tulungagagung
Abstract views:
145
,
PDF downloads:
294
Keywords:
Form of discipline, Learning activities, Motivation to learn
Abstract
Abstract: Discipline is a matter related to motivation. Motivation is needed to foster student discipline. Students in grade IV SDN I Gondosuli experienced problems that affected the learning process and student motivation. Lack of student discipline in learning when the teacher is explaining the material, students are busy themselves and do not pay attention to the teacher's explanation. The purpose of this study is to describe student discipline in learning activities and describe students' motivation in learning in class IV SDN I Gondosuli. This type of research is a qualitative study using the phenomenological method. Questionnaire data collection techniques, observations, interviews and documentation. Data analysis techniques used are data reduction, data presentation and conclusion drawing. The results showed that the form of student discipline in learning activities from questionnaires, interviews and observations there were 10 items of observation there were 2 lowest questions in learning activities showed a high level of discipline. Motivation to learn there are 10 items of observation there are 4 low questions in student motivation tend to be low in learning activities, including the students nervous when arguing in front of the class, the attitude of students is still passive in asking questions and lacking confidence in the answers. Based on the results of the study it can be concluded that the form of student discipline in learning activities shows the results of high criteria and student learning motivation shows the criteria tend to be low.
References
Sardiman. (2014). Interaksi dan Motivasi Belajar Mengajar. Jakarta: PT Raja Grafindo Persada.
Daryanto (2013.hal 50).Perkembangan Disiplin.Yogyakarta: Gava Media.
Sugiyono. (2016). Metode Penelitian Kuabtitatif, Kuaitatif, dan R&D.
Bandung: Alfabeta.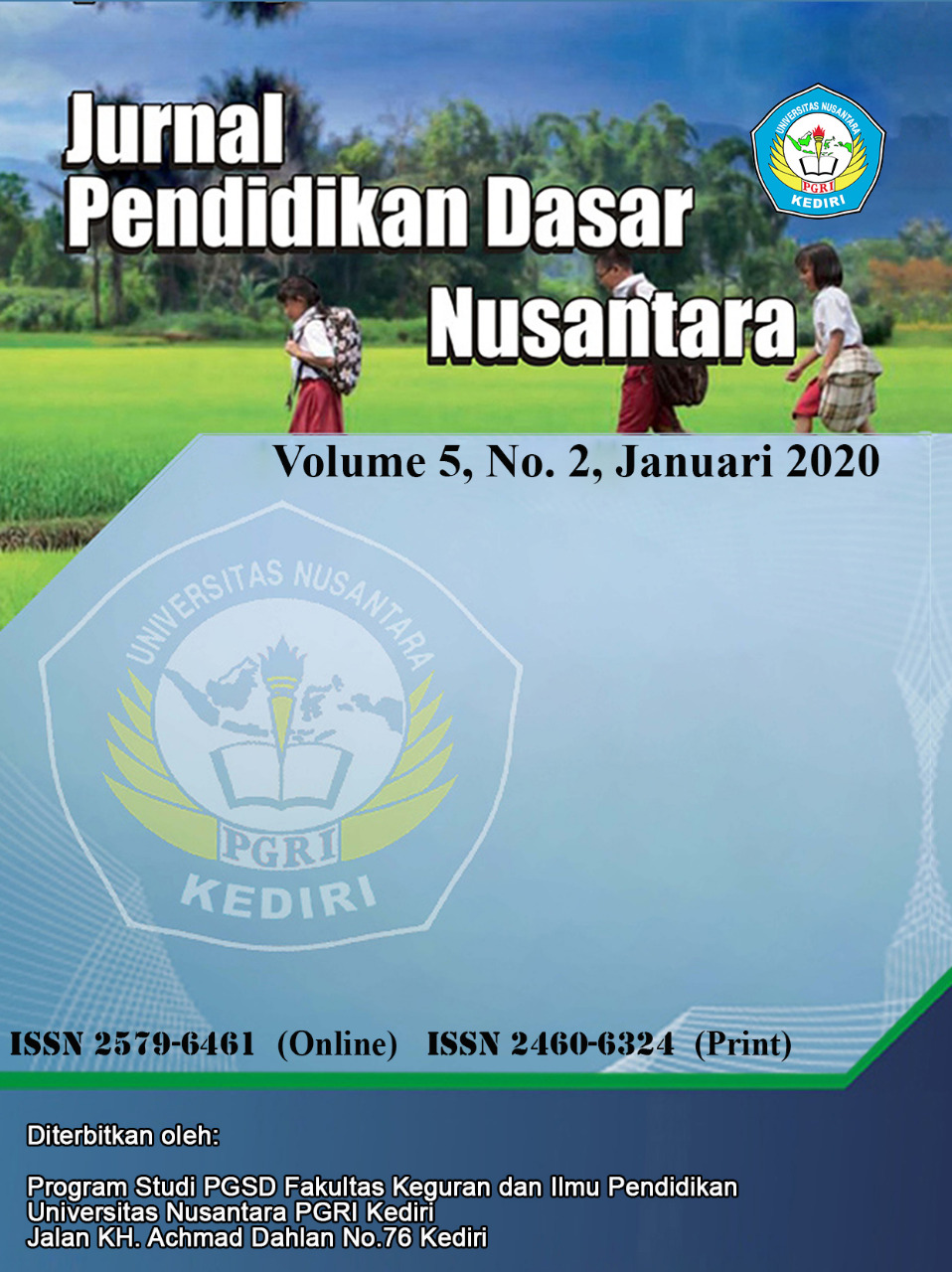 How to Cite
Lestari, F. N., & Miftakhul'Ulum, W. (2020). Analisis Bentuk Kedisiplinan Siswa Dalam Mengikuti Kegiatan Belajar Dengan Motivasi Belajar Siswa Kelas IV SDN I Gondosuli Gondang. JURNAL PENDIDIKAN DASAR NUSANTARA, 5(2), 318-329. https://doi.org/10.29407/jpdn.v5i2.13554
Copyright (c) 2020 JURNAL PENDIDIKAN DASAR NUSANTARA
This work is licensed under a Creative Commons Attribution 4.0 International License.