Mengekstrak Senyawa Bioaktif yang Terkandung pada Kulit Kayu Manis dan Mengidentifikasinya dengan Teknik Gas Chromatography – Mass Spectroscopy (GC-MS)
Marissa Rijoice

Universitas Advent Indonesia

Horasdia Saragih

Universitas Advent Indonesia
Abstract views:
246
,
PDF downloads:
314
Keywords:
Extract, bioactive compounds, cinnamon bark, Gas Chromatography, Mass Spectroscopy
Abstract
The bioactive compounds contained in cinnamon bark have been extracted. Extraction carried out using ethanol, methanol and water as solvents. The type of compound extracted identified by gas chromatography - mass spectroscopy (GC-MS) technique. From result the identification carried out, obtained as many as eight types of compounds, namely: using ethanol as solvent: (1) cinnamaldehyde, (2) bornylester of acrylic acid, (3) alpha-copaene, (4)Cumarine, and (5) methyl isoheptadecanoate; generated with using methanol as solvent: (6) trioctanoin and (7) 1-hydroxy-2,2-dimethyldecane; and that produced using water as a solvent is (8) 2,5-cyclooctadienol. of the eight Of these compounds, the most dominant is cinnamaldehyde. This shows that the bark Sweet has the main content, cinnamaldehyde. Because the main content is cinnamaldehyde, then cinnamon bark has the potential to be developed in the future as an ingredient herbs for, among others, as anti-diabetic and anti-viral therapy, due to cinnamaldehyde has the character of being able to lower blood sugar levels and is very attractive to weaken the virus. Keywords: Extract, bioactive compounds, cinnamon bark, Gas Chromatography, Mass Spectroscopy.
References
El-Bassossy H.M., Fahmy A., dan Badawy D., (2011). Cinnamaldehyde protects from the hypertension associated with diabetes. Food and Chemical Toxicology, Vol. 49, Hal. 3007–3012.
Kulkarni S.A., Nagarajan S.K., Ramesh V., Palaniyandi V., Selvam S.P., dan Madhavan T., (2020). Computational evaluation of major components from plant essential oils as potent inhibitors of SARS-CoV-2 spike protein. Journal of Molecular Structure, Vol. 1221, No.5 (128823).
Kumar S, Vasudeva N, dan Sharma S., (2012). GC-MS analysis and screening of antidiabetic, antioxidant and hypolipidemic potential of cinnamomum tamala oil in streptozotocin induced diabetes mellitus in rats. Cardiovascular Diabetology, Vol. 11, No. 95, Hal. 1-11.
Pourghanbari G., Nili H., Moattari A., Mohammadi A., dan Iraji A., (2016). Antiviral activity of the oseltamivir and Melissa officinalis L essential oil against avian influenza A virus (H9N2). Virusdisease, Vol. 27, No. 2. Hal. 170-178.
Saad N.Y., Muller C.D., dan Lobstein A., (2013). Major bioactivities and mechanism of action of essential oils and their components. Flavour and Fragrance Journal, Vol. 28, No. 5, Hal. 269-279.
Sadeghi S., Davoodvandi A., Pourhanifeh M.H., Sharifi N., Nezhad R.A., Sahebnasagh R., Moghadam S.A., Sahebkar A., dan Mirzaei H., (2019). Anti-cancer effects of cinnamon: Insights into its apoptosis effects. European Journal of Medicinal Chemistry, Vol. 178, Hal. 131-140.
Schink A., Naumoska K., Kitanovski Z., Kampf C.J., Nowoisky J.F., Thines E., Pöschl U., Schuppan D., dan Lucas K., (2018). Anti-inflammatory effects of cinnamon extract and identification of active compounds influencing the TLR2 and TLR4 signaling pathways. Food & Function, Vol. 9, Hal. 5950–5964.
Tariq S., Wani S., Rasool W., Shafi K., Bhat M.A., Prabhakar A., dan Rather M.A., (2019). A comprehensive review of the antibacterial, antifungal and antiviral potential of essential oils and their chemical constituents against drug-resistant microbial pathogens. Microb. Pathog. Vol. 134 (103580).
Yanakiev S., (2020). Effects of Cinnamon (Cinnamomum spp.) in Dentistry: A Review. Molecules, Vol. 25, Hal. 4184 (1-17).
Zare R., Nadjarzadeh A., Zarshenas M.M., Shams M., dan Heydarig M., (2019). Efficacy of cinnamon in patients with type II diabetes mellitus: A randomized controlled clinical trial. Clinical Nutrition, Vol. 38, Issue 2, Hal. 549-556.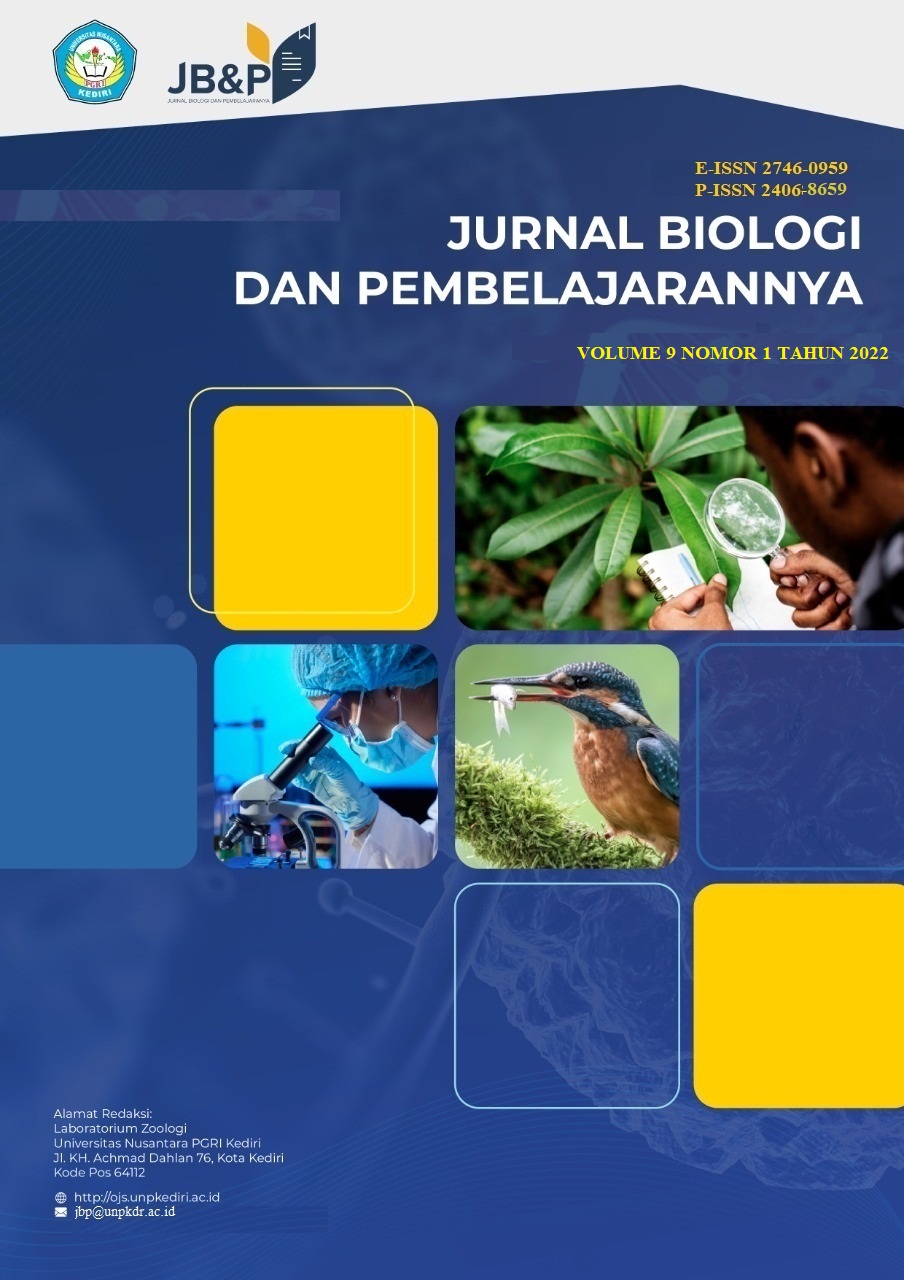 How to Cite
Marissa Rijoice, & Saragih, H. (2022). Mengekstrak Senyawa Bioaktif yang Terkandung pada Kulit Kayu Manis dan Mengidentifikasinya dengan Teknik Gas Chromatography – Mass Spectroscopy (GC-MS). Jurnal Biologi Dan Pembelajarannya (JB&P), 9(1), 12-26. https://doi.org/10.29407/jbp.v9i1.17633
Copyright (c) 2022 Marissa Rijoice, Horasdia Saragih
This work is licensed under a Creative Commons Attribution-ShareAlike 4.0 International License.
Authors who publish with this journal agree to the following terms:
Copyright on any article is retained by the author(s).
The author grants the journal, right of first publication with the work simultaneously licensed under a Creative Commons Attribution License that allows others to share the work with an acknowledgment of the work's authorship and initial publication in this journal.
Authors are able to enter into separate, additional contractual arrangements for the non-exclusive distribution of the journal's published version of the work (e.g., post it to an institutional repository or publish it in a book), with an acknowledgment of its initial publication in this journal.
Authors are permitted and encouraged to post their work online (e.g., in institutional repositories or on their website) prior to and during the submission process, as it can lead to productive exchanges, as well as earlier and greater citation of published work.
The article and any associated published material is distributed under the Creative Commons Attribution-ShareAlike 4.0 International License