Mengoptimalkan Kemampuan Berbahasa Anak Usia Dini Melalui Metode Bercerita
Firdausi Nuzula Apriliyana

Universitas PGRI Ronggolawe
Abstract views:
396
,
PDF downloads:
247
Keywords:
Storytelling Method, Language Ability
Abstract
Children's language skills in listening and speaking activities are not optimal, children's vocabulary is still limited, so that children in conveying ideas, answering questions, repeating stories and telling stories about their experiences have not been achieved as expected. The purpose of this research is to analyze the effect of storytelling methods on the development of language skills in early childhood. This type of research is an experimental study with a nonequivalent control group design. The research was carried out in KB 'Aisyiyah Mentari Tuban with 32 children as subjects. The number of subjects was divided into 2 groups, namely the control and experimental groups as a comparison of the development of language skills. Collecting research data using observation and documentation techniques. The validity test with the Pearson correlation and the reliability test with Cronbach Alpha were carried out first then analyzed the data with the t test. The results of this study were proven by using the storytelling method to optimize early childhood language skills. Calculation using the t-test for all indicators> t critical 1.7530, it can be concluded that H0 is rejected, H1 is accepted. This means that there is an effect of storytelling methods for all indicators on children's language skills. Suggestions for educators and PAUD institutions to implement storytelling methods as a method that can stimulate children's language skills.
Keywords: Storytelling Method, Language Ability
References
Bachri, S. B. (2005). Pengembangan Kegiatan Bercerita, Teknik dan Prosedurnya. Jakarta: Depdikbud.
Bandung, R. D., & Fathoni, A. A. (2012). Alfabeta. Sujarweni, V Dan Poly Endrayanto.
Ghozali, I. (2001). Aplikasi Analisis Multivariate dengan Program SPSS. Badan Penerbit Universitas Diponegoro.
Hartati, M. (2018). Pengaruh Penerapan Metode BCCT (Beyond Center And Circle Time) terhadap Kemampuan Membaca (Studi di PAUD Sayang Bunda Bengkulu Tengah). Annizom, 3(3).
Moeslichatoen, R. (2004). Metode Pengajaran Di Taman Kanak-kanak, cet ke-2 (Jakarta: PT Asdi Mahasatya.
Musfiroh, T. (2008). Memilih, menyusun, dan menyajikan cerita untuk anak usia dini. Yogyakarta: Tiara Wacana.
Nasional, D. P. (2010). Pedoman Pembelajaran Bidang Pengembangan Bahasa di Taman Kanak-kanak. Jakarta: Depdiknas.
Priyatno, D. (2010). Teknik Mudah dan Cepat Melakukan Analisis Data Penelitian dengan SPSS. Gava Media.
Rahayu, A. Y. (2013). Menumbuhkan kepercayaan diri melalui kegiatan bercerita. Jakarta: Indeks.
Riduwan, A. (2009). Rumus dan Data dalam Aplikasi Statistika (Cetakan Ketiga) Bandung: CV. Alfabeta.
Riyanto, Y. (2001). Metodologi penelitian pendidikan. Surabaya: Sic, 318.
Santrock, J. (2010). W.(2011). Psikologi Pendidikan (Edisi Kedua). Jakarta: Kencana Prenada Media Group.
Santrock, J. W. (2007). Perkembangan anak. Jakarta: Erlangga, 1(2), 3.
Saribu, A., & Hidayah, A. N. (2019). Meningkatkan Kemampuan Berbahasa Anak melalui Metode Bercerita. JURNAL RISET GOLDEN AGE PAUD UHO, 2(1), 6–14.
Sugiyono. (2009). Metode Penelitian Kuantitatif, Kualitatif dan R&D. Alfabeta.
Utami, S. W., & Khusnal, E. (2014). Pengaruh Metode Bercerita Dengan Gambar Terhadap Perkembangan Bahasa Anak Usia 3-5 Tahun Di Paud Sariharjo Ngaglik Sleman. STIKES'Aisyiyah Yogyakarta.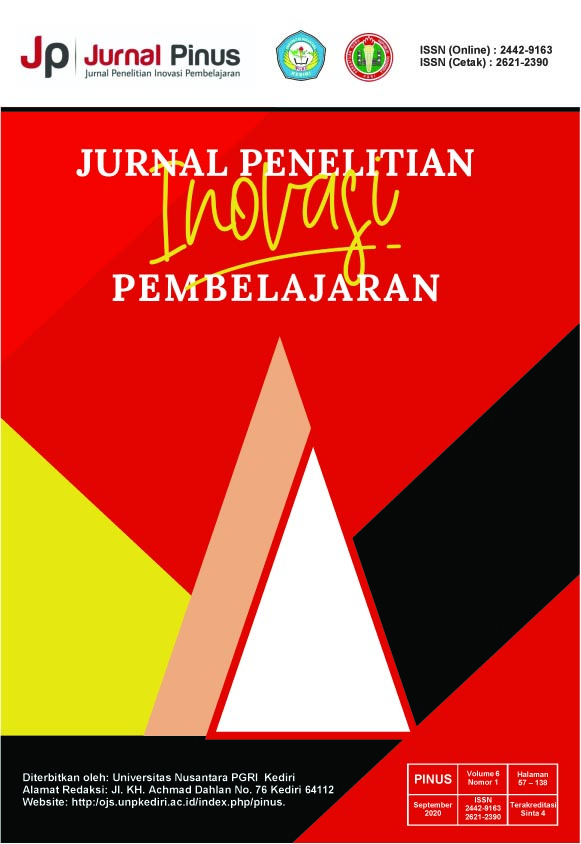 How to Cite
Nuzula Apriliyana, F. (2020). Mengoptimalkan Kemampuan Berbahasa Anak Usia Dini Melalui Metode Bercerita. PINUS: Jurnal Penelitian Inovasi Pembelajaran, 6(1), 109-118. https://doi.org/10.29407/pn.v6i1.14594
Copyright (c) 2020 Firdausi Nuzula Apriliyana
This work is licensed under a Creative Commons Attribution-ShareAlike 4.0 International License.
Authors retain copyright and grant the journal right of first publication with the work simultaneously licensed under a Creative Commons Attribution-ShareAlike 4.0 International License that allows others to share the work with an acknowledgement of the work's authorship and initial publication in this journal.