Minat Beli Konsumen Pada Produk Rengginang Ikan Tenggiri Khas Probolinggo
Muhammad Syarif Hidayatullah Elmas

Fakultas Ekonomi Universitas Panca Marga Probolinggo
Abstract views:
196
,
pdf downloads:
66
Keywords:
Product Quality, Price, Consumer Purchase Interest
Abstract
This study attempts to know the quality of product and price to consumers purchasing interest, either in the simultaneous and partial .The sample used in this research 30 respondents. The method of analysis of the data using the validity and reliability test, the classical assumption, and with the help of the multiple linear regression spss 22.0 version for windows. The results of tests indicated that the product quality and price significant simultaneously with the level of significance of 0,000 < 0,05 consumers purchasing interest. While based on partial shows that the product quality and price significant of the significance of 0,000 < 0,05 and 0,005 < 0,05 to consumers purchasing interest.
References
Abdurrahman, N. H. (2015). Manajemen Strategi Pemasaran. CV PUSTAKA SETIA.
Alma, B. (2013). Manajemen Pemasaran dan Pemasaran Jasa. CV Alfabeta.
Faradiba, S. R. T. A. (2013). KONSUMEN ( Studi pada Warung Makan " Bebek Gendut " Semarang ). ANALISIS PENGARUH KUALITAS PRODUK, HARGA, LOKASI DAN KUALITAS PELAYANAN TERHADAP MINAT BELI ULANG KONSUMEN (Studi Pada Warung Makan "Bebek Gendut" Semarang), 2, 1–10.
Ghozali, I. (2016). Aplikasi Analisis Multivariete dengan Program IBM SPSS 23. Badan Penerbit Universitas Diponegoro.
Haris, A. (2016). Manajemen Pemasaran, Tinjauan Teoritis dan Praktik (S. Wahyudi (ed.)). Surya Pena Gemilang.
Latief, A. (2018). Analisis Pengaruh Produk, Harga, Lokasi dan Promosi Terhadap Minat Beli Konsumen pada Warung Wedang Jahe (Studi Kasus Warung Sido Mampir di Kota Langsa). Jurnal Manajemen Dan Keuangan, Vol.7.
Priansa, D. J. (2017). Perilaku Konsumen Dalam Persaingan Bisnis Kontemporer. Alfabeta. CV.
Priyatno, D. (2013). Mandiri Belajar analisis data dengan SPSS. Mediakom.
Retnowulan, J. (2017). TERHADAP MINAT BELI SMARTPHONE XIAOMI. XVII(2).
Sugiyono. (2014). Metode Penelitian Kuantitatif, Kualitatif dan R&D. Alfabeta. CV.
Sujarweni, W. (2019). Statistik Untuk Bisnis & Ekonomi. Pustaka Barupress.
Wirayanthy, N. & S. (2019). Pengaruh Harga, Citra Merek dan Kualitas Terhadap Minat Beli Produk Private Label. Jurnal Riset Manajemen & Bisnis Dewantara, Vol 2 No 1. http://ejournal.stiedewantara.ac.id/index.php/JMD/article/view/231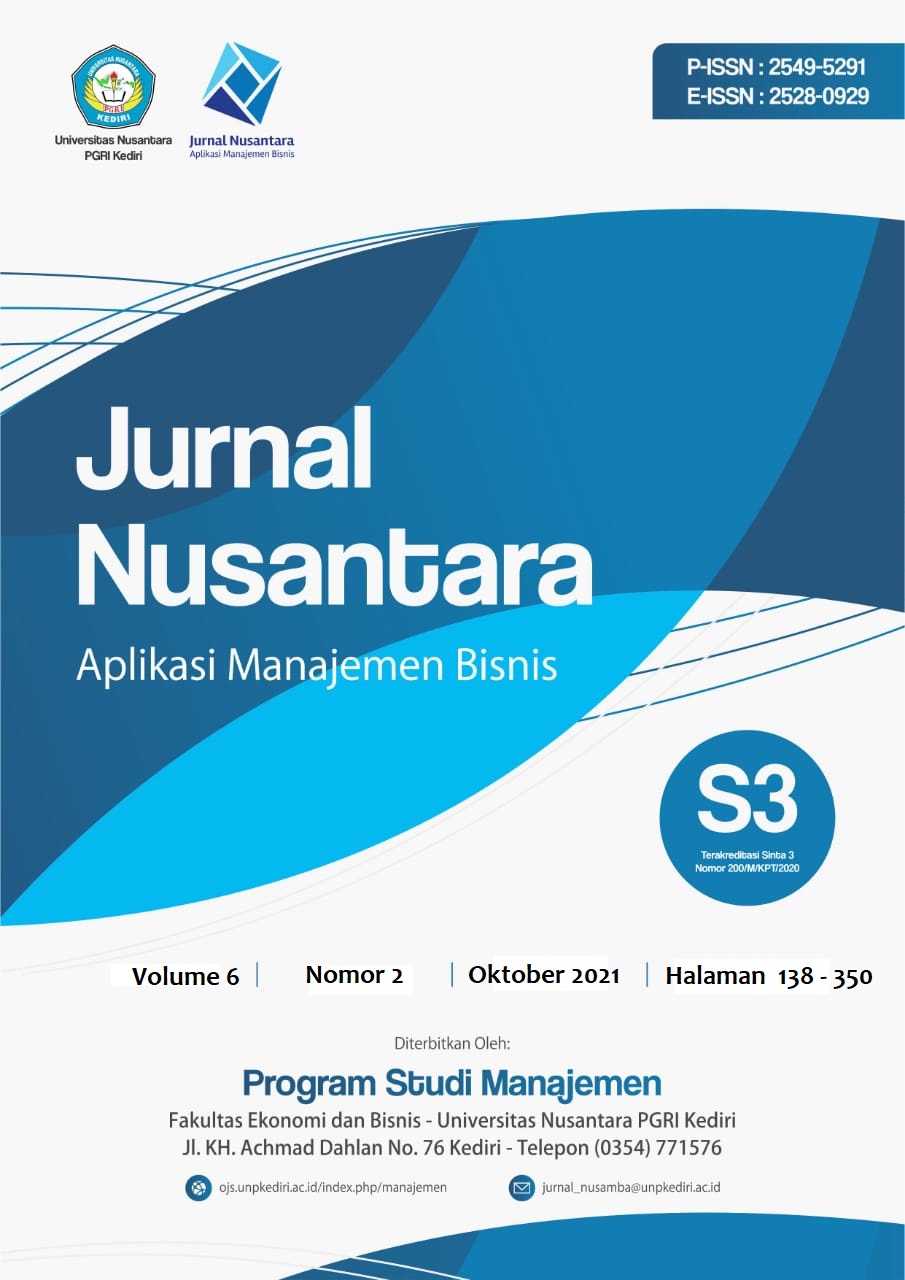 How to Cite
Elmas, M. S. H. (2021). Minat Beli Konsumen Pada Produk Rengginang Ikan Tenggiri Khas Probolinggo. JURNAL NUSANTARA APLIKASI MANAJEMEN BISNIS, 6(2). https://doi.org/10.29407/nusamba.v6i2.15703
Copyright (c) 2021 Muhammad Syarif Hidayatullah Elmas
This work is licensed under a Creative Commons Attribution-ShareAlike 4.0 International License.