Studi Tentang Candi Ngetos Di Kabupaten Nganjuk Ditinjau Dari Kajian Ikonografi
Yatmin

Universitas Nusantara PGRI Kediri

Zainal Afandi

Universitas Nusantara PGRI Kediri
Abstract views:
282
,
PDF (Bahasa Indonesia) downloads:
789
Keywords:
ngetos, candi majapahit, nganjuk, jawa timur
Abstract
Study About Ngetos Temple in Nganjuk Regency, Research, Historical Education, FKIP UNP Kediri.
In Indonesia many historical relics have a very extraordinary value, the temple is the result of the nation's culture that is high in value. The existence of a temple is not yet known to the wider community. Such conditions are caused by the lack of written sources about the history of the temple building. We all certainly realize that the temple building is a potential asset of the nation in various aspects of development. One of the temples that is not yet known to the wider community is Ngetos Temple. The author deliberately raised Ngetos Temple as a research object whose purpose was to study and uncover the existence of Ngetos Temple in Ngetos Village, Ngetos subdistrict, Nganjuk Regency. Ngetos area is indeed suitable for a monumental sacred building that is located in a mountainous area and allows for the development of tourist attractions of the Nganjuk regency. The results of Majapahit culture have also been studied by the Dutch East Indies government under the leadership of Governor-General Thomas Stanford Raffles since 1817. The building of Ngetos temple as a result of Majapahit culture serves as a place of worship of ancestral spirits and worship of the gods.
References
Budiono, E. M. A., Soepeno, B., & Nirmala P, R. P. (2019). Nilai Edukasi Candi Jabung Kecamatan Paiton Kabupaten Probolinggo dalam Pembelajaran Sejarah. SINDANG: Jurnal Pendidikan Sejarah Dan Kajian Sejarah, 1(2), 23–27. https://doi.org/10.31540/sdg.v1i2.278
Depdikbud. Tim Penyusun kamus Pusat Pembinaan dan Pengembangan Bahasa. (1989). "Kamus Besar bahasa Indonesia". Jakarta : Balai Pustaka.
Fauzi, N. B., & Rahmawati, F. E. (2018). Ikonografi Sebagai Langkah Kerja Kreatif Cipta Sastra Anak Dari Relief Candi. Hasta Wiyata, 1(1), 15–21. https://doi.org/10.21776/ub.hastawiyata.2018.001.01.02
Hoeve Van Bare, (1980). "Ensiklopedi Indonesia". Jakarta
Hadi Sutisno, (1989). "Metodologi Research II". Yogyakarta : Andi Offset.
Harimintadji. (1995). Nganjuk dan Sejarahnya. Nganjuk :Daerah Tingkat II Nganjuk.
Irawan, A., & Idris, M. (2018). Seni Perhiasan Dalam Kebudayaan Mataram Kuno Sebagai Sumber Pembelajaran Sejarah (Studi Ikonografi Relief Candi Borobudur). Kalpataru: Jurnal Sejarah Dan Pembelajaran Sejarah, 3(1), 11. https://doi.org/10.31851/kalpataru.v3i1.1606
Kaningtyas, M. J. (2016). Kaitan Latar Belakang Pendidikan Guru ter-hadap Pemanfaatan Candi Kotes sebagai Sumber Belajar. Sejarah Dan Budaya : Jurnal Sejarah, Budaya, Dan Pengajarannya, 10(1), 63–71. https://doi.org/10.17977/um020v10i12016p063
Koentjaraningrat, (1987). "Kebudayaan Mentalitas dan pembangunan". Jakarta : Gramedia.
Muljana Slamet. (1953). "Negara Kertagama dan Tafsir Sejarahnya". Jakarta : Bhatara Karya Aksara.
N.J. Kroom. (1956). "Zaman hindu". Jakarta : PT. Pembanguanan.
Notosusanto Nugroho, (1968). "Sejarah dan hankam".Jakarta : Dephankam.
---------, 1983. "Sejarah nasional II". Jakarta : Balai pustaka
Ngadiono, (2003). Peninggalan Sejarah dan Kepurbakalaan Candi Penataran. Dinas Pendidikan & Kebudayaan Propinsi Jawa Timur. Surabaya : Perintis Grapic Art.
Pemda Dati II Nganjuk, (1980). " Sejarah Kabupaten Madiun". Madiun.
Poesponegoro, Marwati Djoened. & Nugroho Noto Susanto. (2012). Sejarah Nasional Indonesia .Jakarta : Balai Pustaka.
Soekmono,R (1974). "candi, Fungsi dan Pengertiannya". Jakarta : UI.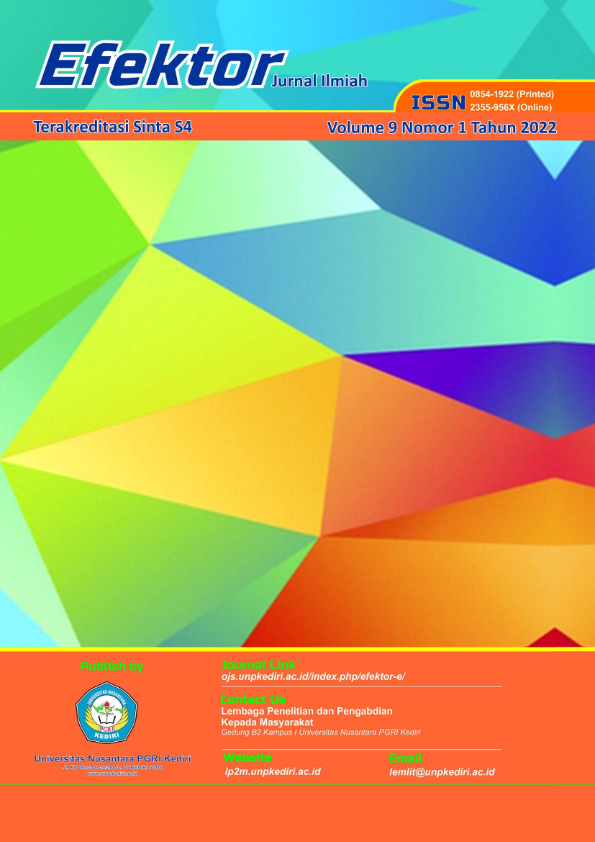 How to Cite
Yatmin, & Zainal Afandi. (2022). Studi Tentang Candi Ngetos Di Kabupaten Nganjuk Ditinjau Dari Kajian Ikonografi. Efektor, 9(1), 66-75. https://doi.org/10.29407/e.v9i1.17516
Copyright (c) 2022 Efektor
This work is licensed under a Creative Commons Attribution-ShareAlike 4.0 International License.
Authors retain copyright and grant the journal right of first publication with the work simultaneously licensed under a Creative Commons Attribution-ShareAlike 4.0 International License that allows others to share the work with an acknowledgment of the work's authorship and initial publication in this journal.