Pengembangan Video Sex Education Untuk Menstimulasi Kemampuan Sosial Emosional Anak Usia Dini
Norma Diana Fitri

STKIP Bina Insan Mandiri Surabaya
Abstract views:
1796
,
PDF (Bahasa Indonesia) downloads:
37426
Keywords:
media video, sex education, kemampuan sosial dan emosional
Abstract
This research aims to develop video sex education to stimulate social emosional of childhood. The development model used in this study is a model Borg and Gall (2007), which consists of ten steps. (1) Asses Needs To Identity Goal, (2) Conduct Instructional Analysis, (3) Analyze Learners And Cnontext, (4) Write Performance Objectives, (5) Develop Assessment Instrument, (6) Develop Instructional Strategy, (7) Develop And Select Instructional Materials, (8) Design And Conduct Formative Evaluation Of Instruction, (9) Revise Instruction, (10) Design And Conduct summative Evaluation. Design trials of investigational products through three stages: (a) validation expert, (b) small group trial, (c) a large group trial. The trial results were further tested by t-test is to determine the increase in the ability of religious values ​​and morals of the early childhood learning outcomes between consuming media by not wearing media. The results showed that audio-visual media can stimulate sex education religious values ​​and morals. From the analysis of the data obtained derive significant value 0.000 <0.005, H0 is rejected. Thus it can be said the difference in the average treatment before and after and the average score of the treatment before and after treatment in the learning process of sex education by using audio-visual media have been developed.
References
AH, Hujair Sanaky. 2011. Media Pembelajaran. Yogyakarta: Kaukaba Dipantara
Aqib. 2009. Belajar dan Pembelajaran di Taman Kanak-Kanak. Bandung: Yrama Widya
Arsyad Azhar. 2011. Media Pembelajaran. Jakarta. Rajawali Pers.
Dale, E 1969. Audiovisual Methos In Teaching. (Third Edition). New York: The Dryden Press, Holt, Rinehart And Winston, Inc
Daryanto. 2009. Panduan Proses Pembelajaran. Teori dan Praktek Dalam Pengembangan Profesionalisme Guru. Jakarta: Av:Publisher
Departemen Pendidikan Nasional. 2003. Petunjuk Pelaksanaan Kegiatan Belajar Mengajar, Penilaian Pembuatan dan Penggunaan Sarana (Alat Peraga) di Taman Kanak-Kanak. Jakarta: Depdiknas
Hamalik, Oemar. 1994. Media Pendidikan. (Cetakan Ke-7). Bandung: Penerbit PT Citra Aditya Bakti
Hayati, Nur. 2010 Strategi Pembelajaran Anak Usia Dini. http://staff.uny.ac.id/sites/default/ files/tmp.PPM.Salman.pdf. Diungguh 14 November 2014
Suraji, 2008. Pengertian Pendidikan Seks. http://www.psychologymania.com/2013/02/ pengertian-pendidikan-seks.html. Diungguh 14 November 2014
Hurlock,B., Elizabeth 1978. Pola Prilaku Dalam Situasi Sosial Masa Anak Awal. Jakarta: Erlangga
Montessory. 2004. Part Time Study Montessory Method Of Teching. Indonesia Montessory
M.Turhan Yani. Vol 10.10.No 1 Maret 2009. Pengembangan Nilai-Nilai Agama Pada Tapas Surabaya. Jurnal Pendidikan Dasar. University Press Unesa
M.Turhan Yani.2011. Modul I . Pengembangan Moral Agama Untuk Anak Usia Dini. PG Paud FIP.Unesa
Munadi, Yudhi. 2008. Media Pembelajaran: Sebuah Penedekatan baru. Jakarta: GP Press
Mutiah, Diana. 2010. Psikologi Bermain Anak Usia Dini. Jakarta: Kencana Prenada Media Group
Mulyasa, E. 2012. Manajemen Pendidikan Anak Usia Dini. Bandung: Pt Remaja Rosdakarya
Masitoh, Dkk. 2007. Strategi Pembelajaran TK. Jakarta: Universitas Terbuka
Priyanto. 2012. Parenting di Dunia Digital. Jakarta: PT. Elex Media Komputindole
Rusman. 2012. Belajar dan Pembelajaran Berbasis Komputer. Alfabeta: Bandung
Sudjana, Nana., Riva'I, Ahmad. 2010. Media Pengajaran. Bandung: Sinar Baru Algensindo.
Susanto Ahmad. 2012. Perkembangan Anak Usia Dini Dalam Berbagai Aspeknya. Kencana: Jakarta
Seldin, Tim 2006. How To Raise An Amazing Child The Montessory Way. New York: DK Publishing
Seels, Barbara B. & Richey, Rita C. 1994. Teknologi Pembelajaran: Definisi dan Kawasannya. Penerjemah Dewi S. Prawiradilaga dkk. Jakarta: Kerjasama IPTPI LPTK UNJ
Suyanto,D. (2005). Bermain Dan Permainan Anak. Jakarta: Universitas Terbuka
Sadiman, Dkk. 1986. Media Pendidikan: Pengertian, Pengembangan, Dan Pemanfaatannya. Jakarta: PT Raja Grafindo Persada
Sugiyono. (2011). Metode Penelitian Kuantitatif Dan Kualitatif Dan R&D. Bandung: Alfabeta.
Zaman, Badru dkk. (2005). Media dan Sumber Belajar TK. Jakarta: Universitas Terbuka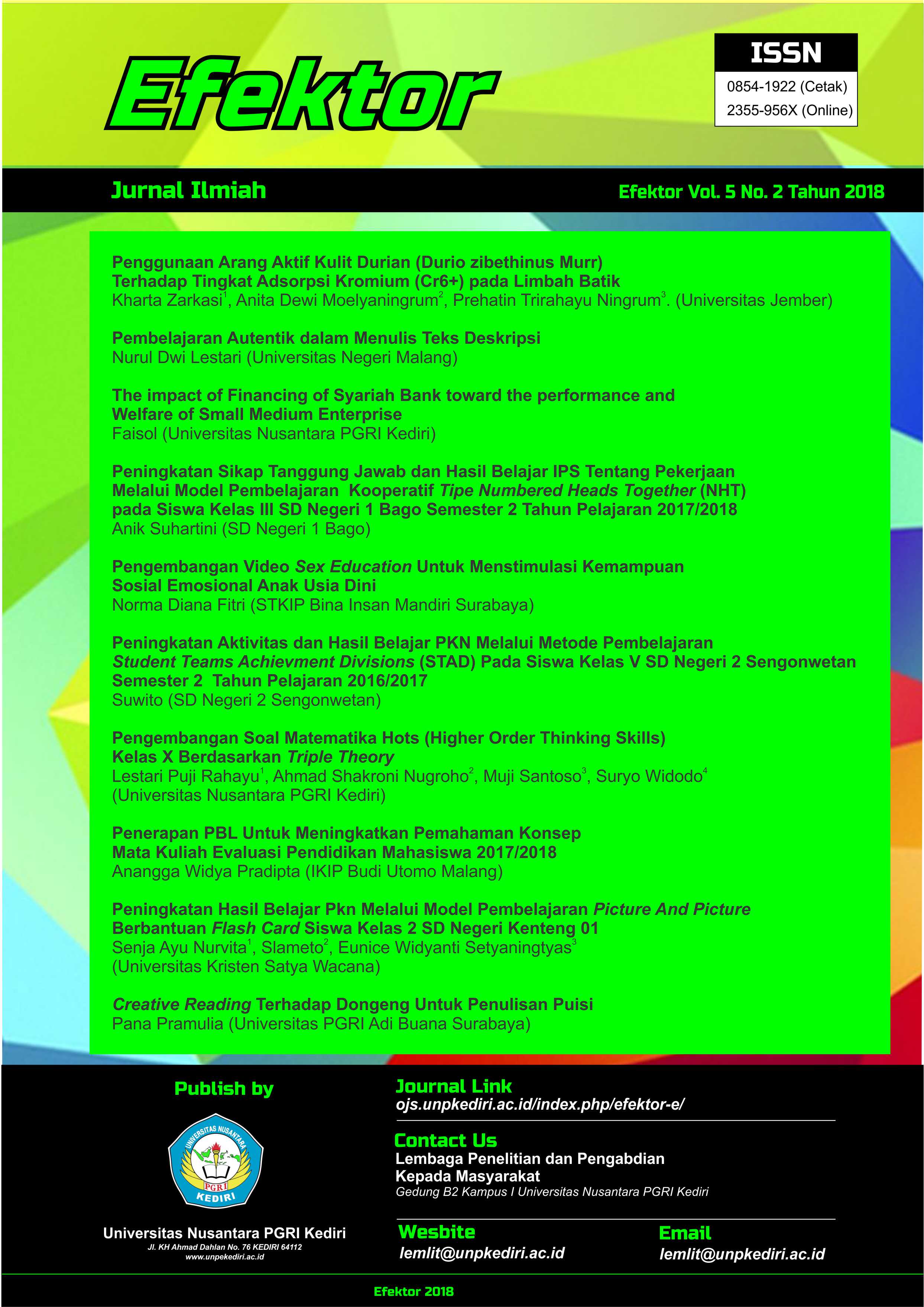 How to Cite
Fitri, N. D. (2018). Pengembangan Video Sex Education Untuk Menstimulasi Kemampuan Sosial Emosional Anak Usia Dini. Efektor, 5(2), 102-109. https://doi.org/10.29407/e.v5i2.12154
Copyright (c) 2018 EFEKTOR
This work is licensed under a Creative Commons Attribution-ShareAlike 4.0 International License.
Authors retain copyright and grant the journal right of first publication with the work simultaneously licensed under a Creative Commons Attribution-ShareAlike 4.0 International License that allows others to share the work with an acknowledgment of the work's authorship and initial publication in this journal.