SELEKSI Seleksi Dan Identifikasi Bakteri Penambat Nitrogen Pada Perakaran Tanaman Kacang Hijau (Vigna radiata L) Dan Tomat (Solanum lycopersicum L) Di Kabupaten Belu
-
Gergonius Fallo

Universitas Timor

Anastasia Buak

Lukas Pardosi
Abstract views:
413
,
PDF downloads:
559
Keywords:
Nitrogen fixing bacteria, bacterial isolation, identification, Belu Regency
Abstract
Nitrogen fixing bacteria are often called diazotroph bacteria which are able to use air nitrogen as a nitrogen source for their growth. Nitrogen fixing bacteria have the ability to increase the efficiency of N- available in the soil. The purpose of this study was to determine the morphological and biochemical characters of nitrogen-fixing bacteria from the roots of mung bean and tomato plants in Belu Regency. Isolation of nitrogen fixing bacteria by scratch method and spread on NA media. While the selection of nitrogen fixing bacteria using Jensen agar media. The results of the isolation obtained 12 isolates. Six isolates from roots of tomato plants and six isolates from roots of mung bean plants. The morphological characters of the 12 isolates were generally round in shape, small in size, flat in elevation and milky white in color. The selection results showed that 3 isolates grew on Jansen agar media, namely RKHB05, RKHB06, and RTB06. The result of gram staining showed that RKHB05, RKHB06 isolates were gram negative and had cocci cell form, while RTB06 isolates were gram positive with bacillus cell forms. The 3 isolates were positive for motility test, Citrate test, TSIA, and Catalase test
References
Abdel-Hamid, M., Elbaz, A., Ragab, A., Hamza, H.A., 2010. Identification and Characterication of Azotobacter chroococum Isolated from some Egyptian Soils. J. Of Agricultural Chemistry and Biotegnology. 1(2):93-104. DOI:10.21608/jacb.2010.88790
Agisti, A., Alami, N.H., Hidayati, T.N., 2014. Isolasi dan identifiasi bakteri penambat nitrogen non simbiotik pada lahan restorasi dengan Metode Legume Cover Crop (LCC) di Daerah Pasirian Lumajang Jawa Timur. Jurnal Sains dan POMITS. 3(2):36-39.
Brock, T.D., Madigan, M.T., Martinko, J.M., Parker, J. 1994. Riologi of microorganism. 7 Edition, Prentice hall. New Jersey.
Danapriatna, 2010. Pengaruh cekaman kekeringan terhadap serapan Nitrogen dan pertumbuhan tanaman. Jurnal REGION. 2 (4): 34-45.
Huda, dan Salni., 2012. Penampisan Aktivitas Antibakteri dari Bakteri yang Beasosiasi dengan Karang Lunak Sarcophyton sp. Jurnal Maspari, 4 (1): 69-76.
Huslina, F., dan Harahap,D., 2019. Isolasi Bakteri Pengikat Nitrogen Dengan Menggunakan Media Jensen. Jurnal Agrotek. Ummat. 6 (2):91-93
Irvan, M., 2014. Isolasi Dan Enumerasi Bakteri Tanah Gambut Di Perkebunan Kelapa Sawit PT. Tambang Hijau Kecamatan Tambang KabupatenKampar. Jurnal Agroteknologi. 5 (1):1-8
Jabbar, B.K.A dan Halimi,J. S., 2012) Efect of molybdenum on biological nitrogen fixation by combination of Rhizobium and Azospirillum in soybean under drip irrigation system. journal of Scie. Biotech. and Pharma Res. Hydeabad. 1(2): 2250-3137.
James, E.K. dan Olivares, F.L., 1997. Infection And Colonization Of Sugar Cane And Other Graminaceous Plants By Endophytic Diazotrophs. Critical Reviews in Plant Science. 17:77-119.
Lay, 1994. Analisis mikroba di laboratorium. PT Raja Grafindo persada , Jakarta.
Pelealu, J.B., Butarbutar, R.R, Tallei,T.E., 2017. Isolasi dan identifikasi bakteri rhizosfer Aracis pintoi setelah diinokulasi Mikoriza Arbuzkular dan penambahan pupuk organik. Jurnal Bioslogos. 7(2):35-40.
Pepe, O., Ventorino, V., Blaiotta, G., 2013. Dynamic of functional microbial groups during mesophilic composting of agro-industrial waste and free living (N2)-fixing bacteria application. Jurnal Waste Man. 33:1616-1625. DOI: 10.1016/j.wasman.2013.03.025
Rodrigues, M.A., Ladeira, L.C., Arrobas, M., 2018. Azotobacter- enriched organic manues to incease nitrgen fixaton and cop productifity. Journal f Agronomy. 93:88-94. https://doi.org/10.1016/j.eja.2018.01.002
Purwiningsih, S., 2003. Isolasi, Populasi dan karakterisasi bakteri pelarut fosfat pada tanah dari taman nasional Bog
Ristiati, N.P., Muliadihardja, S., Nurlita, F., 2008. Isolasi dan identifikasi bakteri penambat nitrogen non simbiosis dari dalam tanah. Jurnal penelitian dan Pengembangan Sains & Humaniora. 2:68-80.
Suryanto, D., dan Munir,E., 2008. Potensi Pemanfaatan Isolat Bakteri Kitinolitik Lokal Untuk pengendali Hayati Jamur. Prosiding Seminar Hasil – Hasil Penelitian USU, Medan. Hal: 15-25. http://repository.usu.ac.id/handle/123456789/16063
Ulfa, A., Suarsini, E., Irawat, M.H.A.M., 2016. Isolasi Dan Uji Sensitivitas Merkuri Pada Bakteri Dari Limbah Penambangan Emas Di Sekotong Barat Kabupaten Lombok Barat Penelitian Pendahuluan. Proceeding Biology Educatin Conference. 13 (1):793-799
Wahyuni, R.M., Sayuti, A., Abrar, M., Erina, Hasan, M., Zainuddin., 2018. Isolasi Dan Identifikasi Bakteri Enterik Patogen Pada Badak Sumatera (Dicerorhinus sumatrensis) Di Suaka Rhino Sumatera Taman Nasional Way Kambas (TNWK), Lampung. JIMVET. 2(4):474-487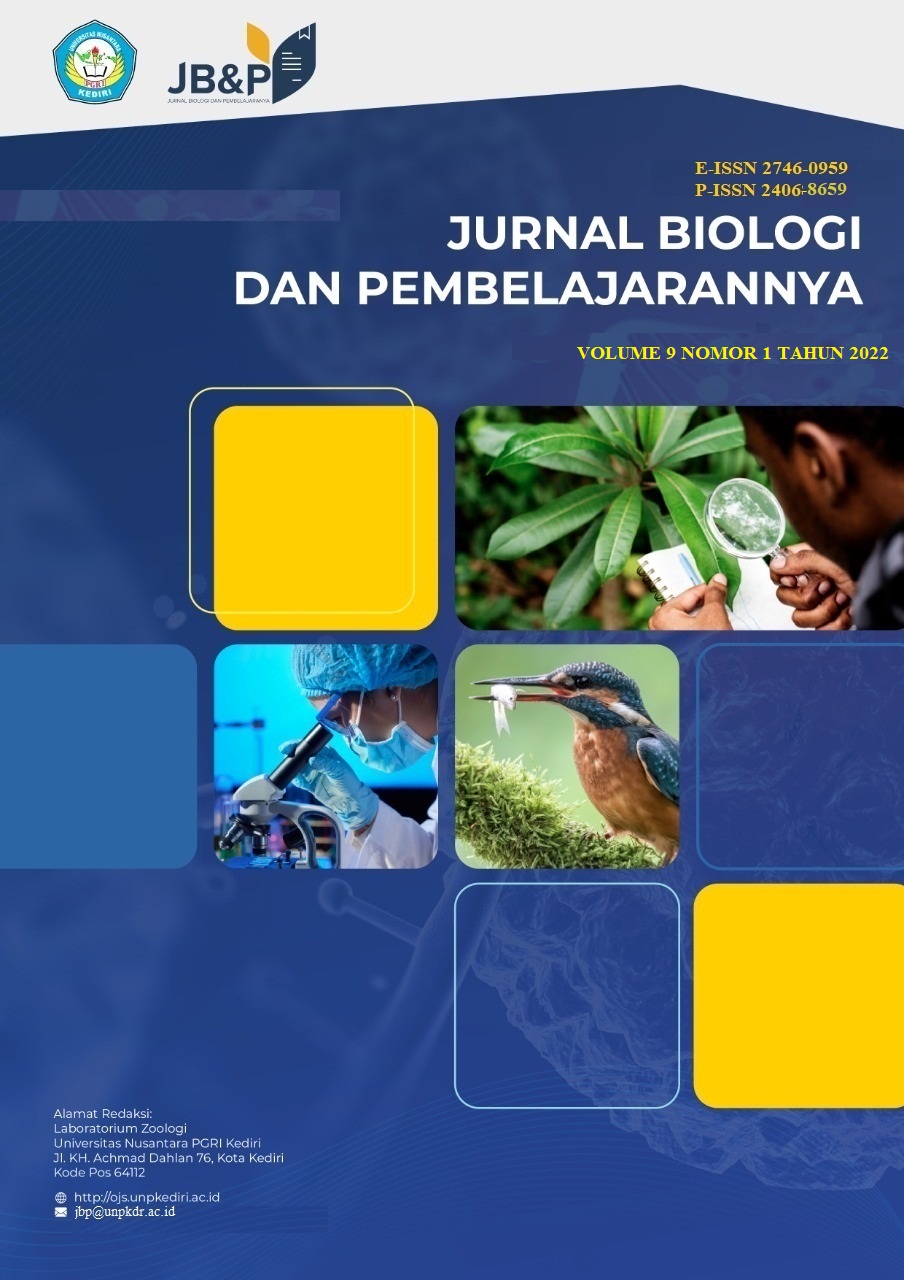 How to Cite
Fallo, G., Anastasia Buak, & Lukas Pardosi. (2022). SELEKSI Seleksi Dan Identifikasi Bakteri Penambat Nitrogen Pada Perakaran Tanaman Kacang Hijau (Vigna radiata L) Dan Tomat (Solanum lycopersicum L) Di Kabupaten Belu: -. Jurnal Biologi Dan Pembelajarannya (JB&P), 9(1), 34-41. https://doi.org/10.29407/jbp.v9i1.17751
Copyright (c) 2022 Gergonius Fallo, Anastasia Buak, Lukas Pardosi
This work is licensed under a Creative Commons Attribution-ShareAlike 4.0 International License.
Authors who publish with this journal agree to the following terms:
Copyright on any article is retained by the author(s).
The author grants the journal, right of first publication with the work simultaneously licensed under a Creative Commons Attribution License that allows others to share the work with an acknowledgment of the work's authorship and initial publication in this journal.
Authors are able to enter into separate, additional contractual arrangements for the non-exclusive distribution of the journal's published version of the work (e.g., post it to an institutional repository or publish it in a book), with an acknowledgment of its initial publication in this journal.
Authors are permitted and encouraged to post their work online (e.g., in institutional repositories or on their website) prior to and during the submission process, as it can lead to productive exchanges, as well as earlier and greater citation of published work.
The article and any associated published material is distributed under the Creative Commons Attribution-ShareAlike 4.0 International License