Pengolahan Sampah Kertas Menjadi Bahan Baku Industri Kertas Bisa Mengurangi Sampah di Indonesia
Achmad Zaky Saputra

Universitas Nusantara PGRI Kediri

Ah. Sulhan Fauzi

Universitas Nusantara PGRI Kediri
Abstract views:
989
,
pdf downloads:
676
Keywords:
Paper waste, Paper industry, Recycling
Abstract
Garbage is an actual problem faced by Indonesia along with the increasing population. Paper is one of the most generated wastes. Indonesia produces 67.8 million tons of waste annually. And produces 8.1 million tons of paper waste annually. The volume of paper waste every 2 years increases by 1%. Paper waste can be recycled by the paper industry. With this research, the management of paper waste is used as a raw material for the paper industry by utilizing the fiber contained in paper waste. In this effort it can be see that recycling waste management can reduce waste in Indonesia by up to 10.2% per year. By recycling paper waste, we maintain the balance of nature and prevent global warming.
Downloads
Download data is not yet available.
References
P. Purwaningrum, "Upaya Mengurangi Timbunan Sampah Plastik Di Lingkungan," Teknik Lingkungan, p. 142, 2016.
R. P. Mahyudin, ""Kajian Permasalahan Pengelolaan Sampah dan Dampak Lingkungan Di TPA (Tempat Pemrosesan Akhir)"," Jukung Jurnal Teknik Lingkungan, p. 67, 2017.
M. Z. Elamin, K. N. Ilmi and dkk, "Analisis Pengelolaan Sampah Pada Masyarakat Desa Disanah Kecamatan Sreseh Kabupaten Sampang," Kesehatan Lingkungan, p. 369, 2018.
E. Damanhuri and T. Padmi, "Pengelolaan Sampah," Diktat Kuliah TL-3104 , p. 7, 2010.
M. Arfah, ""Pemanfaatan Limbah Kertas Menjadi Kertas Daur Ulang Bernilai Tambah Oleh Mahasiswa"," Buletin Utama Teknik, p. 28, 2017.
Mufridayati, S. Humaidi and T. R. Simbolon, "Pembuatan Dan Karakterisasi Kertas Dari Campuran Serat Jambul Nanas Dan Serat Jerami Padi," 2013. [Online]. Available: https://www.neliti.com/publications/221262/pembuatan-dan-karakterisasi-kertas-dari-campuran-serat-jambul-nanas-dan-serat-je.
A. R. Ahmad and K. A. Saftyaningsih, ""Pemanfaatan Hasil Pengolahan Limbah Kertas Pada Produk Tas Dengan Tenik Foldinng"," Jurnal Tingkat Sarjana Bidang Senirupa dan Desain, p. 1.
M. I. Tobroni and D. Gayatri, "Pemanfaatan Hasil Limbah Kertas Pada Tugas Mata Kuliah Praktik Desain Komunikasi Visul Universitas Bina Nusantara," Dimensi DKV Seni Rupa dan Desain, p. 176, 2018.
S. Setiawan, "Pengertian Daur Ulang, Jenis dan serta Contohnya," 12 Maret 2022. [Online]. Available: https://www.gurupendidikan.co.id/daur-ulang/.
R. Masriani, T. Hidayat and Jamaludin, "Teknologi Biorefining Untuk pengolahan kertas Bekas Sebagai Bahan Baku Pada Pembuatan Kertas Pelapis," Riset Industri, p. 206, 2013.
S. Wahyono, ""Pengelolaan Sampah Kertas Di Indonesia"," Jurnal Teknologi Lingkungan, p. 276, 2001.
E. Apriani and J. A. Malik, "Pembuatan Kertas Daur Ulang Dari Limbah Serat Kelapa Muda," 2019. [Online].
D. F. B. Tarigan, M. Sembiring and P. Sinuhaji, "Pembuatan dan Karakterisasi Kertas Dengan Bahan Baku Tandan Kosong Kelapa Sawit," 2013. [Online]. Available: https://www.neliti.com/publications/221390/pembuatan-dan-karakterisasi-kertas-dengan-bahan-baku-tandan-kosong-kelapa-sawit.
A. H. Putri, F. Y. Hawari, N. E. Mudia and N. H. Hasibuan, "Kajian Industri Pulp dan Kertas di Indonesia," 2019. [Online]. Available: https://osf.io/dctny/download.
Y. A. Paskawati, Susyana, Antaresti and E. S. Retnoningtyas, "Pemanfaatan Sabut Kelapa Sebagai Bahan Baku Pembuatan Kertas Komposit Alternatif," Widya Teknik, p. 13, 2010.
R. Aziz and S. Nitri, "Studi Daur Ulang Sampah Kertas dari Sumber Institusi di Kota Padang," Dampak, p. 77, 2018.
Parjanto and O. Hijuzaman, "Analisa Proses Produksi Kertas Core Untuk Mengurangi Sheet Break/Kertas Putus Dengan Menggunakan Pendekatan Metode Six Sigma di PT. PAPERTECH INDONESIA SUBANG," 2017. [Online]. Available: https://sinta.kemdikbud.go.id/departments/detail?page=4&id=26201&afil=1553&view=documents.
B. Sanchez, R. Wirosoedarmo and B. Suharto, ""Analisis Finansial Sampah Kertas Di Universitas Brawijaya"," Jurnal Sumberdaya Alam dan Lingkungan.
R. Fitriyanti, "Penerapan Produksi Bersih Pada Industri Pulp Dan Kertas," 2016. [Online]. Available: https://jurnal.univpgri-palembang.ac.id/index.php/redoks/article/view/2025.
Hariyanto, "Penggelolaan Sampah Di Kota Semarang Untuk Menuju Kota Bersih," Geografi, p. 240, 2014.
Y. Hendra, "Perbaandingan Sistem Pengelolaan Sampah Di Indonesia dan Korea Selatan : Kajian 5 Aspek Pengelolaan Sampah," Aspirasi, p. 79, 2016.
G. N. Purba, "Fajar Paper Gunakan 100% Kertas Daur Ulang sebagai Bahan Baku," 1 Maret 2021. [Online].
H. H. Salengke , ""Pemerintah Dorong Pengurangan Sampah dari Sumbernya"," 21 February 2019. [Online]. Available: https://m.mediaindonesia.com/humaniora/218261/pemerintah-dorong-pengurangan-sampah-dari-sumbernya. [Accessed 4 January 2022].
M. A. Rizaty, ""Mayoritas Sampah Nasional dari Aktivitas Rumah Tangga pada 2020"," 29 July 2021. [Online]. Available: https://databoks.katadata.co.id/datapublish/2021/07/29/mayoritas-sampah-nasional-dari-aktivitas-rumah-tangga-pada-2020. [Accessed 4 January 2022].
L. Indriati and N. Elyani, "Empty Fruit Bunches As Packaging Papers Raw Material," Konversi, p. 46, 2018.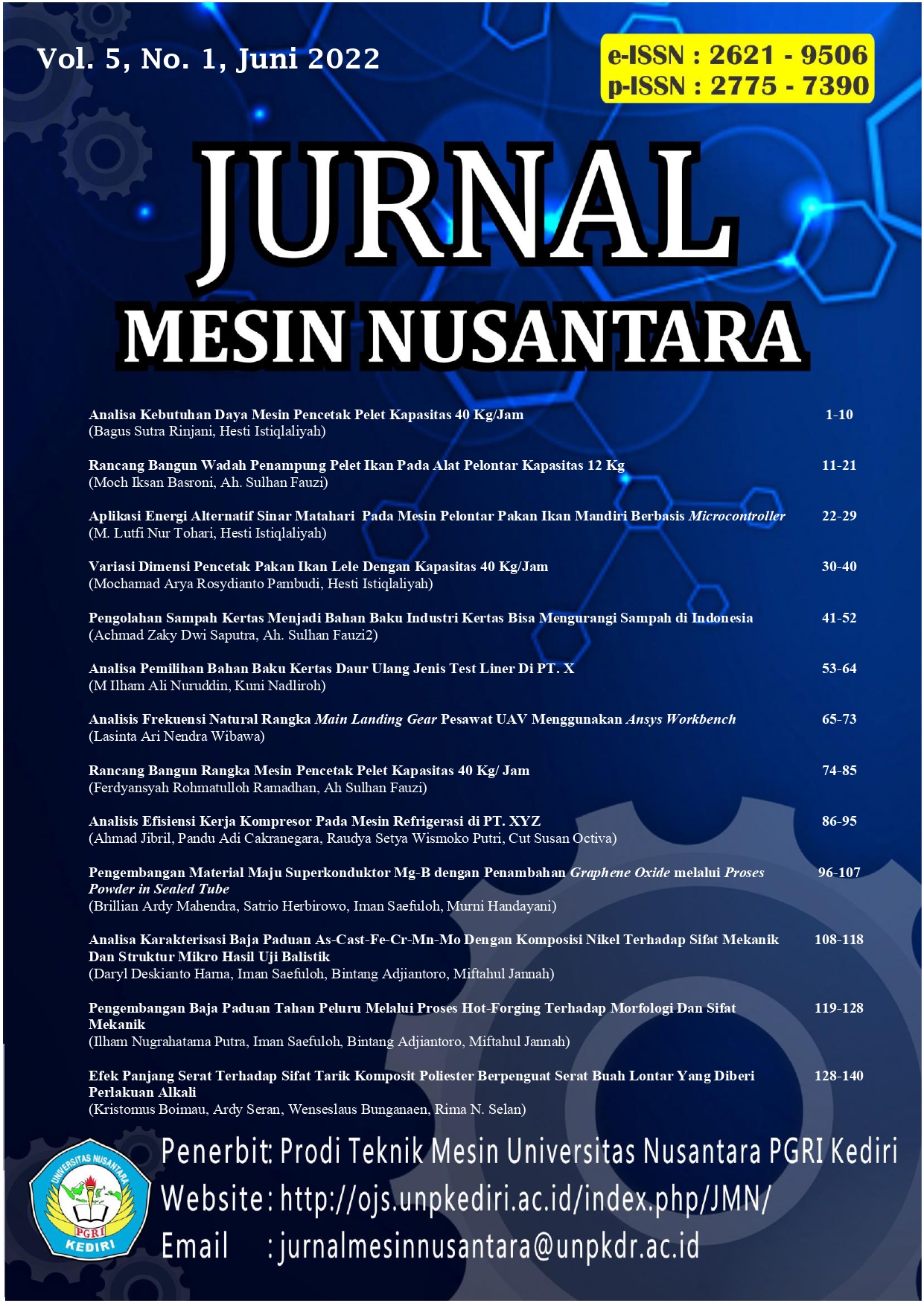 How to Cite
[1]
A. Z. Saputra and A. S. Fauzi, "Pengolahan Sampah Kertas Menjadi Bahan Baku Industri Kertas Bisa Mengurangi Sampah di Indonesia", J, vol. 5, no. 1, pp. 41-52, Jun. 2022.
Copyright (c) 2022 Achmad Zaky Saputra; Ah. Sulhan Fauzi
This work is licensed under a Creative Commons Attribution-ShareAlike 4.0 International License.
Authors who publish with this journal agree to the following terms:
Copyright on any article is retained by the author(s).
The author grants the journal, right of first publication with the work simultaneously licensed under a Creative Commons Attribution License that allows others to share the work with an acknowledgment of the work's authorship and initial publication in this journal.
Authors are able to enter into separate, additional contractual arrangements for the non-exclusive distribution of the journal's published version of the work (e.g., post it to an institutional repository or publish it in a book), with an acknowledgment of its initial publication in this journal.
Authors are permitted and encouraged to post their work online (e.g., in institutional repositories or on their website) prior to and during the submission process, as it can lead to productive exchanges, as well as earlier and greater citation of published work.
The article and any associated published material is distributed under the Creative Commons Attribution-ShareAlike 4.0 International License