Kesiapan Perubahan Organisasi Di Dalam Melakukan Transformasi Digital Berdasarkan Model Knoster
Guntur Haludin

Universitas Pradita

Richardus Eko Indrajit

Universitas Pradipta

Erick Dazki

Universitas Pradipta
Abstract views:
313
,
pdf downloads:
282
Keywords:
Transformasi Digita, Kesiapan Perubahan Organiasi, Knoster
Abstract
This article examines readiness for change and conducts a readiness study on the digital transformation of online survey outputs based on various industrial backgrounds in Indonesia using the Knoster model. The study results show that the highest preparation aspect is the company vision, with skills, incentives, resources, and work planning. In that order, significantly reduced in other elements. The large gap between the idea and other features shows that the organization has a strong desire.
References
AB. Susanto. "Organizational Readiness for Change: A Case Study on Change Readiness in a Manufacturing Company in Indonesia", Internationl Journal of Management Perspectives", Vol.1-IJMP, Issue 2, 50-61, 2008
Marisa Analia Sánchez and Juana Ines Zuntini, "Organizational readiness for the digital transformation: a case study research", Revista Gestão & Tecnologia, Vol. 18, No.2, 70-99, Mei 2018
Steven M. Stone, Digitally Deaf – Why Organizations Struggle with Digital Transformation. Switzerland: Springer Nature Switzerland AG, 2019
T. Knoster, R. Villa & J. Thousands, "Restructuring for caring and effective education: Piecing the puzzle together", 2nd edition. Baltimore: Paul H. Brookes, 2000, 93-128
Jean-François Martin, "Unlocking Success in Digital Transformation", McKinsey & Co, 29 Oktober 2019, [Online], Tersedia: https://www.mckinsey.com/business-functions/organization/our-insights/unlocking-success-in-digital-transformations [Diakses : 14 Juli 2021]
Behnam Tabrizi, Ed Lam, Kirk Girard, and Vernon Irvin, "Digital Transformation Is Not About Technology", HBR, 13 Maret 2019, [Online], Tersedia: https://hbr.org/2019/03/digital-transformation-is-not-about-technology [Diakses: 15 Juli 2021]
Patrick Forth, Tom Reichert, Romain de Laubier, Saibal Chakraborty, "Flipping the Odds of Digital Transformation Success", BCG, 29 Oktober 2020, [Online], Tersedia: https://www.bcg.com/publications/2020/increasing-odds-of-success-in-digital-transformation [Diakses: 15 Juli 2021]
Blake Morgan, "Companies That Failed at Digital Transformation and What We can Learn from Them", Forbes, 30 September 2019, [Online], Tersedia: https://www.forbes.com/sites/blakemorgan/2019/09/30/companies-that-failed-at-digital-transformation-and-what-we-can-learn-from-them/?sh=4cd25cf2603c [Diakses: 15 Juli 2021]
Michael Nanfito, "Get a Grip on Managing Change: Deploying the Knoster Model for Successful Implementation", Nebula, 2015. [Online] ,Tersedia: http://nebula.wsimg.com/90f9e490329402583fea599cad009bb0?AccessKeyId=8AAC8D005153628DDDFA&disposition=0&alloworigin=1 [Diakses 12 Juli 2021]
Bernice Ho, "Change Readiness in a World of Digital Transformation" , AON, 13 Juni 2018, [Online], Tersedia: https://www.asia.aonhumancapital.com/home/insights-at-work/change-readiness-in-digital-transformation [Diakses 18 Juli 2021]
Alvin and Ronald Burns, "Basic Marketing Research", second edition, New Jersey: Pearson Education, 2008, 245
Marisa Analia Sánchez, "A Framework to Assess Organizational Readiness for the Digital Transformation", Dimensión Empresarial, Vol. 15 no. 2, 27-40, 2017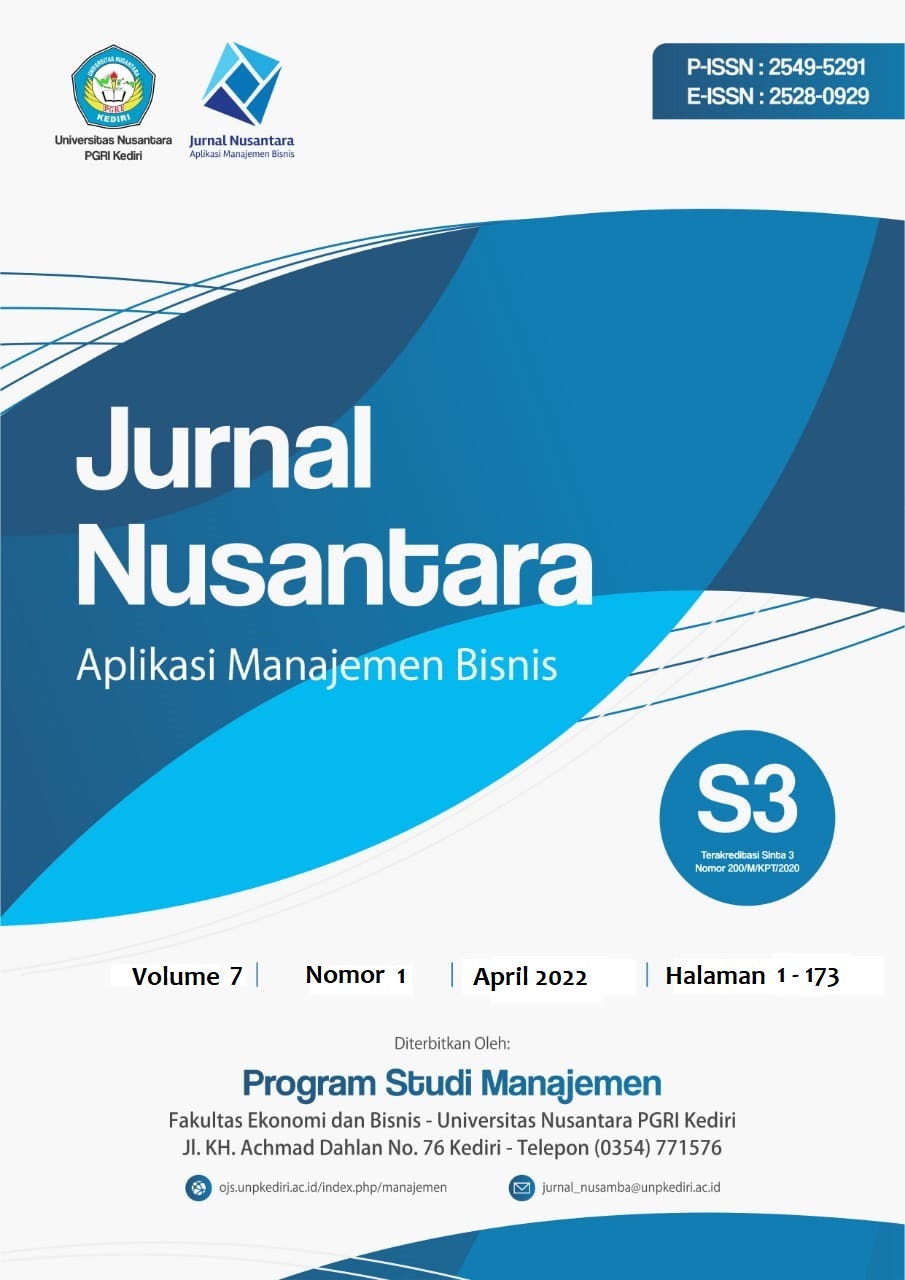 How to Cite
Haludin, G., Indrajit, R. E., & Dazki, E. (2022). Kesiapan Perubahan Organisasi Di Dalam Melakukan Transformasi Digital Berdasarkan Model Knoster. JURNAL NUSANTARA APLIKASI MANAJEMEN BISNIS, 7(1), 31-41. https://doi.org/10.29407/nusamba.v7i1.16417
Copyright (c) 2022 Guntur Haludin
This work is licensed under a Creative Commons Attribution-ShareAlike 4.0 International License.