STUDI ETNOMETODOLOGI ATAS FINANCIAL MANAGEMENT BEHAVIOUR SEBAGAI KATALISATOR EFEKTIVITAS PEMBELAJARAN MANAJEMEN KEUANGAN
Ismayantika Dyah Puspasari

Universitas Nusantara PGRI Kediri

Diah Ayu Septi Fauji

Universitas Nusantara PGRI Kediri
Abstract views:
606
,
PDF downloads:
373
Keywords:
Etnometodologi, Financial Management Behaviour, Efektivitas
Abstract
Penelitian ini bertujuan untuk mengidentifikasi perilaku manajemen keuangan mahasiswa sehingga mampu menemukan strategi pembelajaran manajemen keuangan  yang efektif pada mahasiswa program studi manajemen tingkat 2 Fakultas Ekonomi Universitas Nusantara PGRI Kediri.
Penelitian ini merupakan penelitian kualitatif dengan pendekatan etnometodologi. Studi etnometodologi dianggap tepat sebagai metode untuk mengidentifikasi Financial Management Behaviour karena etnometodologi merupakan   metodologi   yang   sekuler   (kebenaran   induktif   semata   menjadi kebenaran pengetahuan). Penelitian ini dilakukan dengan cara pengamatan langsung dan wawancara mendalam kepada komunitas mahasiswa manajemen FE UNPGRI Kediri yang masuk dalam kriteria Informan. Informan  dipilih dengan menggunakan kriteria 5R yakni Relevance, Recomendation, Rapport, Readiness, Reassurance. Sedangkan pengamatan langsung dilakukan pada saat mahasiswa berada dilingkungan  kampus,  selanjutnya wawancara dilakukan  terbuka untuk mengungkapkan makna dari perilaku manajemen keuangan tersebut.
Downloads
Download data is not yet available.
References
Daryanto. 2010. Media Pembelajaran: Peranannya Sangat Penting DalamMencapai Tujuan Pembelajaran. Yogyakarta: Gava Media
Dew, J., & Xiao, J. J. (2011). The Financial Management Behavior Scale: Development and validation. Journal of Financial Counseling and Planning. https://doi.org/10.5829/idosi.mejsr.2012.12.10.79. Vol 22:43-59
Henry Faizal Noor 2009. Investasi, Pengelolaan Keuangan Bisnis,dan Pengembangan Ekonomi Masyarakat,Jakarta: Indeks.
Herdjiono, I., & Damanik, L.A. (2016). PENGARUH FINANCIAL ATTITUDE, FINANCIAL KNOWLEDGE, PARENTAL INCOME TERHADAP FINANCIAL MANAGEMENT BEHAVIOR. Jurnal Manajemen Teori dan Terapan,Tahun 9. No. 3Desember 2016, 226- 241.
Hilgert,Marianne A., Jeanne M.Hogarth dan Sondra Baverly.2003. Household Financial Management : The Connection between Knowledge and Behavior.Federal Reserve Bulletin,89(7):309-322.
Ida dan Chintia Yohana Dwinta.2010. Pengaruh locus of control, financial knowledge, dan income terhadap financial management behavior. JurnalBisnis dan Akuntansi, Vol. 12, No. 3: 131 – 144.
Kholilah Naila Al, Iramani Rr . 2013. Studi Financial Management Behavior pada Masyarakat Surabaya,Journal of Business and Banking Volume 3, No. 1: 69 – 80.
Mankiw, N Gregory .2003. Pengantar Ekonomi, Edisi ke-2 Jilid 2, Jakarta:Erlangga.
Narjes, A., & Ebrahim, M. (2015). COMPARISON OF INFLUENCE OF GROUP DISCUSSION METHOD WITH LECTURE METHOD IN RELATIONSHIP WITH PEERS. Journal of Current Research in Science, 3(1), 64-68. Retrieved from https://search.proquest.com/docview/1784872203?accountid=62692
Silva, T. P. da, Magro, C. B. D., Gorla, M. C., & Nakamura, W. T. (2017). Financial education level of high school students and its economic reflections. Revista de Administração. https://doi.org/10.1016/j.rausp.2016.12.010
Sina, Peter Garlans.2014. Tipe Kepribadian Dalam Personal Finance. Jurnal JIBEKA Volume 8 No 1 :54-59
Warsita, Bambang. 2008. Teknologi Pembelajaran Landasan & Aplikasinya. Jakarta: Rineka Cipta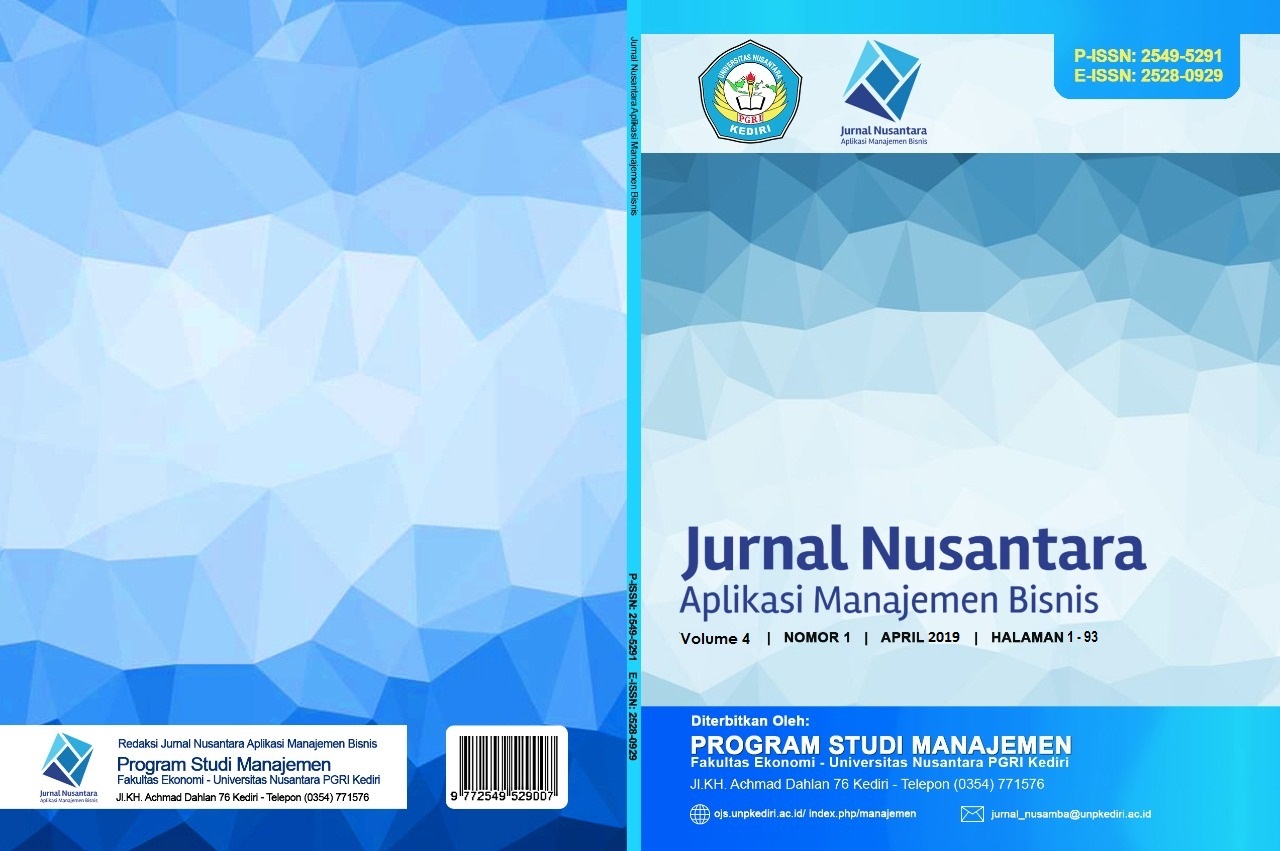 How to Cite
Puspasari, I. D., & Fauji, D. A. S. (2019). STUDI ETNOMETODOLOGI ATAS FINANCIAL MANAGEMENT BEHAVIOUR SEBAGAI KATALISATOR EFEKTIVITAS PEMBELAJARAN MANAJEMEN KEUANGAN. JURNAL NUSANTARA APLIKASI MANAJEMEN BISNIS, 4(1), 84- 93. https://doi.org/10.29407/nusamba.v4i1.12847
Copyright (c) 2019 JURNAL NUSANTARA APLIKASI MANAJEMEN BISNIS
This work is licensed under a Creative Commons Attribution-ShareAlike 4.0 International License.