PERANCANGAN SISTEM CONTROLLER LIGHTING AND AIR CONDITIONER DI UNISLA DENGAN KONSEP INTERNET OF THINGS (IOT) BERBASIS WEB
Muhammad Yusril Ihza

Universitas Islam Lamongan

M. Ghofar Rohman

Universitas Islam Lamongan

Azza Abidatin Bettaliyah

Universitas Islam Lamongan
Abstract views:
295
,
PDF downloads:
288
Keywords:
Internet of Things, Wemos d1 r1, Lampu, AC
Abstract
Internet of Things adalah konsep untuk menghubungkan sebuah alat atau barang (things) dengan jaringan sehingga bisa dikontrol dengan mudah melalui perangkat lain. Dengan memanfaatkan konsep Internet of Things di sebuah gedung atau ruangan, maka dapat mengendalikan peralatan listrik didalamnya dari jarak jauh melalui jaringan internet. Penelitian ini memiliki tujuan untuk dapat membantu pegawai UNISLA agar dapat memonitoring dan mengontrol lampu dan AC secara mudah dan cepat. Untuk mempermudah proses perancangan aplikasi ini juga menggunakan flowchart, usecase dan conceptual data modeling sehingga dibuat dengan terstruktur. Cara engontrolannya pun mudah hanya melalui website lalu menekan tombol switch on atau off pada ruangan yang diinginkan sehingga file json yang berisi data status lampu dan AC akan berubah, kemudian perintah atau status data akan di teruskan ke wemos, setelah itu wemos memberi perintah kepada relay untuk menyalakan atau mematikan lampu dan AC sesuai dengan data status yang berada di file json. Kelebihan dari menggunakan IoT ini adalah pengontrolan ini bisa dilakukan dimanapun dan kapanpun. Penelitian dilakukan dengan membuat membuat sebuah prototype gedung c UNISLA dan sistem kontrol berbasis website, adapun alat-alat yang digunakan dalam pengontrolan adalah wemos, relay, sensor ldr, sensor dht, kabel jumper, dan wemos di program dengan arduino IDE.
References
Artono. Budi, dan Putra. Rakhmad Gusta. 2018. Penerapan Internet Of Things (Iot) Untuk Kontrol Lampu Menggunakan Arduino Berbasis Web. Jurnal Teknologi Informatika dan Terapan Vol. 05, No 01, Januari - Juni 2018 ISSN: 2354-838X. DOI: https://doi.org/10.25047/jtit.v5i1.73
Fitriansyah, A., Chairunnissa, Sopian, A., & Narji, M. 2019. Teknologi Bluetooth Dan Arduino Untuk Sistem Pengunci Pintu. Informatics for Educators and Professionals, Vol.4 No.1, 4(1), 1–10.
Gupta, Alok Kumar, Johari Rahul. 2019. IOT based Electrical Device Surveillance and Control System. IEEE 4th International Conference on Internet of Things: Smart Innovation and Usages (IoT-SIU).
Yadav. Preeti, and Vishwakarma. Sandeep,. 2018. Application of Internet of Things and Big Data towards a Smart City. IEEE. 3rd International Conference On Internet of Things: Smart Innovation and Usages (IoT-SIU).
Hameed. Ali, and Alomary. Alauddin. 2019. Security Issues in IoT: A Survey. International Conference on Innovation and Intelligence for Informatics, Computing, and Technologies (3ICT)
Vishwakarma. Satyendra K., Upadhyaya. Prashant., Kumari. Babita, and Mishra. Arun Kumar,. 2019. Smart Energy Efficient Home Automation System Using IoT. IEEE. 4th International Conference on Internet of Things: Smart Innovation and Usages (IoT-SIU).
Hermanto, Dedy. 2017. Sistem Pengontrol Lampu Menggunakan Fitur Pengenalan Suara Manusia. Jurnal Infomedia (Informatika, Multimedia Dan Jaringan) Vol. 2 No. 2 Desember. Politeknik Negri Lhokseumawe.
Chiesa. Giacomo, Vita. Daniel Di, Ghadirzadeh. Ahmadreza, Muñoz. Andrés Hernando Herrera, and Rodriguez. Juan Camilo Leon,. 2020. A fuzzy-logic IoT lighting and shading control system for smart buildings. Automation in Construction 120
Ali. A.M., Shukor. S. A. Abdul, Rahim. N. A., Razlan. Z. M., Jamal. Z.A.Z.,& Kohlhof. K. 2019. IoT-Based Smart Air Conditioning Control for Thermal Comfort. 2019 IEEE International Conference on Automatic Control and Intelligent Systems (I2CACIS 2019), 29 June 2019, Selangor, Malaysia.
Thongkaew. Surachai, and Charitkuan. Chirot. 2018. IoT for Energy Saving of Split-Type Air Conditioner by Controlling Supply Air and Area Temperature. IEEE. 22nd International Computer Science and Engineering Conference (ICSEC)
Medina. Bruno Eduardo. And Manera. Prof. Leandro Tiago. 2017. Retrofit of air conditioning systems through an Wireless Sensor and Actuator Network An IoT-based application for smart buildings. IEEE. 14th International Conference on Networking, Sensing and Control (ICNSC)
Araar. Wajdi, Hofacker. Tom., and Kohlhof. Karl. 2019. Developing an IoT-Based Control System for Existing Air Conditioner using MEMS. 5th International Conference on Man Machine Systems. IOP Publishing.
Orsi. Emilio., and Nesmachnow. Sergio. 2017. Smart home energy planning using IoT and the cloud. IEEE URUCON.
Andriani. T., Azzam. M. R., Topan. P. A., Hidayatullah. M., Esabella. 2019. Design of Flood Early Detection System using WeMos D1 Mini ESP8266 IoT Technology. JPSE (Journal of Physical Science and Engineering), Vol. 4, No. 2, 2019, Page 67–73. DOI: 10.17977/um024v4i22019p067. EISSN: 2541-2485
Adiptya. Muhammad Yan Eka, dan Wibawanto. Hari. 2013. Sistem Pengamatan Suhu dan Kelembaban Pada Rumah Berbasis Mikrokontroller ATmega8. Jurnal Teknik Elektro Vol. 5 No. 1, 15. Universitas Negeri Semarang.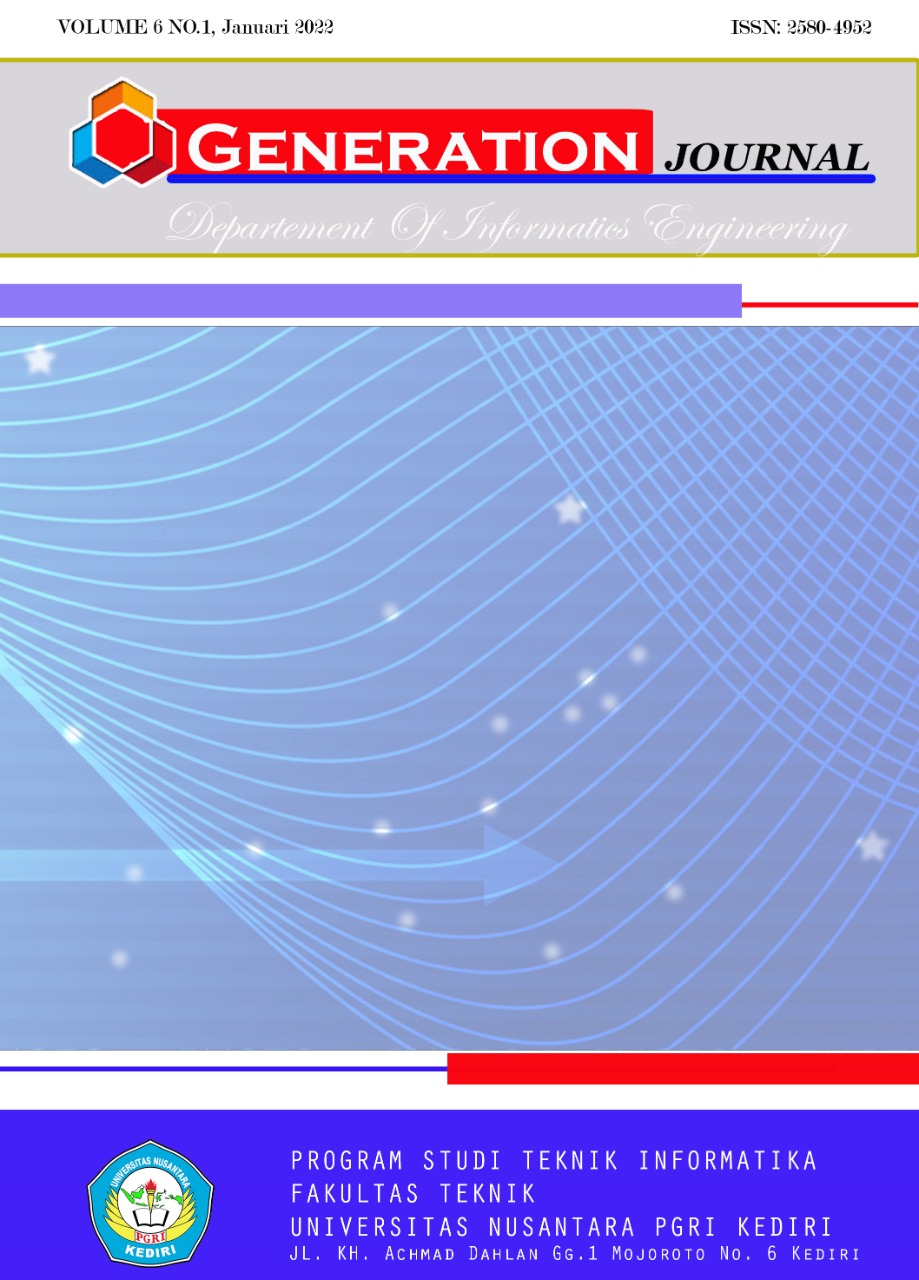 How to Cite
Ihza, M. Y., Rohman, M. G., & Bettaliyah, A. A. (2022). PERANCANGAN SISTEM CONTROLLER LIGHTING AND AIR CONDITIONER DI UNISLA DENGAN KONSEP INTERNET OF THINGS (IOT) BERBASIS WEB. Generation Journal, 6(1), 37-44. https://doi.org/10.29407/gj.v6i1.16295
Authors who publish with this journal agree to the following terms:
1. Copyright on any article is retained by the author(s).
2. The author grants the journal, right of first publication with the work simultaneously licensed under a Creative Commons Attribution License that allows others to share the work with an acknowledgment of the work's authorship and initial publication in this journal.
3. Authors are able to enter into separate, additional contractual arrangements for the non-exclusive distribution of the journal's published version of the work (e.g., post it to an institutional repository or publish it in a book), with an acknowledgment of its initial publication in this journal.
4. Authors are permitted and encouraged to post their work online (e.g., in institutional repositories or on their website) prior to and during the submission process, as it can lead to productive exchanges, as well as earlier and greater citation of published work.
5. The article and any associated published material is distributed under the Creative Commons Attribution-ShareAlike 4.0 International License