Perancangan PERANCANGAN IoT (INTERNET OF THINGS) PADA SISTEM IRIGASI TANAMAN CABAI
PERANCANGAN IoT (INTERNET OF THINGS) PADA SISTEM IRIGASI TANAMAN CABAI
Adimas Ketut Nalendra

Akademi Komunitas Negeri Putra Sang Fajar Blitar

M Mujiono

Akademi Komunitas Negeri Putra Sang Fajar Blitar
Abstract views:
4988
,
PDF downloads:
7812
Keywords:
Internet of Things, IoT, NodeMCU, cabai, sensor
Abstract
Air merupakan aspek yang penting dalam aspek kehidupan. Dalam bidang pertanian menjadi komponen utama pada fotosintesis dan transportasi nutrisi dari dalam tanah ke tanaman. Biasanya petani memberikan air dua kali dalam sehari di waktu biasa, tetapi di saat tertentu membutuhkan air yang berlebih untuk menjaga kelembapan tanah. Pada tanaman cabai kebutuhan kelembapan tanah sekitar 60% sampai 80% agar tanaman bisa tumbuh dengan maksimal. Teknologi internet of things (IoT) dapat membantu petani untuk mendeteksi kebutuhan air yang ada di dalam tanah. Dengan teknologi IoT juga dapat membantu dalam proses irigasi pengairan dengan cara mematikan atau menyalakan pompa secara otomatis. Perangkat IoT yang digunakan untuk membentuk sistem ini meliputi NodeMCU, sensor kelembapan tanah dan aplikasi berbasis mobile sebagai perangkat lunak control perangkat IoT. Sistem Internet of Things (IoT) dapat membantu sistem irigasi pada tanaman cabai untuk menjaga kelembapan tanah di angkat 60% sampai 80%.
References
H. D. Setyaningrum, and Saparinto, C,"Panen sayur secara rutin di lahan sempit. Penebar Swadaya Grup",2012.
A. Junaidi, "Internet of Things , Sejarah , Teknologi Dan Penerapannya," J. Ilm. Teknol. Inf., vol.I,no. AUGUST 2015, pp. 62–66, 2016.
R.J. Apsari, R," Monitoring Keamanan Rumah Dengan Menggunakan Mikrokontroler Melalui Web", Jurnal Manajemen Informatika, 8(1), 2018.
L. Setiyani and K.Suhada, K,"Perancangan Dan Implementasi Iot (Internet Of Things) Pada Smarthome Menggunakan Raspberry Pi Berbasis", Simetris: Jurnal Teknik Mesin, Elektro dan Ilmu Komputer, Vol. 10(2), 459-466.2019.
N. Sumarni, and A. Muharam, "Budidaya tanaman cabai merah. Balai Penelitian Tanaman Sayuran", Lembang,2005.
S. Sitrusta. ," Bermain Dengan Internet Of Things Dan BigData" , Politeknik Elektronika Negeri Surabaya, 2016.
B.R. Babu, B. Anudeep, M. Yugma, M.S, Meghana,and S. Swami, S,"Real Time Iot Based Office Automation System Using Nodemcu Esp8266 Module",. International Journal of Research, 6(4), 250-254,2019
P, Asriya, and M. Yusfi,"Rancang Bangun Sistem Monitoring Kelembaban Tanah Menggunakan Wireless Sensor Berbasis Arduino Uno", Jurnal Fisika Unand, Vol 5(4),pp 327-333,2016.
S. Noorhadi,"Kajian pemberian air dan mulsa terhadap iklim mikro pada tanaman cabai di tanah entisol," Jurnal ilmu tanah dan lingkungan, Vol 4. 2003
Z. Ardian, and M.T. Tombeng, M. T," Penerapan Teknologi Internet Of Things Sebagai Sistem Monitoring Pada Media Tanaman Menggunakan Cloud Terintegrasi Dan Smartphone", Journal Of Informatics And Computer Science,Vol 6(1), 2020.
C. Chotimah, A. Sofyan,and T. Heiriyani, " Respon Beberapa Pupuk Bokashi Padat Terhadap Hasil Produksi Tanaman Cabai Rawit Hiyung",Agroekotek View,Vol 3(1),pp 7-15, 2015
M. N. Fu'ad, A. K. Nalendra, and E. Hastari C, "RANCANG BANGUN WEBSITE TRACER ALUMNI AKN PUTRA SANG FAJAR BLITAR ", antivirus, vol. 13, no. 2, pp. 90-97, Nov. 2019.
A.K, Nalendra, M. Bilal,and I.Y Setiani,"Sistem Informasi Pemeteaan Kesehatan Ibu dan Anak Untuk Menekan Angka Kematian Pada Bayi", Jurnal Ekonomi Dan Teknik Informatika, Vol 7(1), pp 45-50, 2019.
Y.J, Hwang, C.L, Wooi, M.N, K. Rohani, K. Mehranzamir, S.N.M Arshad, and N.A. Ahmad, N. A,"Prototyping a RF signal-based lightning warning device using with Internet of Things (IOT) integration", of Physics: Conference Series, Vol. 1432, No. 1, pp. 012078 ,2020
A. K. Nalendra, M. Mujiono, R Akhsani, R., & Utama, A. S. W. (2020). Implementasi Algoritma K-Mean dalam Pengelompokan Data Kecelakaan di Kabupaten Kediri. VOCATECH: Vocational Education and Technology Journal, 1(2), 53-60[15] Jayaysingh, R., David, J., Raaj, M. J. M., Daniel, D., & BlessyTelagathoti, D. (2020, March). IoT Based Patient Monitoring System Using NodeMCU. In 2020 5th International Conference on Devices, Circuits and Systems (ICDCS) (pp. 240-243). IEEE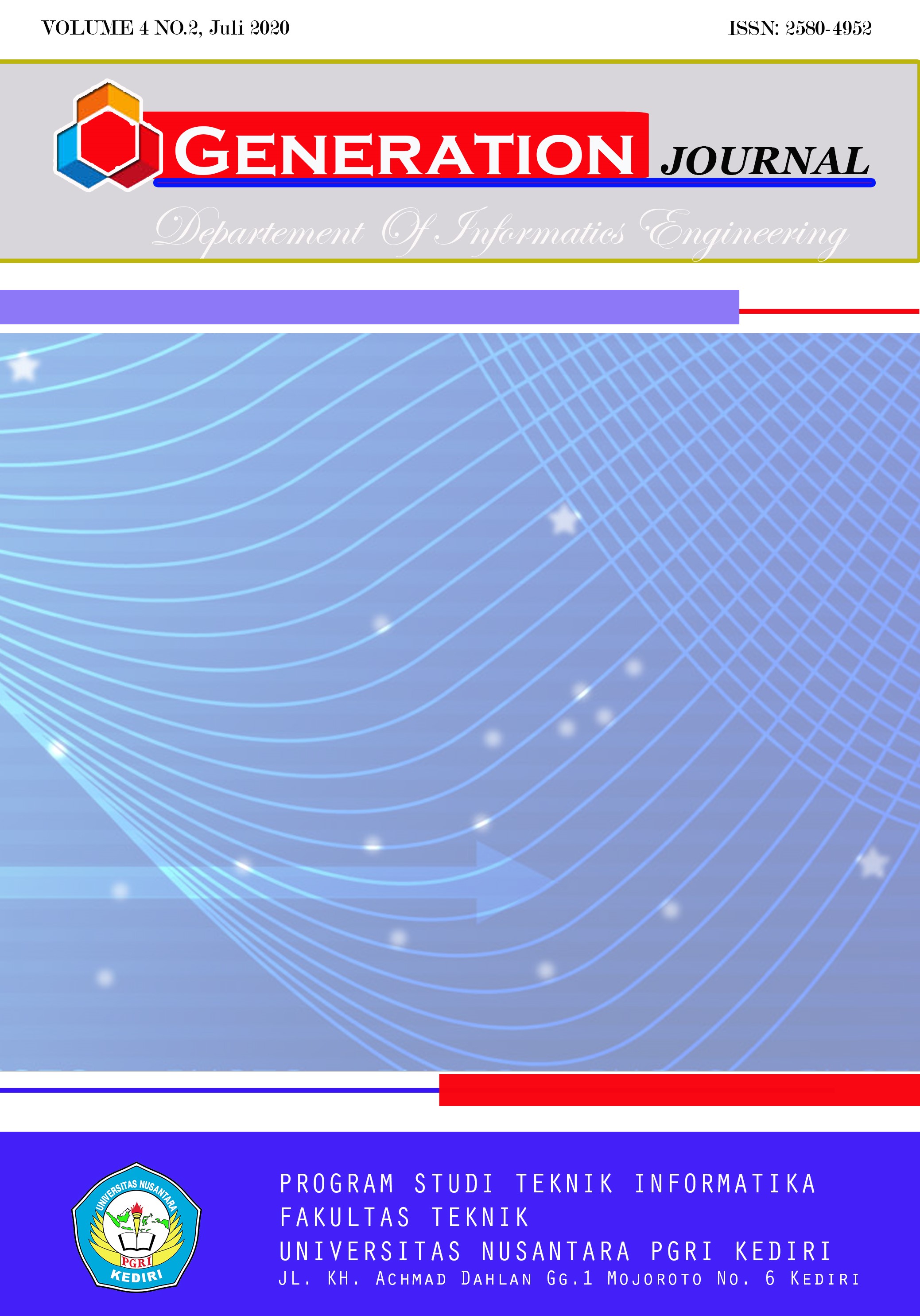 How to Cite
Nalendra, A. K., & Mujiono, M. (2020). Perancangan PERANCANGAN IoT (INTERNET OF THINGS) PADA SISTEM IRIGASI TANAMAN CABAI: PERANCANGAN IoT (INTERNET OF THINGS) PADA SISTEM IRIGASI TANAMAN CABAI. Generation Journal, 4(2), 61-68. https://doi.org/10.29407/gj.v4i2.14187
Authors who publish with this journal agree to the following terms:
1. Copyright on any article is retained by the author(s).
2. The author grants the journal, right of first publication with the work simultaneously licensed under a Creative Commons Attribution License that allows others to share the work with an acknowledgment of the work's authorship and initial publication in this journal.
3. Authors are able to enter into separate, additional contractual arrangements for the non-exclusive distribution of the journal's published version of the work (e.g., post it to an institutional repository or publish it in a book), with an acknowledgment of its initial publication in this journal.
4. Authors are permitted and encouraged to post their work online (e.g., in institutional repositories or on their website) prior to and during the submission process, as it can lead to productive exchanges, as well as earlier and greater citation of published work.
5. The article and any associated published material is distributed under the Creative Commons Attribution-ShareAlike 4.0 International License