Pengaruh Media Boneka Tangan Terhadap Kemampuan Mengendalikan Emosi Anak Kelompok B Di RA Al Almourky Kecamatan Telaga Kabupaten Gorontalo
Wahyuningsih Mbayang

Pendidikan Guru Pendidikan Anak Usia Dini, Universitas Negeri Gorontalo

Pupung Puspa Ardini

Universitas Negeri Gorontalo

Icam Sutisna

Universitas Negeri Gorontalo
Abstract views:
77
,
PDF (Bahasa Indonesia) downloads:
89
Keywords:
Media, Hand Puppets, Ability to Control Emotions
Abstract
Emotional control ability is the ability of an individual to be aware of and control their emotions, both positive and negative, in order to direct them towards appropriate actions. The purpose of this study is to determine whether there is an influence of hand puppet media on the emotional control ability of children at Raudhatul Athfal Almourky. This study is an experimental study with a One Group Pre-Test Post-Test Design. The population in this study was 124 children. The sample for this study consisted of 20 children from class B2. The results of the study show that the Pre-Test data had an average of 15.4 and a standard deviation of 2.458. Meanwhile, the Post-Test data obtained an average of 28.75 and a standard deviation of 3.462. This indicates that the average scores of the respondents tested in this study increased from the initial test to the final test. The calculated t-value was 2.411, with a t-table of 2.093. This means that hand puppet media has an influence on the emotional control ability of children. This study confirms that hand puppet media can be applied as a learning medium that can control the emotional ability of children.
References
Arieska, O., Syafri, F., & Zubaedi, Z. (2018). Pengembangan Kecerdasan Emosional (Emotional Quotient) Daniel Goleman Pada Anak Usia Dini Dalam Tinjauan Pendidikan Islam. Al Fitrah: Journal Of Early Childhood Islamic Education, 1(2), 103-116.
Fitriya, A. (2018). Optimalisasi Perkembangan Kecerdasan Emosional (EQ) Anak Usia Dini. Al Qodiri: Jurnal Pendidikan, Sosial Dan Keagamaan, 14(1), 1-15.
Hasiana, I. (2019). Kemampuan Sosial Anak Kelompok Bermain Ditinjau Dari Pola Pengasuhan Orang Tua. Incrementapedia: Jurnal Pendidikan Anak Usia Dini,2019, 1(02), 32-37.
Ilham, I. (2020). Perkembangan Emosi Dan Sosial Pada Anak Usia Sekolah Dasar. EL-Muhbib Jurnal Pemikiran Dan Penelitian Pendidikan Dasar, 4(2), 162-180.
Kanuriant, D. (2018). Manfaat Boneka Tangan Untuk Meningkatkan Kemampuan Berbicara Pada Anak Usia 2–3 Tahun. In SENDIKA: Seminar Pendidikan (Vol. 2, No. 1, pp. 206-209).
Madyawati. 2017. Strategi Pengembangan Bahasa Pada Anak. Jakarta : PrenadaMedia
Mariana, S., & Zubaidah, E. (2015). Pengaruh penggunaan media boneka tangan terhadap keterampilan bercerita siswa kelas V SD se-gugus 4 Kecamatan Bantul. Jurnal Prima Edukasia, 3(2), 166-176.
Permendikbudristek No. 7 Tahun 2022. Diakses pada tanggal 6 Maret 2022 https://bpmpkaltim.kemdikbud.go.id/2022/02/permendikbud-ristek-nomor-7-tahun-2022-tentang-standar-isi-pada-pendidikan-anak-usia-dini-jenjang-pendidikan-dasar-dan-jenjang-pendidikan-menengah/https://bit.ly/PermendikbudRistekSI2022
Sugiyono. 2019. Metode Penelitian Kuantitatif Kualitatif dan R&D. Bandung : ALFABETA
Sugiyono. 2020. Metode Penelitian Kuantitatif Kualitatif dan R&D. Bandung : ALFABETA
Sugiyono. 2021. Metode Penelitian Pendidikan (Kuantitatif, kualitatif, kombinasi, R&D dan Penelitin Pendidikan. Bandung : ALFABETA
Thaib, E. N. (2013). Hubungan Antara prestasi belajar dengan kecerdasan emosional. Jurnal Ilmiah Didaktika Media Ilmiah Pendidikan dan Pengajaran, 13(2).
Widowati, D. A. (2016). Pengaruh Media Boneka Tangan Terhadap Keterampilan Menyimak Cerita Kelas II B SD Negeri Margoyasan. BASIC EDUCATION, 5(27), 2-580.
Wijaya,I.P & Iswantiningtyas,V. (2015) Penerapan Metode Bercerita Dengan Media Wayang Gapit Sebagai Upaya Pengembangan Kemampuan Berbicara Anak Usia Dini. Jurnal Efektor, 26.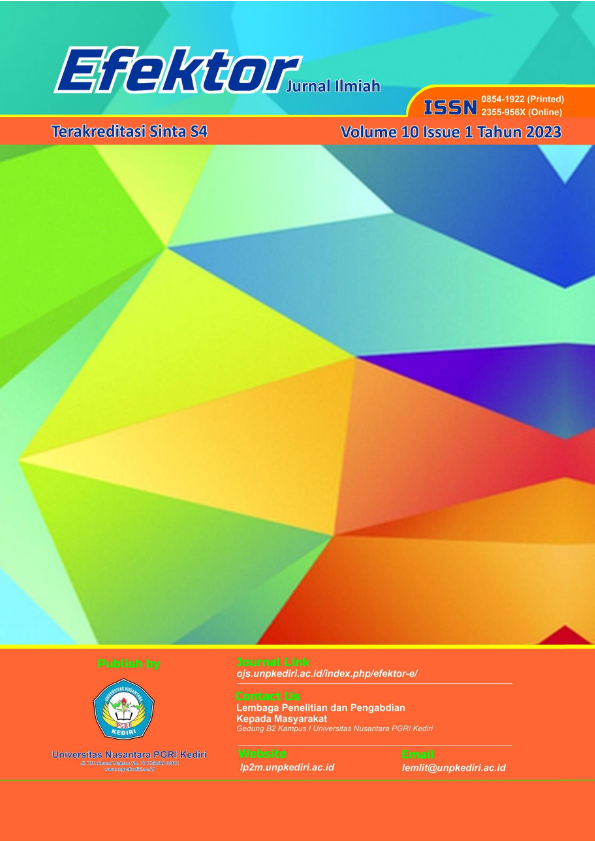 How to Cite
Mbayang, W., Puspa Ardini, P., & Sutisna , I. (2023). Pengaruh Media Boneka Tangan Terhadap Kemampuan Mengendalikan Emosi Anak Kelompok B Di RA Al Almourky Kecamatan Telaga Kabupaten Gorontalo. Efektor, 10(1), 22-29. https://doi.org/10.29407/e.v10i1.19264
Copyright (c) 2023 Efektor
This work is licensed under a Creative Commons Attribution-ShareAlike 4.0 International License.
Authors retain copyright and grant the journal right of first publication with the work simultaneously licensed under a Creative Commons Attribution-ShareAlike 4.0 International License that allows others to share the work with an acknowledgment of the work's authorship and initial publication in this journal.