Analisis Sintakmatik Permainan Simulasi Berlatar Isu-Isu Kontroversial Untuk Meningkatkan Keterampilan Menganalisis Informasi Pada Siswa SMA
Suryanto Suryanto

Universitas Nusantara PGRI Kediri

Agus Widodo

Universitas Nusantara PGRI Kediri

Nur Salim

Universitas Nusantara PGRI Kediri
Abstract views:
254
,
PDF (Bahasa Indonesia) downloads:
279
Keywords:
permainan, simulasi, isu kontroversial, informasi, hoax.
Abstract
The skills of analyzing information that often develop through social media and causing controversy are indispensable for young prospective students. Simulation games are thought to be effective for developing skills in analyzing information that are part of the formation of students' interpersonal skills, and are closely related to civic skills. Based on this, the issues that will be discussed in this paper are: how is the syntax of simulation games with controversial issues suitable for the development of the ability to analyze information on high school students ?. This paper is part of the preliminary study results for the purpose of simulation game development based on controversial public policy issues to instill constitutional democratic values ​​on high school students. Based on interviews with high school PPKn teachers, it is concluded that students need to have the skills to analyze information (hoax information) that often develop through social media lately. While simulated game syntax of controversial issues to improve the skills of analyzing hoax information are: (1) description of simulation game model, (2) assumption of model development, (3) game steps, (4) social system, (5) system (6) the principle of reaction, (7) the instructional impact, and (8) the impact of the companion.
References
Bondy, Andy & Frost, Lori, 2002.PECS and Other Visual Communication
Strategi in Autism.First Edition. Woodbine House :Library of Congress
Cataloging in Publication Data.
Dredge, B and Croswhite. 1986. Communication Without Speech-A Guide to
Parent and Proffesionals. Australia: Victoria, Commonwealth School Commission.
Gibson, dkk, 1989.Organisasi, Edisi Kelima, Jakarta, PT. Gelora Aksara Pratama
Haris, Y.N., Sapriya, A.A. Wahab, D. Budimansyah, (2013). Kotler, Philip, 2000, Manajemen Pemasaran, Edisi Milenium, Jakarta, Prehallindo
Lickona, Thomas. 2012, Education For Character.Trj. Juma Abdu Wamaungo. Jakarta: Bumi Aksara.
Ni Luh Widiasrini, Sukadi, I Nyoman Pursika. 2014. Pengaruh Model Pembelajaran Isu-isu Kontroversial Kebijakan Publik terhadap Keterampilan Berpikir Kritis Siswa dalam matapeklajaran PPKn Kelas X SMAN 4 Singaraja tahun Pelajaran 2013/2014. Jurnal Jurusan Pendidikan PKn. Vol. 2, No. 1 (2014).
Paulo Ferire. 2007, Politik Pendidikan, Kebudayaan, Kekuasaan dan Pembebasan, Yogyakarta: REaD bekerjasama dengan Pustaka Pelajar.
Suryanto, S., & Salim, N. (2015). ANALISIS TEORITIK MODEL PEMBELAJARAN BERLATAR ISU-ISU KONTROVERSIAL DI PERGURUAN TINGGI. NUSANTARA Of RESEARCH, 2(2). Retrieved from http://ojs.unpkediri.ac.id/index.php/efektor/article/view/175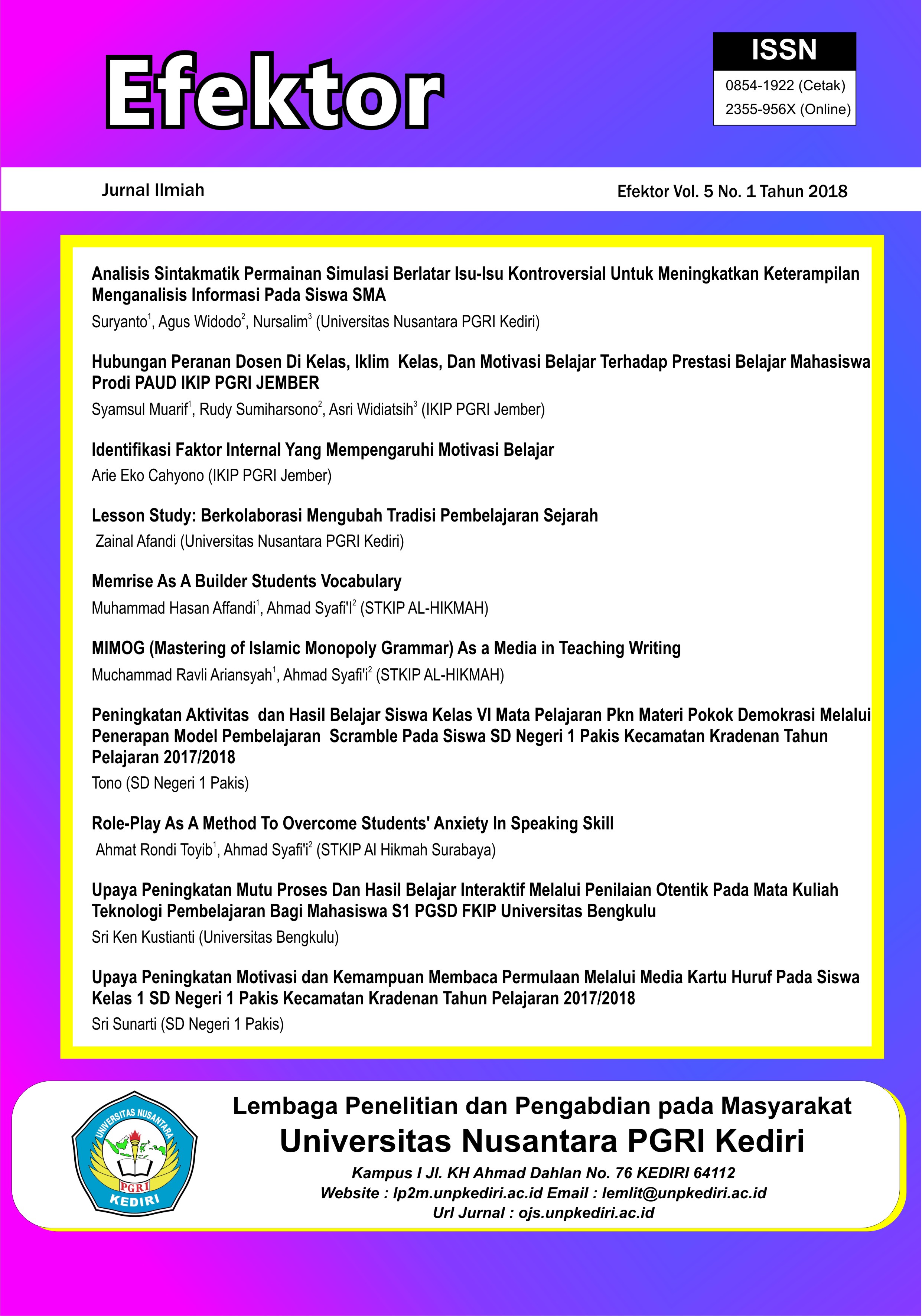 How to Cite
Suryanto, S., Widodo, A., & Salim, N. (2018). Analisis Sintakmatik Permainan Simulasi Berlatar Isu-Isu Kontroversial Untuk Meningkatkan Keterampilan Menganalisis Informasi Pada Siswa SMA. Efektor, 5(1), 1-7. https://doi.org/10.29407/e.v5i1.11946
Copyright (c) 2018 EFEKTOR (E)
This work is licensed under a Creative Commons Attribution-ShareAlike 4.0 International License.
Authors retain copyright and grant the journal right of first publication with the work simultaneously licensed under a Creative Commons Attribution-ShareAlike 4.0 International License that allows others to share the work with an acknowledgment of the work's authorship and initial publication in this journal.