Anteseden Loyalitas Nasabah : Islamic Branding, Kualitas Layanan dan Kepercayaan
Reno Iwan Candra Nugraha

UIN Maulana Malik Ibrahim Malang

Nihayatu Aslamatis Solekah

FE UIN Maulana Malik Ibrahim Malang
Abstract views:
141
,
pdf downloads:
75
Keywords:
Loyality, Islamic Branding, Service Quality, Trust
Abstract
The purphose of this study is to analyze the antecedents of customer loyalty of Bank BNI Syariah which is influenced by Islamic branding, service quality and trust. The sample in this study was 148 customers using purposive sampling using multiple regression analysis tools using SPSS 25. The results showed that Islamic branding, service quality and trust have an effect on customer loyalty. The implication of the results of this study is expected to maintain and improve the application of Islamic Branding and service quality, especially for PT. BNI Syariah KCP Jombang so as to gain customer trust that will foster a sense of customer loyalty
References
Alserhan, B. A. (2010). Islamic Branding: Brands As Good Deeds. . Journal of Islamic Marketing, Vol. 1, No. 2. 18, 34 –49 doi:10.1057/bm.2010.18
Ambas, D. F. (2019). Pengaruh Kualitas Pelayanan, Citra Perusahaan Terhadap Loyalitas Nasabah (Studi Pada BNI Syariah Cabang Kusumanegara Yogyakarta). Yogyakarta: Universitas Islam Negeri Sunan Kalijaga Yogyakarta.
Fitriani, A. (2016). Pengaruh Kegunaan, Kemudahan, Kepercayaan, Kemampuan Akses, Fitur Layanan dan Risiko Terhadap Loyalitas Pengguna Internet Banking (Studi Pada Nasabah Bank Syariah Mandiri KCP Kaliurang). Yogyakarta: Universitas Islam Negeri Sunan Kalijaga Yogyakarta.
Gefen, D., Rao, V. S., & Tractinsky, N. (2003). The Conceptualization of Trust, Risk, and Their Relationship in Electronic Commerce: The Need For Clarification. Proceedings of the 26th Hawai International Conference on System Sciences.
Goetsch, D. L., & Davis, S. (1994). Introduction to Total Quality, Quality, Productivity, Competitiveness,. Englewood Cliffs, NJ: Prentice Hall.
Hafiz, M. (2017). Pengaruh Islamic Branding dan Perilaku Religius Terhadap Kepuasan Konsumen Serta Dampaknya Pada Loyalitas Konsumen Pada Produk Kosmetik Wardah . Jakarta: Universitas Islam Negeri Syarif Hidayatullah Jakarta.
Hidayat, R., Akhmad, S., & Machmud. (2015). Effect Of Service Quality, Customer Trust and Customer Religious Commitment on Customer Satisfaction and Loyalty of Islamic Banks In East Java. Al-Iqtishad: Vol. VII No. 2, Juli 2015.
Hisanuddin, I. I. (2015). Pengaruh Citra Merek Islam Terhadap Loyalitas Nasabah (Studi Pada Bank Syariah di Kota Bandung). SCIENTICA Volume II No. 2, Desember 2015.
Kusuma. (2018). Pengaruh Nilai yang Diterima Pelanggan dan Kualitas Pelayanan Terhadap Loyalitas Pelanggan: Kepuasan Pelanggan Sebagai Mediator dan Gender Sebagai Moderator. Jurnal Bisnis dan Manajemen, Vol 5 No1. DOI : https://doi.org/10.26905/jbm.v5i1.2315
Lau, G. T., & Lee, S. H. (1999). Consumer Trustin Brand and The Link to Brand Loyalty. Journal of Market Focused Management, 4, 341–37. https://doi.org/10.1023/A:1009886520142
Lupiyoadi, R. (2001). Manajemen Pemasaran Jasa. . Jakarta: PT. Salemba Empat.
Mayer, R. C., Davis, J. H., & Schoorman, F. D. (1995). An Integration Model of Organizational Trust. Academy of Management Review, Vol. 20. No. 3. https://doi.org/10.2307/258792
Nurhayati, & Sukesti, F. (2016). Peningkatan Loyalitas Nasabah Bank Syariah Melalui Peningkatan Kualitas Layanan dan Kepuasan Nasabah dengan Variabel Religiusitas Sebagai Variabel Moderating. Jurnal Economica, Volume VII Edisi 2 Oktober 2016
Rahman, M. F. (2018). Analisis Islamic Branding Terhadap Loyalitas Pelanggan Ramen AA Bandung. Bandung: Universitas Pendidikan Indonesia
Ranto, D. W. (2013). Menciptakan Islamic Branding Sebagai Strategi Menarik Minat Beli Konsumen. JBMA-Vol. I, No.2.
Robbins, S. P., & A Judge, T. (2008). Perilaku organisasi. Edisi 12. Jakarta: Salemba Empat.
Rupiana, A. (2020). Pengaruh Service Quality, Company Image, Customer Trust dan Customer Satisfaction Terhadap Customer Loyalty (Studi BPRS Suriyah Cabang Tegal). Yogyakarta: Universitas Islam Negeri Sunan Kalijaga Yogyakarta.
Setiawan, H., Minarsih, M. M., & Fathoni, A. (2016). Pengaruh Kualitas Produk, Kualitas Pelayanan dan Kepercayaan Terhadap Kepuasan Nasabah dan Loyalitas Nasabah Dengan Kepuasan Sebagai Variabel Intervening (Studi Pada Nasabah Koperasi Rejo Agung Sukses Cabang Ngaliyan). Journal Of Management, Volume 2 No.2 Maret 2016.
Tjiptono, F., & Chandra, G. (2005). Service, Quality & Satisfaction. Yogyakarta: Andi.
Welim, Y. Y., & Arifin, A. (2016). Pengaruh Kualitas Layanan dan Kepercayaan Terhadap Kepuasan Nasabah dan Dampaknya Pada Loyalitas Nasabah (Studi Pada Bank BPR SUPRADANAMAS Pondok Gede, Bekasi). Prosiding SENTIA 2016 Politeknik Negeri Malang, Volume 8 ISSN: 2085-2347 .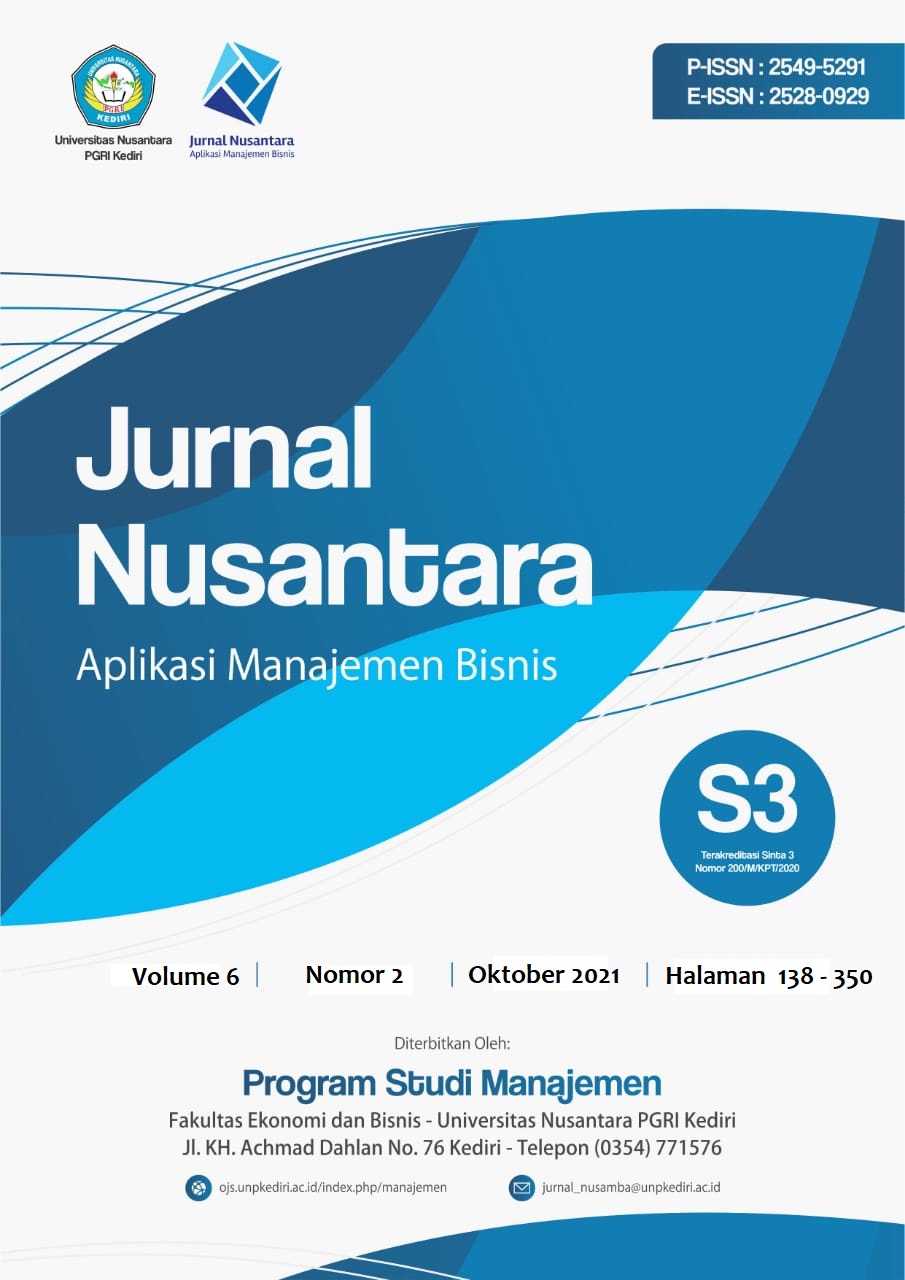 How to Cite
Nugraha, R. I. C., & Solekah, N. A. (2021). Anteseden Loyalitas Nasabah : Islamic Branding, Kualitas Layanan dan Kepercayaan. JURNAL NUSANTARA APLIKASI MANAJEMEN BISNIS, 6(2), 283 - 296. https://doi.org/10.29407/nusamba.v6i2.15770
Copyright (c) 2021 Nihayatu Aslamatis Solekah
This work is licensed under a Creative Commons Attribution-ShareAlike 4.0 International License.