Analysis Of Quality Control Dengan Statistical Quality Control untuk Meminimalisir Produk Gagal Pada UD.Utun Kedung Supit Probolinggo
Dedi Joko Hermawan

Universitas Panca Marga Probolinggo
Abstract views:
140
,
pdf downloads:
94
Keywords:
pengendalian kualitas, manajemen produk, SQC, menekan gagal produk
Abstract
Pengendalian kualitas merupakan teknik manajemen produk dalam mengukur layak atau tidaknya produk atau jasa, setelah itu dilakukan perbandingan produk yang ada dengan produk pesaing dengan tujuan meperbaiki kekurangan yang ada agar mampu bersaing dengan produk yang sejenis. Quality control digunakan sebagai upaya untuk meminimalisir adanya produk gagal yang tidak bias dihindari dalam kegiatan operasional sehingga konsumen merasa puas dengan produk yang dipilihnya serta produsen bisa mencapi target output yang berkualitas sesuai dengan yang direncanakan. Tujuan pada penelitian ini difokuskan kepada upaya mimalisir produk gagal dengan metode statistic of quality control dengan alat analisis diagram kontrol. Berdasar hasil evaluasi terjadinya produk gagal pada UD.UTUN masih dalam kategori batas wajar dengan nilai rata-rata kerusakan sebesar 0.096 atau 9,6% dari total produk. Nilai pengendalian kualitas batas atas (UCL) 0,14 atau 14% dan (LCL) batas bawah -0,05 atau 0% karena LCL kurang dari 0.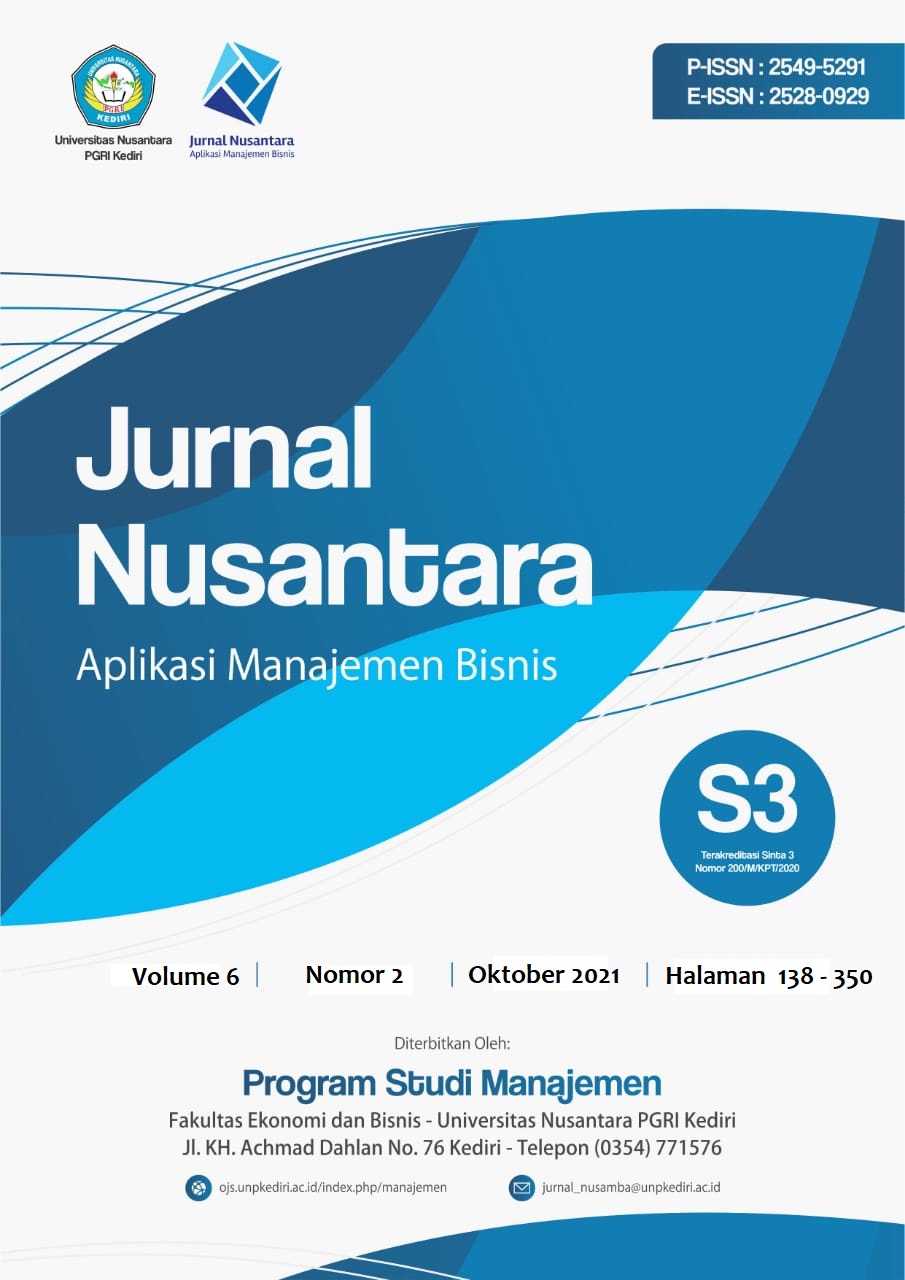 How to Cite
Hermawan, D. J. (2021). Analysis Of Quality Control Dengan Statistical Quality Control untuk Meminimalisir Produk Gagal Pada UD.Utun Kedung Supit Probolinggo. JURNAL NUSANTARA APLIKASI MANAJEMEN BISNIS, 6(2), 332 - 342. https://doi.org/10.29407/nusamba.v6i2.15762
Copyright (c) 2021 Dedi Joko Hermawan
This work is licensed under a Creative Commons Attribution-ShareAlike 4.0 International License.