The Development a 3D English Module for English Lesson in 4Th Grade in Elementary School
Anis Rohmah Hidayati

IAIN KEDIRI

Ary Setya Budhi Ningrum

Dewi Nur Suci
Abstract views:
50
,
pdf downloads:
42
Keywords:
Development, English, Module, Character, development, english, module, character
Abstract
English teaching at an elementary school in Indonesia has experienced some changes in the curriculum in 2013. Based on the curriculum, 2013 is not obliged to teach English to students, so English lessons become a local subject that teaches material based on KI (Kompetensi Inti) and KD (Kompetensi Dasar). The teacher applies local content learning based on KI and KD because it is in accordance with the achievement target and is directed and structured according to the age level. That statement makes the current research to develop a module to help students easily study. The module that the current research develops is a character-based, three-dimensional module. In accordance with its research goals, this study used the ADDIE research and development (R&D) methodology (Analysis, Design, Development, Implementation, and Evaluation). The findings of this study demonstrates the need to gather expert and student input to determine whether product development is both practical and valid. 1) Validation by material and linguistic experts receives 87.3%, meeting the criteria for a good product that is genuine and does not require change; 2) Media expert validation received 96.6% of the vote; thesuperior product criterion is very valid and does not require adjustment; 3) The student evaluation of the product trial received 87.62%, with the criterion being a good product. The meaning is valid and does not require revision. Based on the findings, this study can be concluded that research hopefully can help students understand  English lessons, so the students can improve their motivation to study English.
Downloads
Download data is not yet available.
References
Abe, K. (1991). Teaching English to children in an EFL setting (The English Teaching Forum). Yokohama, Japan: Kanto Gakuin Women's College.
Abourjilie, C. (2002). Education informational handbook and guide for support and implementation of the student citizen act of 2001 (Character and Civid Education). State of North Carolina Board of Education : Public School of North California
Akbar, R. (2017). Analisis pembelajaran aktif dengan pendidikan collabarative learning pada mata kuliah manajemen pendidikan di STAIN Kudus. Journal of Empirical Research Islamic Education. 1(2).DOI: http://dx.doi.org/10.21043/quality.v1i2.208
Akbar,S. (2013). Instrumen perangkat pembelajaran. Bandung: PT Rosdakarya
Albertus, D. K. (2010). Mengembangkan. kultur akademis bagi pembentukan karakter. Proceeding of Konferensi Nasional dan Workshop Asosiasi Psikologi Pendidikan Indonesia: Peran Pendidikan dalam Pembangunan Karakter Bangsa. Malang: Universitas Negeri Malang.
Albertus, D. K. (2010). Pendidikan Karakter: Strategi Mendidik Anak di Zaman Global. Jakarta: Grasindo.
Andi, P. (2015). Panduan kreatif membuat bahan ajar inovatif menciptakan metode pembelajaran yang menarik dan menyenangkan. Yogyakarta: Diva Press.
Apriadi,T. (2013). Literasi Media: cerdas bermedia khalayak media massa. Jakarta: Raja Grafindo Persada.
Arikunto, S. (2006). Prosedur penelitian suatu pendekatan praktik. Jakarta: PT Rhineka Cipta.
Arsyad, A. (2012). Media pembelajaran. Jakarta: PT Raja Grafindo
Asmani, J. M. (2011). Buku panduan internalisasi pendidikan karakter di sekolah. Jogjakarta: Diva Press.
Bakar, R. (2014). The effect of learning motivation on student productive competences in Vocational High School West Sumatera. International Journal of Asian Social Science. 4(6)
Brown, H. D. (1987). Principles of language learning and teaching (2nd Ed.). New Jersey: Prentice Hall.
Brown, H. D. (2001). Teaching by Principles: An Interactive Approach to Language Pedagogy (2nd Ed.). New York: Addison Wesley Longman, Inc.
Clark, Herbert H. and Clark, Eve V. (1977). Psychology and Language. New York: Harcourt Brace Jovanovich. INC.
Daryanto, A. D. C,. Purwanto,. & Djandji. (2014). Pengembangan perangkat pembelajaran (Silabus, RPP, PHB,Bahan Ajar). Yogyakarta: Gava Media
Davies, B. (2002). Rethinking schools and schools leadership for the twenty-first century: changes and challenges. Journal of Educational Management. 16(4. doi: 10.1108/09513540210432182
Donald J Ary,et all. (2014). A Introduction to research in education. Wadsworth: Thomson Learning.
Edgington, W. D. (2002). To promote character education, use literature for children and adolescents. The Social Studies Journal, 93(3). doi:10.1080/00377990209599893.
Gall & Borg. (2003). Educational research, an introduction. New York: Pearson Education, Inc,
Hudelson, S. (1991). EFL Teaching and children: A topic-based approach (The English Teaching Forum). USA: Arizona State University.
Iin Safira. (2014). Pengaruh Modul Digital Interaktif Terdahap Hasil Belajar Siswa Pada Konsep Suhu dan Kalor. Thesis.UIN Syarif Hidayatullah
Kohn, A. (1997). How not to teach values: A critical look at character education. Journal Storage, 78(6), 428-439.
Krashen, Stephen D. and Terrell, Tracy D. (1983). The natural approach. New Jersey: Alemany Press Regent/Prentice Hall.
Lickona, T., Schaps, E., & Lewis, C. (2007). CEP's eleven principles of effective character education. Washinggton, Dc: Character Education Partnership.
Linda, N. E. & Richard, E. (1995). Teaching your children values. New York: Simon Sand Chister.
Meidayanti. (2020). Development of a communicative basic English module for English at TPQ Al-Amin learning. Undergraduate Thesis. State Institute Of Islamic Studies Ponorogo.
Mu'in, Fatchul. (2011). Pendidikan karakter, konstruksi teoretik dan praktik. Jogjakarta: Ar-Ruzz Media.
Mustika. (2020). "Developing character based module for natural science Subject in 4th grade of elementary school". Undergraduate Thesis.Universitas Islam Negeri Malang
Okta, R. (2019). Pengembangan game edukasi berbasis android sebagai media pembelajaran biologi bernuansa motivasi siswa kelas XI di SMA/MA. Skripsi. Universitas Islam Negeri Raden Intan Lampung.
Setyosari, P. (2010). Metode Penelitian Pendidikan dan Pengembangan. Jakarta: Kencana Prenada Media Group.
Purwanto. (2009). Evaluasi hasil belajar. Yogyakarta: PT Pustaka Pelajar
Asyhar, R. (2012). Kreatif mengembangkan media pembelajaran. Jakarta: Referensi Jakarta
Prahastito, R. O. (2016). Aplikasi game edukasi budaya dan aksara Lampung berbasis android. Skripsi. Jurusan Ilmu Komputer Dan Fakultas Matematika Dan Ilmu Pengetahuan Alam Universitas Lampung.
Richards, J. & Schmidt, R. (2002). Dictionary of language teaching and applied linguistics. London: Pearson Education.
Ruswan D, Tatang Muhtar. (2020). Character education from the perspectives of elementary school physical education teacher. Jurnal Cakrawala Pendidikan. 39(2)
Sanjaya, W. (2013) . Penelitian pendidikan, jenis, metode dan prosedur. Jakarta: Kencana Prenada Media Group.
Scott, Wendy A. and Ytreberg, Lisbeth H. (1993). Teaching English to children. England: Longman.
Sudjana, N. (2013). Dasar-dasar proses belajar mengajar. Bandung: Sinar Baru Algensindo.
Sugiyono. (2008). Metode Penelitian Pendidikan: pendidikan kuantitatif, kualitatif dan R&D. Bandung: Alfabeta.
Sukmadinata, N. S. (2008). Metode penelitian pendidikan. Bandung: PT Remaja Rosdakarya.
Susanto, E. (2013). Pembelajaran pendidikan jasmani berbasis karakter untuk meningkatan nilai-nilai afektif di sekolah dasar. Jurnal Pendidikan Karakter. 3(3), doi:10.21831/ipk.v0i3.2751.
Tegeh., et.al. (2014). Model penelitian pengembangan. Jakarta : Graha Ilmu.
Temiz, N. (2016). Example of character education course design in the light of experienced centred design for higher education. Journal of Education and Practice, 7(36), 144-155. www.iiste.org
Thompson, W. G. (2002). The effects of character education on student behavior. Thesis. East Tennessee State University.Diakses dari http://dc.etsu.edu/ etd/706.
Tim Penyusun. (2006). Kurikulum 2004 panduan pembelajaran KBK. Jakarta: PT Remaja Rosdakarya.
Vembrianto, ST. (1981). Pengantar pengajaran modul. Yogyakarta: Yayasan Pendidikan Paramita.
Walter R, Borg., & Meredith, D. Gall. (1979). Educational research. New York: Longman Inc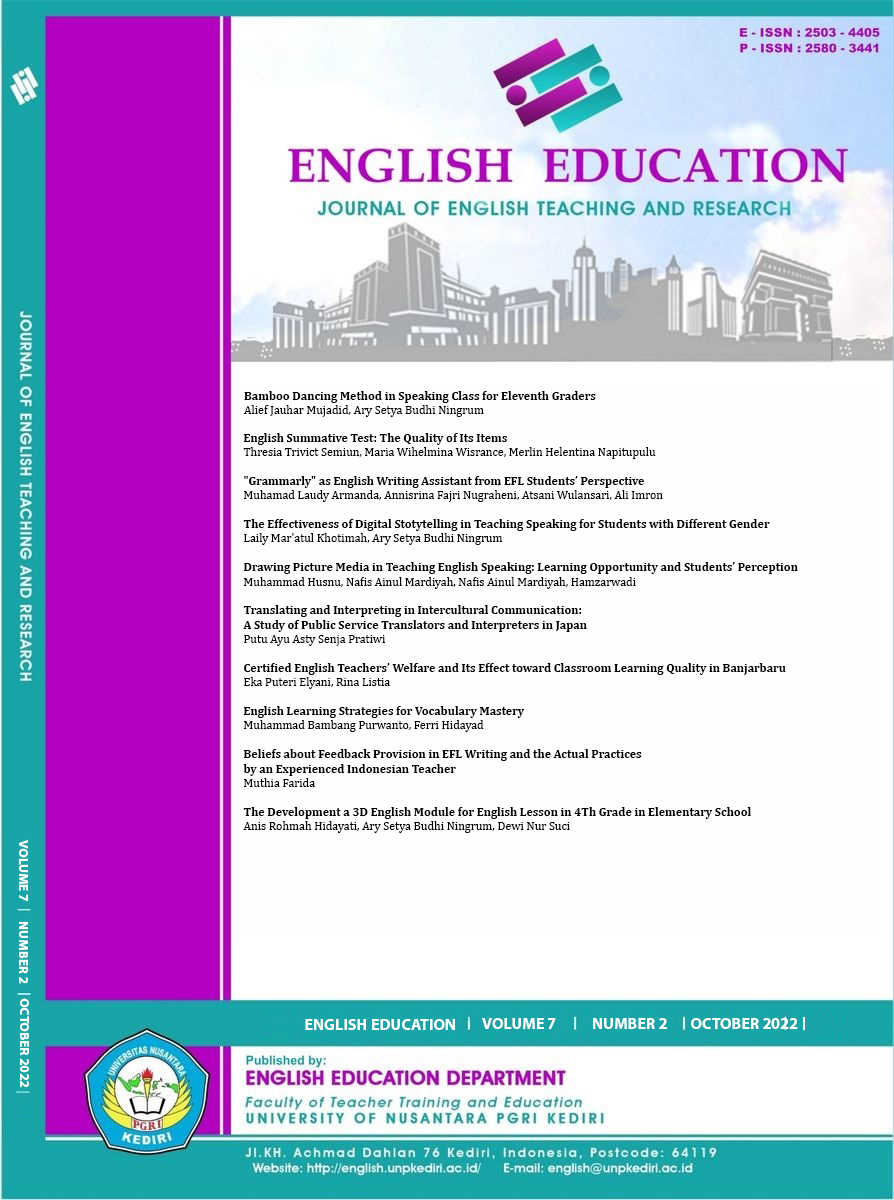 How to Cite
Hidayati, A. R., Ningrum, A. S. B., & Suci, D. N. (2022). The Development a 3D English Module for English Lesson in 4Th Grade in Elementary School. English Education:Journal of English Teaching and Research, 7(2), 205-221. https://doi.org/10.29407/jetar.v7i2.18298
Authors who publish with this journal agree to the following terms:
1. Copyright on any article is retained by the author(s).
2. The author grants the journal, right of first publication with the work simultaneously licensed under a Creative Commons Attribution License that allows others to share the work with an acknowledgment of the work's authorship and initial publication in this journal.
3. Authors are able to enter into separate, additional contractual arrangements for the non-exclusive distribution of the journal's published version of the work (e.g., post it to an institutional repository or publish it in a book), with an acknowledgment of its initial publication in this journal.
4. Authors are permitted and encouraged to post their work online (e.g., in institutional repositories or on their website) prior to and during the submission process, as it can lead to productive exchanges, as well as earlier and greater citation of published work.
5. The article and any associated published material is distributed under the Creative Commons Attribution-ShareAlike 4.0 International License