IMPROVING STUDENTS' READING ABILITY ON INTRODUCTION TO LINGUISTIC CLASS THROUGH TWO –STAY TWO STRAY (TS-TS) TECHNIQUE
Samsi Rijal

Madura Islamic University

Jaftiyatur Rohaniyah
Abstract views:
751
,
pdf downloads:
946
Keywords:
Reading, Cooperative learning, Two-stay Two Stray, Ts-TS
Abstract
This research was conducted based on the researcher's observation in the class of Introduction to Linguistic at second semester of English Education Department Madura Islamic University. From the data, there were some problems of learners, they are; 1) they felt difficult in understanding the subject of Introduction to Linguistic because it was the new subject for them, 2) they were not active in joining the process of teaching and learning. Related to the problems above, the researcher tried to find the solution by choosing the best strategy, it was Cooperative learning TWO –STAY TWO STRAY (TS-TS). This research is CAR (Classroom Action Research) which has four steps: planning, acting, observing and reflecting. The subject of this research was learners of second semester of English Education Department. The result after implementing Cooperative learning TWO –STAY TWO STRAY (TS-TS), there was high motivation from the learners in joining the class and there was a significant improvement of learners' score from preliminary study, cycle I and Cycle II. In preliminary, there were only 27.3 % learners who got the target of the minimum score, it was 75 (B). In cycle I, there was 63.7 % learners achieved the target and 81.9 % of learners got the target of the research. Based on the data, it could be concluded that this method is success and can be used in teaching reading.
Downloads
Download data is not yet available.
References
Annas, Usman, B., & Muslem, A. (2018). THE EFFECT OF USING THE TWO STAY TWO STRAY TECHNIQUE TO DEVELOP YOUNG LEARNERS' SPEAKING SKILLS AND MOTIVATION.pdf. ENGLISH EDUCATION JOURNAL (EEJ), 9(3), 422-44. www.jurnal.unsyiah.ac.id/EEJ/article/download/12222/9480
Eferi, M. (2018). PENINGKATAN AKTIVITAS BELAJAR SISWA DALAM MATA PELAJARAN BIOLOGI MELALUI MODEL PEMBELAJARAN KOOPERATIF TIPE TWO STAY – TWO STRAY (TS-TS) DI KELAS XII IPA.1 SMAN 1 PASAMAN. JURNAL MANAJEMEN PENDIDIKAN, 03(01), 103–114.
Harmer, J. (2001). How to Teach English; An Introduction to the Practice of English Language Teaching. Addison Wesley Longman Limited.
Hasyim, R., Ibrahim, I., & Said, E. (2019). The Use of Two Stay Two Stray Method to Improve Students' Reading Comprehension. Lisan: Jurnal Bahasa dan Linguistik Vol. 9 No. 1: Hal. 28-36. https://doi.org/10.33506/jbl.v9i1.784
Huda, M. (2013). Model-model Pengajaran dan Pembelajaran; Isu-isu Metodis dan Pragmatis. Pustaka Belajar. Yogyakarta.
Hudson, T. (2011). TEACHING SECOND LANGUAGE READING. OXFORD University Press.
Kagan, S. (1992). Child Development. Journals of SRCD, Vol. 63, No.1, Februari, 47-58.
Kemmis, S., & R. Mc Taggart. (1981). The Action Research Planner. Victoria, Australia; Deakin University Press.
Khoiriyah, & Gunarsih. (2018). ENHANCING STUDENTS' READING COMPREHENSION THROUGH JIGSAW AT VOCATIONAL HIGH SCHOOL. Journal of English Teaching and Research, 4(1), 29–38.
Nunan, D. (1991). Language Teaching Methodology ; A textbook for teachers. Printice Hall International (UK) Ltd.
Nurlaelah. (2019). PENERAPAN PEMBELAJARAN KOOPERATIF TIPE TWO STAY TWO STRAY (TS-TS) UNTUK MENINGKATKAN HASIL BELAJAR BAHASA INGGRIS SISWA KELAS X SMA NEGERI 9 BULUKUMBA. Klasikal: Journal of Education, Language Teaching and Science, 1(1), 81–99.
Rani, R., Niswah, C., & Agustiani, R. (2018). PENERAPAN METODE (TS-TS) UNTUK MELIHAT AKTIVITAS SISWA PADA PEMBELAJARAN MATEMATIKA. Mosharafa: Jurnal Pendidikan Matematika, 6(3), 345–356. https://doi.org/10.31980/mosharafa.v6i3.323
Rhiantini, S., Sunarya, D. T., & Iswara, P. D. (2017). PENERAPAN1METODE1TWO STAY TWO STRAY DALAM UPAYA1MENINGKATKAN KETERAMPILAN MENULIS1PADA MATERI LAPORAN PENGAMATAN. 2(1), 10.
Santoso. (2011). Pembelajaran kooperatif Cooperative learning. . Jakarta: Rineka Cipta.
Sari, D. F., Fitriani, S. S., & Emafetery, S. (2019). The Strategy of Two Stay Two Stray to Improve EFL Students' Reading Skill. Studies in English Language and Education, 6(1), 171-184, 2019, 14.
Silalahi, N. S. (2019). INTERNATIONAL COMPARISON OF STRATEGIES FOR READING COMPREHENSION FROM TEACHER PREFERENCE: A REVIEW OF SELECTED PAPER. 4(1), 6.
Sinaga, Y. K., Herman, H., & Siahaan, P. L. (2020). The Effect of Partner Reading Strategy on Reading Comprehension. Journal of English Education and Teaching, 4(2), 206–218. https://doi.org/10.33369/jeet.4.2.206-218
Trisviana, W., Afriazi, R., & Hati, G. M. (2019). THE CORRELATION BETWEEN STUDENTS' MASTERY ON LEXICAL COLLOCATION AND THEIR READING COMPREHENSION. Journal of English Education and Teaching, 3(1), 53–65. https://doi.org/10.33369/jeet.3.1.53-65
Winarso, H. P. (2008). Penelitian Tindakan Kelas; Meningkatkan Professionalitas Guru dan Dosen. UM Press. Malang 2008.
Yusri, R, M., & Jufri. (2018). THE USE OF TWO STAY TWO STRAY MODEL IN ENGLISH TEACHING TO INCREASE STUDENT'S LEARNING OUTCOME. JOURNAL OF ADVANCED ENGLISH STUDIES, Vol. 1, No.1, 39–43.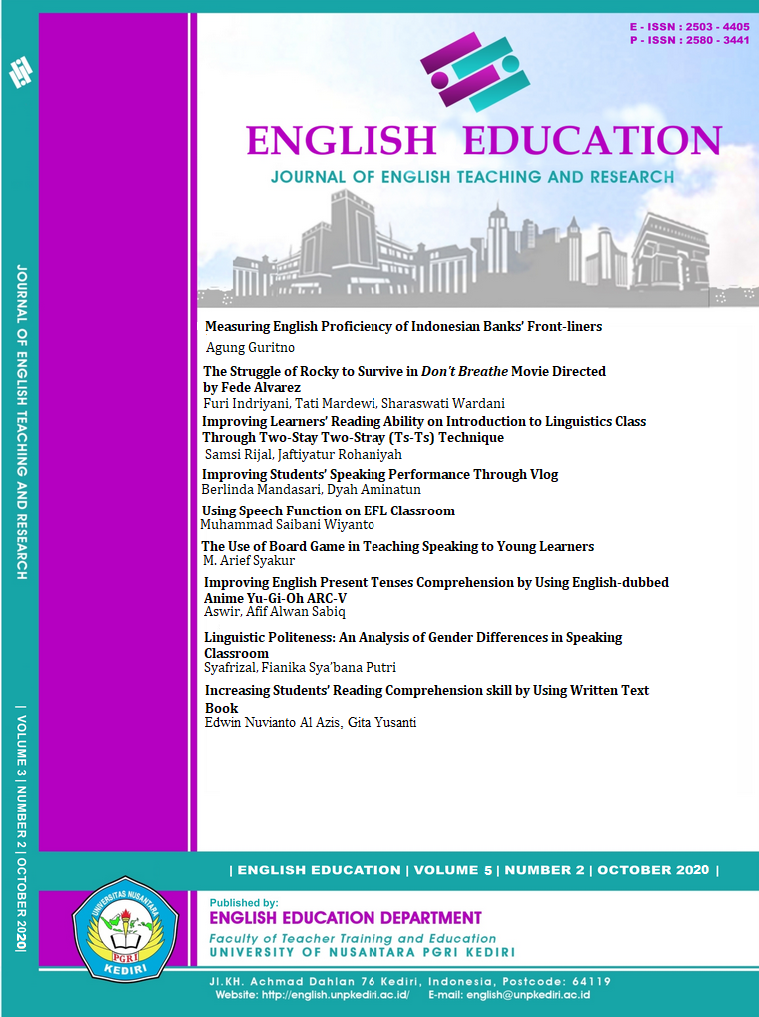 How to Cite
Rijal, S., & Rohaniyah, J. (2020). IMPROVING STUDENTS' READING ABILITY ON INTRODUCTION TO LINGUISTIC CLASS THROUGH TWO –STAY TWO STRAY (TS-TS) TECHNIQUE. English Education:Journal of English Teaching and Research, 5(2), 124-135. https://doi.org/10.29407/jetar.v5i2.14782
Authors who publish with this journal agree to the following terms:
1. Copyright on any article is retained by the author(s).
2. The author grants the journal, right of first publication with the work simultaneously licensed under a Creative Commons Attribution License that allows others to share the work with an acknowledgment of the work's authorship and initial publication in this journal.
3. Authors are able to enter into separate, additional contractual arrangements for the non-exclusive distribution of the journal's published version of the work (e.g., post it to an institutional repository or publish it in a book), with an acknowledgment of its initial publication in this journal.
4. Authors are permitted and encouraged to post their work online (e.g., in institutional repositories or on their website) prior to and during the submission process, as it can lead to productive exchanges, as well as earlier and greater citation of published work.
5. The article and any associated published material is distributed under the Creative Commons Attribution-ShareAlike 4.0 International License