Peran Anggaran dan Realisasi Anggaran Produksi Film Independen dalam Perspektif Akuntansi
Martinus Sony Erstiawan

Universitas Dinamika

Mega Pandan Wangi

Universitas Dinamika
Abstract views:
147
,
PDF (Bahasa Indonesia) downloads:
294
Keywords:
Produksi Film Independen, Modal kerja
Abstract
The purpose of the study is to conduct an in-depth study of the stages of the production process starting from pre-production, production and post-production at independent production houses in recording, acknowledging, disclosing and presenting in an accounting perspective based on the budget and budget realization. The research method used qualitative methods based on literature studies / literature studies and interviews, while data analysis using interpretive discourse analysis techniques is used as a source of literature and informants with studies according to fields and science. The findings in this study reveal the budget management of independent film production houses which is closely related to making short-duration films where the realization of financial activities is carried out to finance all filmmaking activities from pre-production, production and post-production. Meanwhile, recording, presenting, and disclosing financial activities have not been fully carried out by production houses in managing their finances to be submitted to stakeholders. The contribution of this research elaborates and proves that financial activities in the field of cinema need to be a concern in managing, recording, disclosing and presenting their financial activities. The results of this study prove that recording, preparation and budget management are realized by obtaining funds from various sources and realization of expenditures through cash activities to meet the needs of pre-production, production to post-production of films.
References
Achadiyah, B. N. (2019). Otomatisasi Pencatatan Akuntansi pada UMKM. Jurnal Akuntansi Multiparadigma, 10(1), 188–205. https://jamal.ub.ac.id/index.php/jamal/article/view/1115/pdf
Andeva, H. ; K. ; Z. (2018). Estimasi Anggaran Biaya Dan Metode Pelaksanaan Pada Proyek Pembangunan Jalan Paloh Punti Pulo–Iboh Kota Lhokseumawe. Jurnal Sipil Sains Terapan, 1(2), 23–31.
Ardiyanti. (2017). Perfilman Indonesia: Perkembangan Dan Kebijakan, Sebuah Telaah Ddari Perspektif Industri Budaya (Cinema In Indonesia: History Aand Goverment Regulation, A Cultural Industri Perspektif). Jurnal Kajian, 22(2), 163–179.
Candraningrat. Januar Wibowo, E. M. (2021). Efektivitas Strategi Pemasaran Dan Manajemen Keuangan Pada UMKM Roti. DIKEMAS, 5(1). https://doi.org/10.32486/jd.v5i1.574
Erstiawan, M. (2020). Penerapan SAK EMKM pada Kesenian Jaranan Turonggo Bimo Kertosono Sebagai Simbol Budaya. Jurnal Bisnis Perspektif, 12(1), 47–54.
Erstiawan, M. (2021). Kepatuhan Emiten dalam Taksnomi Extensible Business Reporting (XBRL). CAPITAL: Jurnal Ekonomi Dan Manajemen, 5(1), 71–85.
Erstiawan MS, et al. (2021). Efektivitas Strategi Pemasaran Dan Manajemen Keuangan Pada UMKM Roti. Dikemas, 5(1), 57–61. https://doi.org/10.32486/jd.v5i1.574
Haren. (2020). Model Manajemen Produksi Film Pendek Cerita Masa Tua. Jurnal Audiens, 1(1), 107–112.
IAI. (2018). Standar Akuntansi Keuangan Entitas Mikro, Kecil, dan Menengah. In Standar Akuntansi Keuangan Entitas Mikro, Kecil, dan Menengah. Dewan Standar Akuntansi Keuangan Ikatan Akuntan Indonesia.
Indonesia. (2009). Undang-Undang Republik Indonesia No. 33 tentang Perfilman (pp. 1–64).
Indonesia. (2021). Peraturan Pemerintah No. 56 tentang Pengelolaan Royalti Hak Cipta Lagu dan/atau Musik. Badan Pemeriksa Keuangan. https://peraturan.bpk.go.id/Home/Details/164434/pp-no-56-tahun-2021
Kemenparekraf. (2020). Outlook Pariwisata dan Ekonomi Kreatif Indonesia (p. 72).
Kurniawansyah, D. (2016). Penerapan Pencatatan Akuntansi dan Penyusunan Laporan Keuangan Berdasarkan SAK ETAP pada UMKM DEsa Gembongsari Kecamatan Kalipuro KAbupaten Banyuwangi. UNEJ E-Proceding, 832–841. http://jurnal.unej.ac.id/index.php/prosiding/article/view/3696
Lu, X. (2019). A Study on the Cost of Production in Film Project Management: Taking Small-Budget Films in China as an Example. Open Journal of Social Sciences, 7(3). https://doi.org/10.4236/jss.2019.73006
Mega Pandan Wangi, M. H. T. (2019). Penyutradaraan Dan Editing Dalam Pembuatan Film Animasi 3D Bergenre Action. Journal of Art, Design and Multimedia, 1(1), 15–19.
Permana. (2019). Industri film Indonesia dalam perspektif sineas Komunitas Film Sumatera Utara. Jurnal Kajian Televisi Dan Film, 3(2), 185–199.
Pratiwi, et al. (2022). Implementasi SAK-EMKM Dalam Menyusun dan Mengelola Keuangan Pada UMKM Di Wonosalam. Majalah Ekonomi, 27(1), 44–51.
Priyono. (2021). Aplikasi Untuk Perencanaan Dan Realisasi Anggaran Produksi Film Menggunakan Pendekatan Penganggaran Berbasis Aktivitas. E-Proceeding Of Applied Science, 7(6), 3130–3135.
Putri, IP, D. (2017). Industri Film Indonesia Sebagai Bagian dari INdustri Kreatif Indonesia. Jurnal Liski, 3(1), 24–42.
Riska, F. (2020). Perencanaan Keuangan ditengah Pandemik. Jurnal Akuntansi Manajemen Dan Ilmu Ekonomi. JASMINE, 1(1), 1–7.
Safitri RV, S. (2018). Pencatatan Akuntansi pada Usaha Kecil Mikro Kecil dan Menengah (Studi pada UMKM MR. Pelangi Semarang). Jurnal Manajemen Bisnis Dan Inovasi Universitas Sam Ratulangi, 5(2), 117–125. https://doi.org/https://doi.org/10.35794/jmbi.v5i2.20808
Santoso, R, Erstiawan MS Kusworo, A. (2020). Inovasi Produk, Kreatifitas Iklan Dan Brand Trust Mendorong Keputusan Pembelian. Jurnal Nusantara Aplikasi Manajemen Bisnis, 5(2), 133–145.
Santoso R, E. M. (2021). Implementation of Financial Risk Management in Batik MSMEs During the Covid-19 Pandemic. Tekmulogi, 1(1), 1–7.
Sasongko C, Soeltanong, M. (2021). Perencanaan Produksi dan Pengendalian Persediaan pada Perusahaan Manufaktur. Jurnal Riset Akuntansi Dan Perpajakan, 8(1), 14–27.
Toni, A. (2015). Peran Film Sebagai Media Sosialisasi Lingkungan. Jurnal Komunikator, 7(1), 41–51.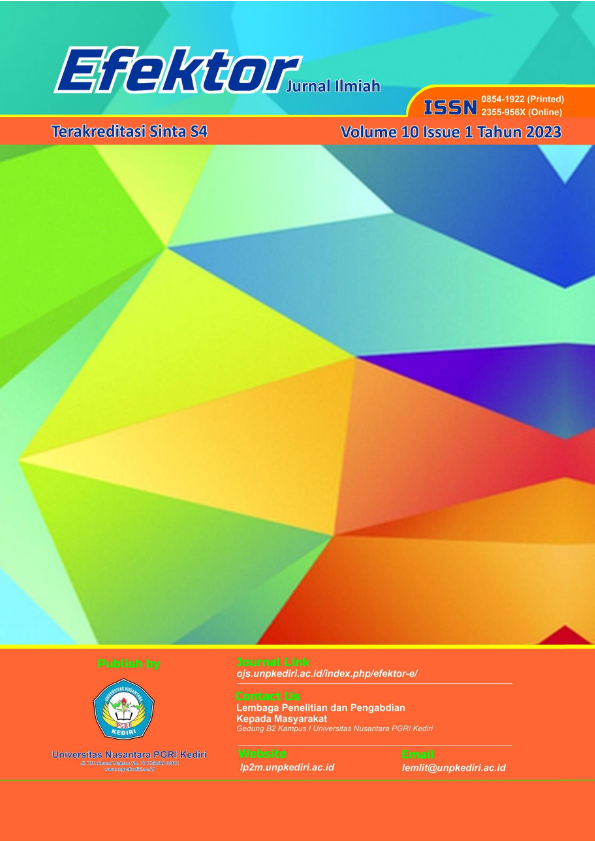 How to Cite
Erstiawan, M. S., & Wangi, M. P. (2023). Peran Anggaran dan Realisasi Anggaran Produksi Film Independen dalam Perspektif Akuntansi. Efektor, 10(1), 132-147. https://doi.org/10.29407/e.v10i1.18667
Copyright (c) 2023 Efektor
This work is licensed under a Creative Commons Attribution-ShareAlike 4.0 International License.
Authors retain copyright and grant the journal right of first publication with the work simultaneously licensed under a Creative Commons Attribution-ShareAlike 4.0 International License that allows others to share the work with an acknowledgment of the work's authorship and initial publication in this journal.