Bermain Pasir Buatan dan Koordinasi Mata-Tangan Anak Usia Dini di Gorontalo
Pupung Puspa Ardini

PGPAUD Fakultas Ilmu pendidikan Universitas Negeri Gorontalo

Velly Sena Edila Abdul

Universitas Negeri Gorontalo

Setiyo Utoyo

Universitas Negeri Gorontalo
Abstract views:
143
,
PDF (Bahasa Indonesia) downloads:
118
Abstract
The aim of this research is to determine the information obtained from playing with an artificial sand environment on the eye-hand coordination abilities of young children. This study is a quantitative research using an experimental method and a one-group pre-test-post-test design. The respondents consisted of 22 children aged 5 to 6 years. The results of the research indicate a significant difference in the average eye-hand coordination abilities of children before and after the treatment, as evidenced by the scores obtained in the pre- and post-tests, which were 40.9% and 68.1% respectively. Although the t-test calculation yields a significant value of < 0.05, specifically 0.00, rejecting the null hypothesis (Ho), these results indicate a significant influence before and after the treatment. It is necessary to design and implement regular play activities according to the themed sand play in the classroom as a medium to stimulate eye-hand coordination. Additionally, it is important to disseminate this information to groups of teachers in the vicinity of the research location.
References
Aghdar, A., Allipour, S., & Shehni Yeilagh, M. (2020). The Relationship between Executive Functions and Self-Regulated Academic Learning Regarding the Mediating Role of Metacognition and Working Memory among University Students. Iranian Journal of Learning & Memory, 2(8), 73–82.
Alfianasari,I.K.A.A.Y.U. (2018). Pengaruh Bermian Lempar tangkap Bola Terhadap Koordinasi Mata dan Tangan Anak Kelompok B TK Dharma Wanita Gempolan Pakel Tulung Agung..
Bakhtiar, S., Pulungan, A. A., Oktarifaldi, O., Syahputra, R., & Putri, L. P. (2020). Pengaruh Koordinasi Mata-Tangan, Body Mass Index dan Jenis Kelamin terhadap Kemampuan Objek Kontrol Siswa PAUD. Jurnal MensSana, 5(1), 9–14.
Dewi, D. K., Iswantiningtyas, V., & Nugroho, I. H. (2021). Bermain Pasir Ajaib Untuk Mengembangkan Motorik Halus Anak. Prosiding SEMDIKJAR (Seminar Nasional Pendidikan Dan Pembelajaran), 4, 394–402.
Evivani, M., & Oktaria, R. (2020). Permainan Finger Painting Untuk Pengembangan Kemampuan Motorik Halus Anak Usia Dini. Jurnal Warna: Jurnal Pendidikan Dan Pembelajaran Anak Usia Dini, 5(1), 23–31.
Homeyer, L. E., & Lyles, M. N. (2021). Advanced sandtray therapy: Digging deeper into clinical practice. Routledge.
Joubish, M. F., & Khurram, M. A. (2011). Cognitive development in Jean Piaget's work and its implications for teachers. World Applied Sciences Journal, 12(8), 1260–1265.
Khamaliyah, A., Fatimah, A., & Kusumawardani, R. (2019). Pengaruh bermain pasir kinetik terhadap Kreativitas anak. Jurnal Penelitian Dan Pengembangan Pendidikan Anak Usia Dini, 6(1), 21–28.
Liquin, E. G., & Lombrozo, T. (2020). Explanation-seeking curiosity in childhood. Current Opinion in Behavioral Sciences, 35, 14–20.
Pragistha, I. F., Mansur, H., & Triningsih, R. W. (2022). The Effect of the Use of Kinetic Sand as a Stimulation Media for Fine Motor Development in Preschool Children at Ra Al-Masithoh Karangploso. Journal of Local Therapy, 1(1), 18–23.
Prameswari, T. W., & Lestariningrum, A. (2020). STEAM based learning strategies by playing loose parts for the achievement of 4c skills in children 4-5 years. Jurnal Efektor, 7(1), 24–34.
Pratiwi, W. (2017). Konsep bermain pada anak usia dini. TADBIR: Jurnal Manajemen Pendidikan Islam, 5(2), 106–117.
Rizkia, N., Hayati, F., & Amelia, L. (2020). Analisis Penggunaan Media Pasir Kinetik Dalam Menstimulasi Kecerdasan Naturalis Pada Anak Kelompok B1 Tk Pertiwi Lhoknga. Jurnal Ilmiah Mahasiswa Pendidikan, 1(1).
Saripudin, A. (2019). Analisis Tumbuh Kembang Anak Ditinjau Dari Aspek Perkembangan Motorik Kasar Anak Usia Dini. Equalita: Jurnal Studi Gender Dan Anak, 1(1), 114–130.
Umah, K. K., & Rakimahwati, R. (2021). Perkembangan Kreativitas Anak Melalui Permainan Pasir Ajaib di Taman Kanak-kanak. Aulad: Journal on Early Childhood, 4(1), 28–36.
Wulandari, F., Muslihin, H. Y., & Nur, L. (2020). Penerapan Bermain Konstruksi Magic Sand Untuk Mengembangkan Kemampuan Motorik Halus Anak Usia Dini. Jurnal Ilmiah Visi, 15(1), 63–72.
Yanti, N. (2022). Aktivitas Meremas untuk Meningkatkan Motorik Halus Anak Kelompok A di PAUD Al-Amin.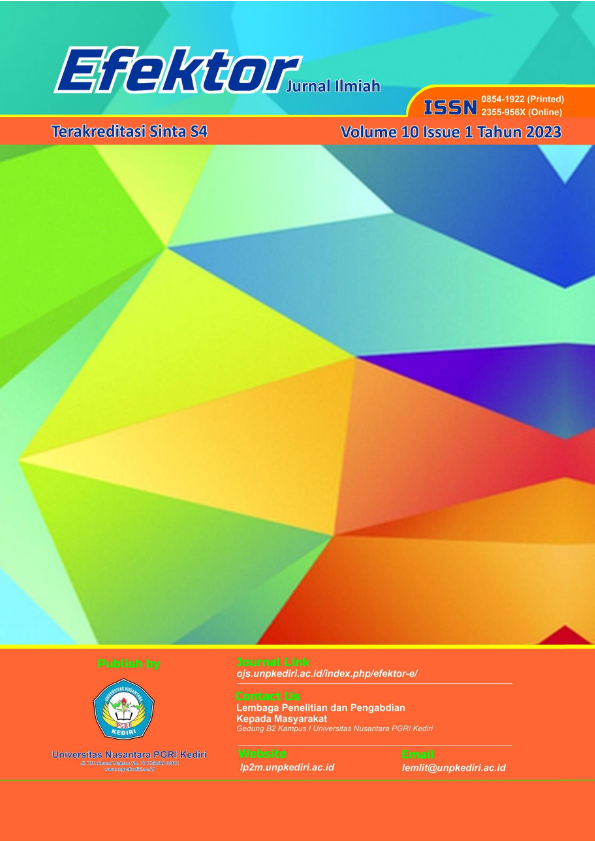 How to Cite
Ardini, P. P., Edila Abdul, V. S., & Utoyo, S. (2023). Bermain Pasir Buatan dan Koordinasi Mata-Tangan Anak Usia Dini di Gorontalo. Efektor, 10(1), 63-69. https://doi.org/10.29407/e.v10i1.18645
Copyright (c) 2023 Efektor
This work is licensed under a Creative Commons Attribution-ShareAlike 4.0 International License.
Authors retain copyright and grant the journal right of first publication with the work simultaneously licensed under a Creative Commons Attribution-ShareAlike 4.0 International License that allows others to share the work with an acknowledgment of the work's authorship and initial publication in this journal.