Upaya Peningkatan Mutu Proses Dan Hasil Belajar Interaktif Melalui Penilaian Otentik Pada Mata Kuliah Teknologi Pembelajaran Bagi Mahasiswa S1 PGSD FKIP Universitas Bengkulu
Sri Ken Kustianti

PGSD Universitas Bengkulu
Abstract views:
3
,
PDF (Bahasa Indonesia) downloads:
23
Keywords:
Hasil Belajar Interaktif, Penilaian Otentik, Teknologi Pembelajaran
Abstract
This study aims to improve the quality of the process and the results of interactive learning through vocational studies Education Technology for undergraduate students PGSD FKIP UNIB. The method of research used class action in collaboration with lecturers model as a researcher. This research was conducted for three cycles. The results showed that learning achievement can effectively improve the quality of the learning process. The study found an innovative model of assessment by conditioned students to build their own potential for self-confidence to appear in the group, openness in accepting criticism, persistence in raising opinions of criticism and attendance as group members. With performance appraisal easier and able to improvise, while students are more proactive in participating.
References
Anderson, Rin W. dan David R. Kreathwohl. (2001). A Taxonomi for Learning Teaching and Assessing A Revision of Bloom's Taxonomi of Educational Objectives. New York. Addison Wesley Longman, Inc.

Arikunto, Suharsimi. (2006). Prosedur Penelitian Pendekatan Praktik. Jakarta. PT. Rineko Cipta.

Kunandar. (2008).Langkah Mudah Penelitian Tindakan Kelas Sebagai Pengembangan Profesi Guru. Jakarta. PT. Raja Grafindo Persada.

Miarso, Yusufhadi. (2004). Menyemai Benih Teknologi Pembelajaran. Jakarta. Prekada Media.

Nurgiyantoro, B.. (2011).Penilaian Otentik. Yogyakarta. UGM. Press.

Rohani, Ahmad. (2004). Pengelolaan Pembelajaran. Jakarta. Rineka Cipta.

Raka Joni, T.. (2005). Cara Belajar Siswa Aktif serta Implikasinya Terhadap Sistem Pembelajaran. P2LPTK Ditjen Dikti. Depdikbud.

Richardson, J.S.. (2009). Reading to Learn in The Content Areas. Australia. Wadsworth Cengage Learning.

Idrus. (2011). Meningkatkan Hasil Belajar Mahasiswa PGSD. Jurnal Pendidikan Triadik. Bengkulu. Oktober.

Wardani, IGAK; Wihardit, K; dan Nasution, N.. (2002). Penelitian Tindakan Kelas. Jakarta. Universitas Terbuka.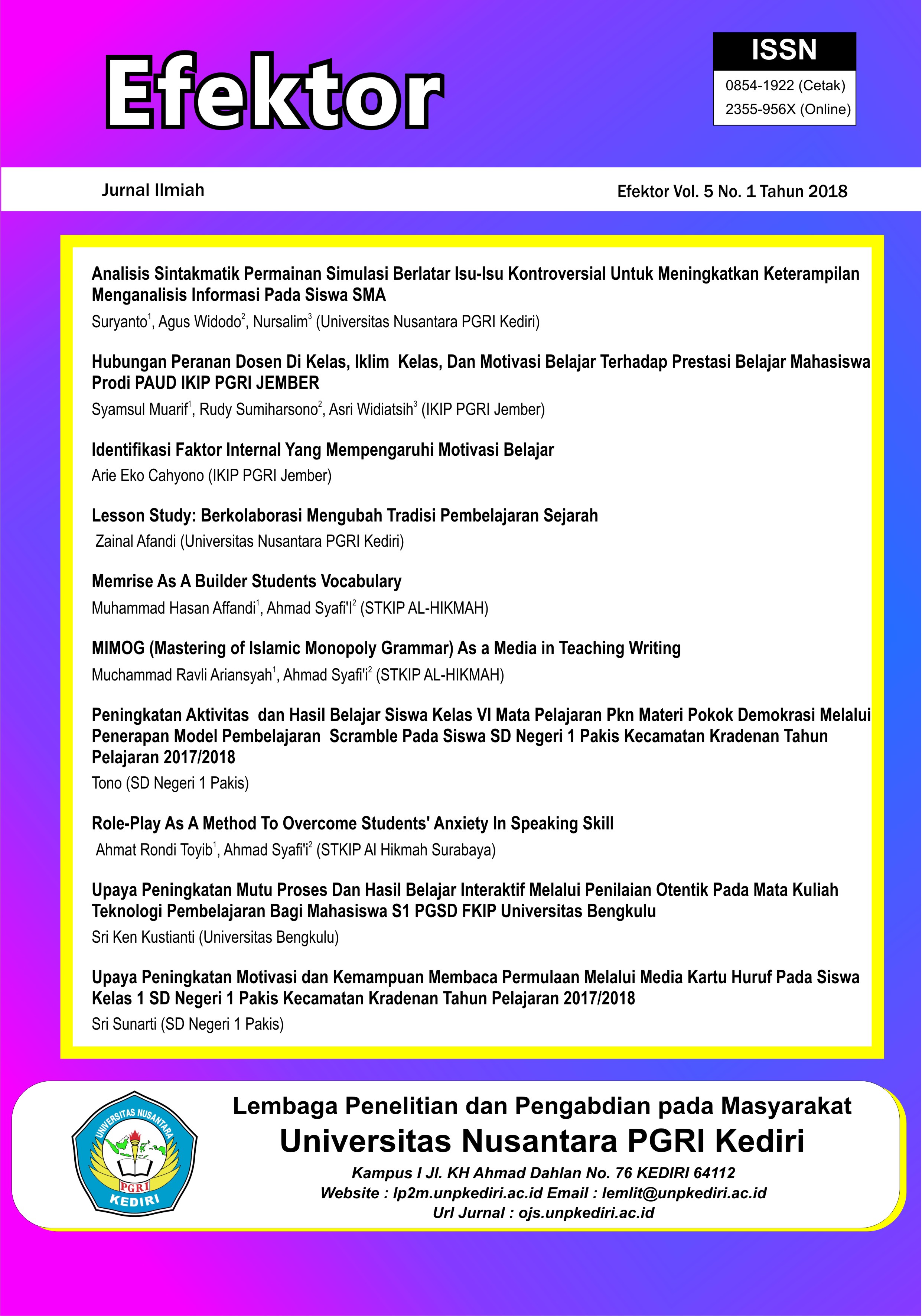 How to Cite
Kustianti, S. K. (2018). Upaya Peningkatan Mutu Proses Dan Hasil Belajar Interaktif Melalui Penilaian Otentik Pada Mata Kuliah Teknologi Pembelajaran Bagi Mahasiswa S1 PGSD FKIP Universitas Bengkulu. Efektor, 5(1), 54-60. https://doi.org/10.29407/e.v5i1.11923
Copyright (c) 2018 EFEKTOR (E)
This work is licensed under a Creative Commons Attribution-ShareAlike 4.0 International License.
Authors retain copyright and grant the journal right of first publication with the work simultaneously licensed under a Creative Commons Attribution-ShareAlike 4.0 International License that allows others to share the work with an acknowledgment of the work's authorship and initial publication in this journal.