Perbandingan Keanekaragaman Dan Pemanfaatan Family Zingiberaceae Dalam Kehidupan Suku Jawa Dan Suku Dayak
Nurhazizah Nurhazizah

Universitas Negeri Jakarta
Abstract views:
478
,
PDF downloads:
740
Keywords:
diversity of medicinal plants, Javanes, Dayak
Abstract
This study aims to explore deeper information regarding the comparison of the diversity and utilization of medicinal plant species from the Zingiberaceae family owned by the Javanese and Dayak tribes. The method used is a literature study by collecting data from books, journals, scientific articles, literature reviews containing the concepts studied. The results of research samples taken from 6 regions of the Javanese and 6 regions of the Dayak tribe showed a total of 40 species of the Zingiberaceae family found in the Javanese and 28 in the Dayak. The highest utilization used by the Javanese is turmeric (Curcuma domestica). . While the highest utilization used by the Dayak people is ginger (Zingiber officinale). Medicinal plants of the Zingiberaceae family that are used by the Javanese and Dayak tribes have various benefits. The part used for medicine is the rhizome.
References
Allo, M. K. (2010). No Title. In Kajian Keragaman Tumbuhan Hutan Berkhasiat Obat Berdasarkan Etnobotani dan Fitokimia di Taman Nasional Lore Lindu (Laporan Ha). Balai Penelitian Kehutanan Makassar.
Andari, D., Linda, R., & Rafdinal, R. (2020). Pemanfaatan Tumbuhan Obat Oleh Masyarakat Suku Dayak Kendawangan Di Desa Rangkung Kecamatan Marau Kabupaten Ketapang. Jurnal Protobiont, 9(1), 78–86. https://doi.org/10.26418/protobiont.v9i1.41609
Elfrida, Nursamsu, M. (2017). Etnobotani Tumbuhan Berkhasiat Obat Berdasarkan Pengetahuan Lokal Pada Suku Jawa Di Desa Sukarejo Kecamatan Langsa Timur Tahun 2016. Jeumpa, 4(1), 21–22.
Kuni, B. E., Hardiansyah, G., & Idham. (2015). Etnobotani Masyarakat Suku Dayak Kerabat di Desa Tapang Perodah Kecamatan Sekadau Hulu Kabupaten Sekadau. Jurnal Hutan Lestari, 3(3), 383–400.
Lawrence, G, H, M. (1964). Taxonomy of Vascular Plants. New York: The Macmillan Company. Pp 428. The Macmillan Company.
Meliki, Linda, R., & Lovadi, I. (2013). Etnobotani Tumbuhan Obat oleh Suku Dayak Iban Desa Tanjung Sari Kecamatan Ketungau Tengah Kabupaten Sintang. Protobiont, 2(3), 129–135.
Pradita, S., Mariani, Y., Wardenaar, E., Yusro, F., Kehutanan, F., Tanjungpura, U., & Daya, J. (2021). Pemanfaatan Tumbuhan Obat oleh Suku Dayak Paus dan Melayu untuk Perawatan Ibu dan Anak Pasca Persalinan di Desa Pengadang Kabupaten Sanggau Kalimantan Barat. 16(1).
Pramesti, G., Arum, F., Retnoningsih, A., Irsadi, A., Biologi, J., Mipa, F., & Semarang, U. N. (2012). Etnobotani Tumbuhan Obat Masyarakat Desa Keseneng Kecamatan Sumowono Kabupaten Semarang Jawa Tengah. Life Science, 1(2).
Setiawan, A., Listiani, L., & Abrori, F. M. (2019). Kajian Etnobotani Tumbuhan Obat Suku Dayak Lundayeh Di Desa Kaliamok Kecamatan Malinau Utara Kabupaten Malinau Sebagai Booklet Untuk Masyarakat. Borneo Journal of Biology Education, 1(1), 51–67. https://doi.org/10.52222/bjbe.v1i1.961
Shanthi, R. V., & Izzati, M. (2014). Studi Etnobotani Pengobatan Tradisional untuk Perawatan Wanita di Masyarakat Keraton Surakarta Hadiningrat. Biosaintifika: Journal of Biology & Biology Education, 6(2), 61–69. https://doi.org/10.15294/biosaintifika.v6i2.3101
Takoy, D. M., Linda, R., & Lovadi, I. (2015). Tumbuhan Berkhasiat Obat Suku Dayak Seberuang Di Kawasan Hutan Desa Ensabang Kecamatan Sepauk Kabupaten Sintang. Jurnal Protobiont, 2(3), 122–128.
Utami, N. R., Rahayuningsih, M., Abdullah, M., & Haka, F. H. (2019). Etnobotani Tanaman Obat Masyarakat Sekitar di Gunung Ungaran, Jawa Tengah. Prosiding Seminar Nasional Masyarakat Biodiversity Indonesia, 5(2), 205–208. https://doi.org/10.13057/psnmbi/m050210
Winarno, W., Adjirni, A., & Pudjiastuti, P. (2011). Profil Pengobat Tradisional Ramuan Dan Ramuan Obat Herbal Yang Digunakan Di Propinsi Sulawesi Tenggara, Kalimantan Selatan Dan Lampung. Media Penelitian Dan Pengembangan Kesehatan, 21(2), 71–81. https://doi.org/10.22435/mpk.v21i2
Yitno, A. (1991). Gambaran Kehidupan Masyarakat Kalimantan. Universitas Gadjah Mada.
Zed, M. (2008). Metode Penelitian Kepustakaan. Yayasan Obor Indonesia.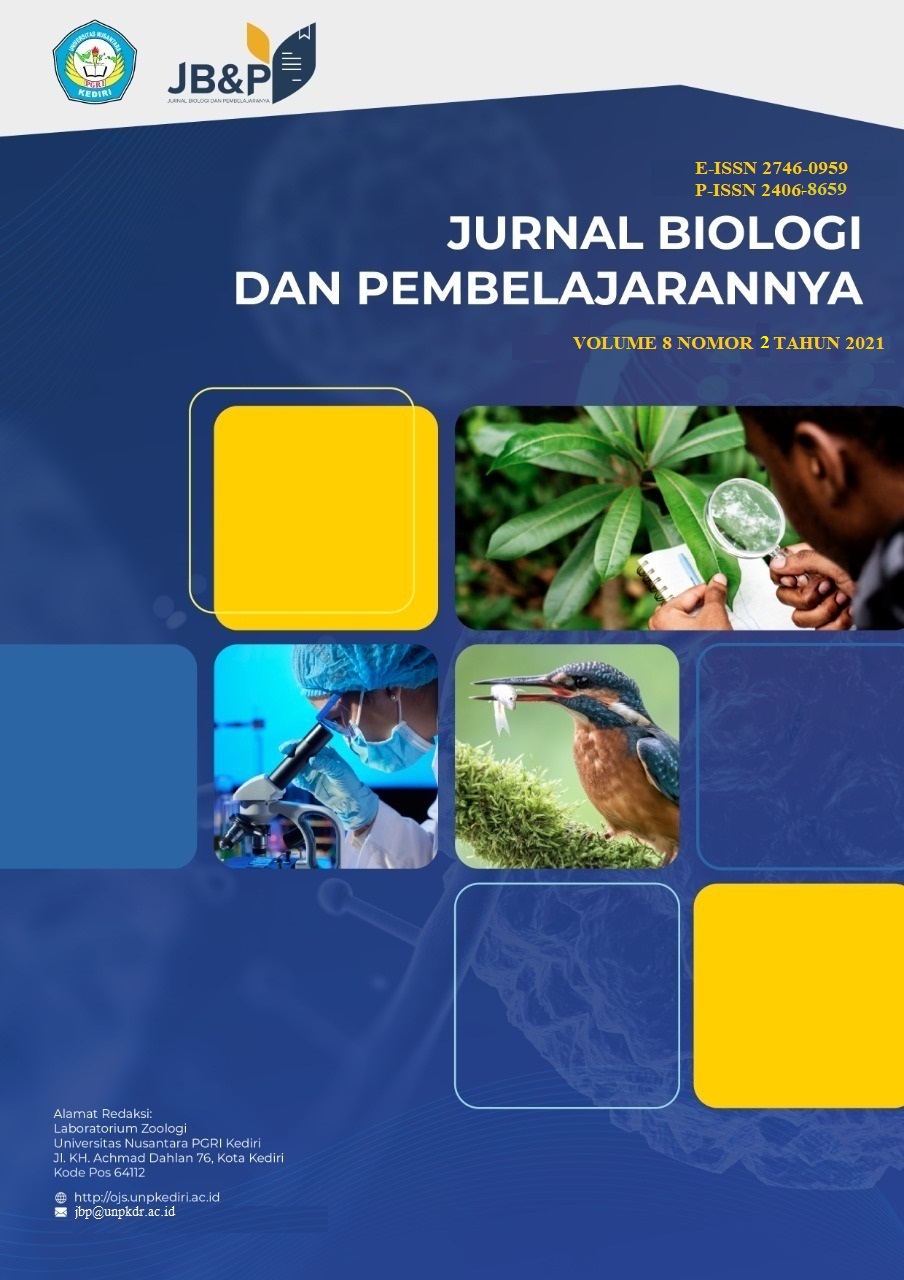 How to Cite
Nurhazizah, N. (2021). Perbandingan Keanekaragaman Dan Pemanfaatan Family Zingiberaceae Dalam Kehidupan Suku Jawa Dan Suku Dayak. Jurnal Biologi Dan Pembelajarannya (JB&P), 8(2), 72-83. https://doi.org/10.29407/jbp.v8i2.16684
Authors who publish with this journal agree to the following terms:
Copyright on any article is retained by the author(s).
The author grants the journal, right of first publication with the work simultaneously licensed under a Creative Commons Attribution License that allows others to share the work with an acknowledgment of the work's authorship and initial publication in this journal.
Authors are able to enter into separate, additional contractual arrangements for the non-exclusive distribution of the journal's published version of the work (e.g., post it to an institutional repository or publish it in a book), with an acknowledgment of its initial publication in this journal.
Authors are permitted and encouraged to post their work online (e.g., in institutional repositories or on their website) prior to and during the submission process, as it can lead to productive exchanges, as well as earlier and greater citation of published work.
The article and any associated published material is distributed under the Creative Commons Attribution-ShareAlike 4.0 International License