Medan magnet di sekitar rel kereta api
sulhan fauzi

Universitas Nusantara PGRI Kediri
Abstract views:
1250
,
PDF downloads:
971
Keywords:
kereta api, medan magnet, rel
Abstract
Penelitian ini dilakukan untuk mengetahui apakah benar ada medan magnet di sekitar rel saat kereta api sedang melintas. Beberapa kecelakaan yang melibatkan kereta api dan mobil di atas perlintasan kereta api diperkirakan disebabkan karena medan megnet ini. Belum ada penelitian atau data resmi dari kepolisian yang menjelaskan penyebab tiba-tiba mesin kendaraan bermotor tersebut mati saat melintas di atas rel yang ada kereta apinya sedang berjalan. Pendapat lain juga muncul dari kejadian ini, yaitu karena sopir atau pengendara kendaraan tersebut gugup saat melihat kereta yang melintas waktu lewat di atas rel, sehingga menjadi kehilangan fokus saat mengemudi sehingga menyebabkan mesin kendaraannya mati. Data hasil pengukuran medan magnet menunjukkan bahwa nilai medan magnet di sekitar rel kereta api saat kereta api melintas rata-rata 47,73 µT, dengan nilai medan magnet terendah 22,46 µT dan nilai tertingginya  82,06 µT. Nilai tersebut tidak berbeda jauh dengan nilai medan magnet bumi yaitu antara 25-65 µT.
Downloads
Download data is not yet available.
References
Alonso, Finn. "Fundamental University Physics". New York: Addison Wesley. 1990.
Halliday dan Resnick. "Fisika Jilid I, terjemahan Pantur Silaban dan Erwin S". Jakarta: Erlangga. 1999.
Tipler, P.A. "Fisika untuk Sains dan Teknik Jilid 1, terjemahan Lea Prasetio dan Rahmad W". Adi. Jakarta: Erlangga. 1998
Campbell, Wallace H. "Introduction to geomagnetic fields (edisi ke-2nd)". New York: Cambridge University Press. ISBN 978-0-521-52953-2. 2003
Gustara, M.Y. "Deteksi Medan Magnet Kereta Untuk Informasi Dini Sistem Pemberhentian Darurat Berbasis Mikrokontroler Arduino Uno R3 dengan Sensor Solenoid", Skripsi, Fakultas Teknik Universitas Lampung, Bandar
Lampung. 2016.
Natalia Ptitsyna, Antonio Ponzetto. "Magnetic Fields Encountered in Electric Transport: Rail Systems, Trolleybus and Cars". Published in International Symposium on Electromagnetic. DOI:10.1109/EMCEurope.2012.6396901. 2012
Jein Sintia Dewi Ta'uno, Gerald H. Tamuntuan, Seni H.J. Tongkukut. "Analisis Medan Magnet Bumi Sebelum dan Sesudah Kejadian Gempa". Jurnal MIPA UNSRAT ONLINE, Vol. 5 (2), 65-69. Jurusan Fisika, FMIPA, Unsrat Manado. 2016.
Teguh Prasetyo, Adey Tanauma, As'ari. "Pola Variasi Reguler Medan Magnet Bumi di Tondano". Jurnal MIPA UNSRAT ONLINE, Vol. 3 (1), 30-34. Jurusan Fisika, FMIPA, Unsrat Manado. 2014.
Vincent J. Hare, John A. Tarduno, Thomas Huffman, Michael Watkeys, Phenyo C. Thebe, Munyaradzi Manyanga, Richard K. Bono and Rory D. Cottrell. "New Archeomagnetic Directional Records From Iron Age Southern Africa (ca. 425–1550 CE) and Implications for the South Atlantic Anomaly". Geophysical Research Letters. Volume 45, Issue 3. Published online Feb 15, 2018 https://doi.org/10.1002/2017GL076007
Maxwell Brown, Monika Korte, Richard Holme, Ingo Wardinski, and Sydney Gunnarson. "Earth's magnetic field is probably not reversing". Proceeding of the National Academy of Sciences of the United States of America (PNAS). Volume 115 (20) 5111-5116; first published April 30, 2018 https://doi.org/10.1073/pnas.1722110115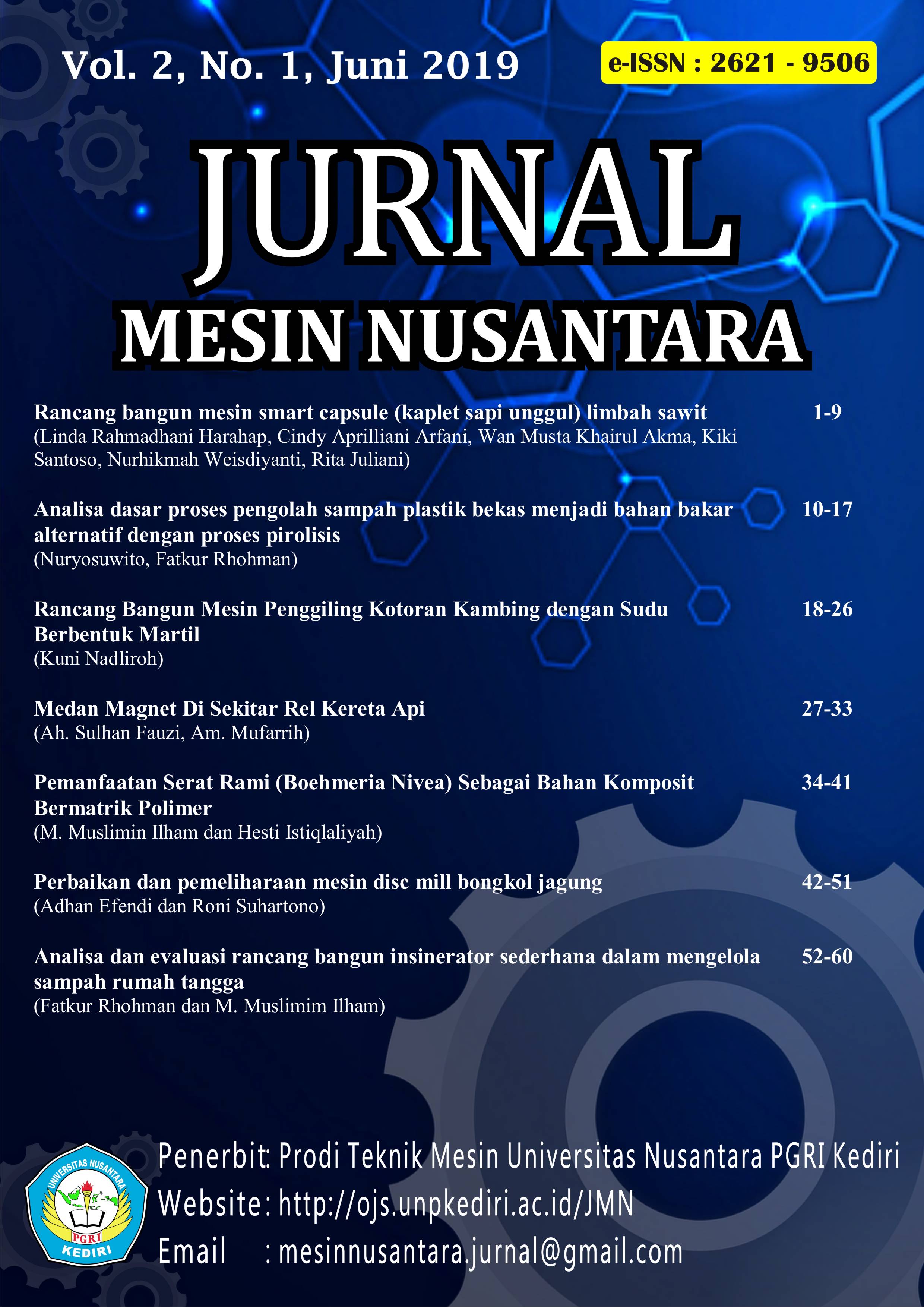 How to Cite
[1]
sulhan fauzi, "Medan magnet di sekitar rel kereta api", J, vol. 2, no. 1, pp. 27-33, Aug. 2019.
Authors who publish with this journal agree to the following terms:
Copyright on any article is retained by the author(s).
The author grants the journal, right of first publication with the work simultaneously licensed under a Creative Commons Attribution License that allows others to share the work with an acknowledgment of the work's authorship and initial publication in this journal.
Authors are able to enter into separate, additional contractual arrangements for the non-exclusive distribution of the journal's published version of the work (e.g., post it to an institutional repository or publish it in a book), with an acknowledgment of its initial publication in this journal.
Authors are permitted and encouraged to post their work online (e.g., in institutional repositories or on their website) prior to and during the submission process, as it can lead to productive exchanges, as well as earlier and greater citation of published work.
The article and any associated published material is distributed under the Creative Commons Attribution-ShareAlike 4.0 International License