Analisis Unit Cost Mahasiswa Berdasarkan Activity Based Costing
Pada Fakultas Ekonomi Universitas "X" Di Kota Kediri
Yudiarto Perdana Putra

Universitas Kadiri

Kartika Yuliari, Kartika

Universitas Kadiri
Abstract
Dalam konsep pembiayaan pendidikan ada dua hal penting yang perlu dianalisis, yaitu biaya pendidikan secara keseluruhan (Total cost) dan biaya satuan per mahasiswa (Unit cost). Dengan menganalisis biaya satuan memungkinkan untuk mengetahui efisiensi dalam penggunaan sumber-sumber di perguruan tinggi, keuntungan dari investasi pendidikan, dan pemerataan pengeluaran masyarakat dan pemerintah untuk pendidikan. Setting penelitian pada Fakultas Ekonomi Universitas "X" Di Kota Kediri. Data diperoleh melalui wawancara dengan pihak lembaga dan pemenuhan data-data yang dibutuhkan dalam penelitian. Dalam Penelitian ini menggunakan metode analisis deskriptif, yaitu menentukan pemicu biaya, mengelompokkan biaya, menghitung tarif dan menganalisis harga Tarif SPP dengan metode Activity Based Costing (ABC), kemudian membandingkan Tarif SPP yang ditetapkan dengan metode Activity Based Costing(ABC). Hasil Penelitian diharapkan bisa menjadi masukan kepada pengelola lembaga pendidikan dalam penentuan biaya pendidikan, sehingga bisa maksimal dalam memberikan pelayanan kepada mahasiswa.
Kata kunci : Activity Based Costing Model, Unit Cost, Total Cost.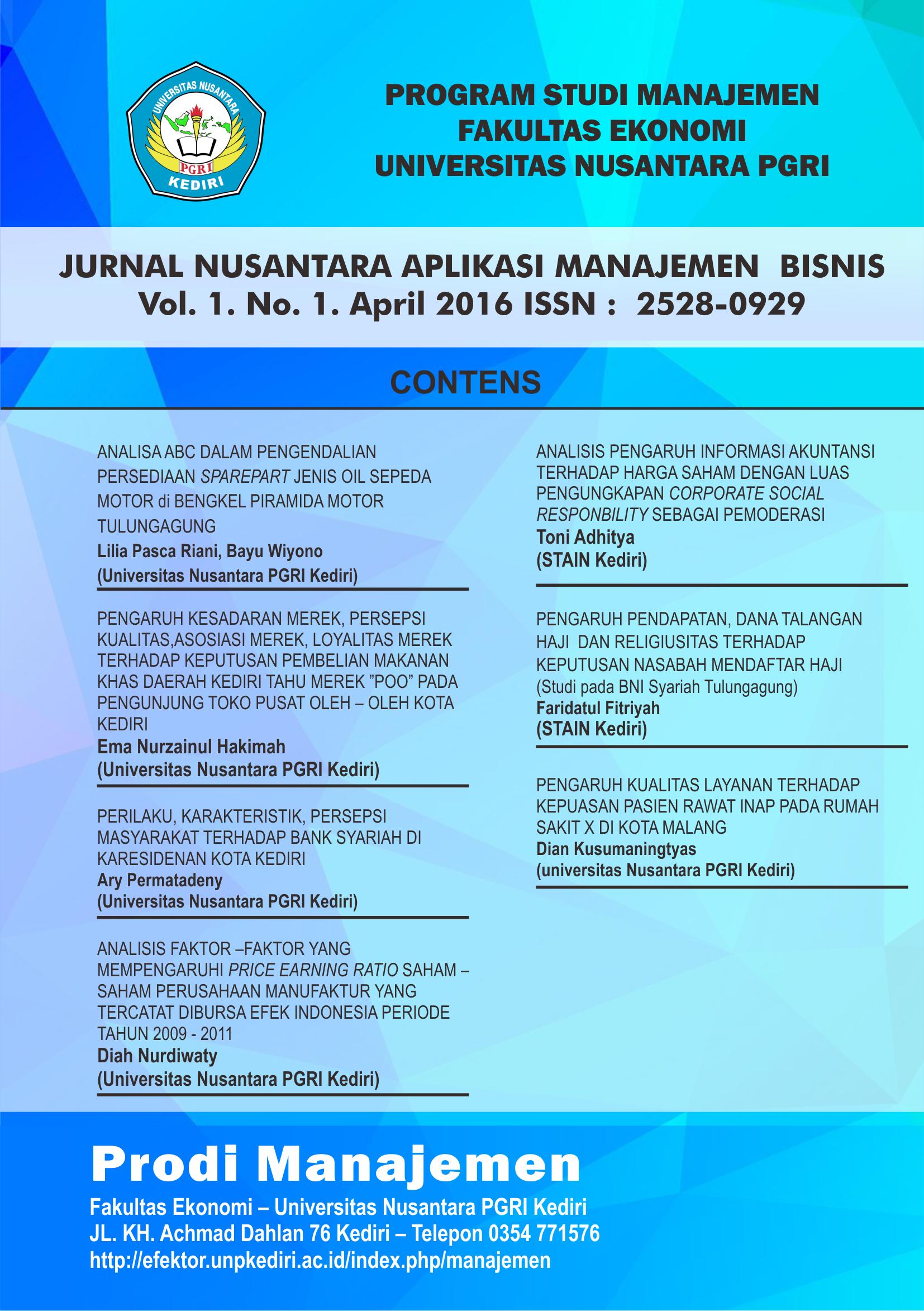 Authors retain copyright and grant the journal right of first publication with the work simultaneously licensed under a Creative Commons Attribution 4.0 International License that allows others to share the work with an acknowledgement of the work's authorship and initial publication in this journal.