KESULITAN BELAJAR SISWA DALAM MATA PELAJARAN IPA TERPADU
Ngurah Mahendra Dinatha

STKIP Citra Bakti
Abstract views:
711
,
PDF (Bahasa Indonesia) downloads:
1146
Abstract
Abstract:This study aims to determine the level of difficult study student in following the Natural Science Subject. This research is qualitative descriptive. The sampling technique used is simple random sampling. Research conducted in Junior High School of Widiatmika, Badung Regency, Bali. The number of the sample members are 30 people. Data collected to measure the level of student difficult in Natural Science Subject, the questionanire method was used. Data were analyzed descriptively with references to the theoretical scale. The results of this study concluded that difficult study in Natural Scinece Subject said to be in the category of "Medium".
Key words: difficult study, natural science subject
Abstrak:Penelitian ini bertujuan untuk mengetahui tingkat kesulitan belajar siswa dalam mata pelajaran IPA. Penelitian ini merupakan penelitian kualitatif deskriptif. Teknik sampling yang digunakan adalah simple random sampling untuk menentukan jumlah sampel yang diteliti. Penelitian dilaksanakan di SMP Widiatmika, Kabupaten Badung Bali. Jumlah subjek penelitian adalah 30 orang. Pengumpulan data untuk mengukur tingkat kesulitan belajar siswa dalam pelajaran IPA digunakan kuesioner. Data dianalisis secara deskriptif dengan mengacu pada skala teoretik. Dari hasil penelitian dapat disimpulkan bahwa tingkat kesulitan belajar siswa pada pelajaran IPA dikatakan dalam kategori "Sedang".
Kata kunci: Kesulitan belajar, pelajaran IPA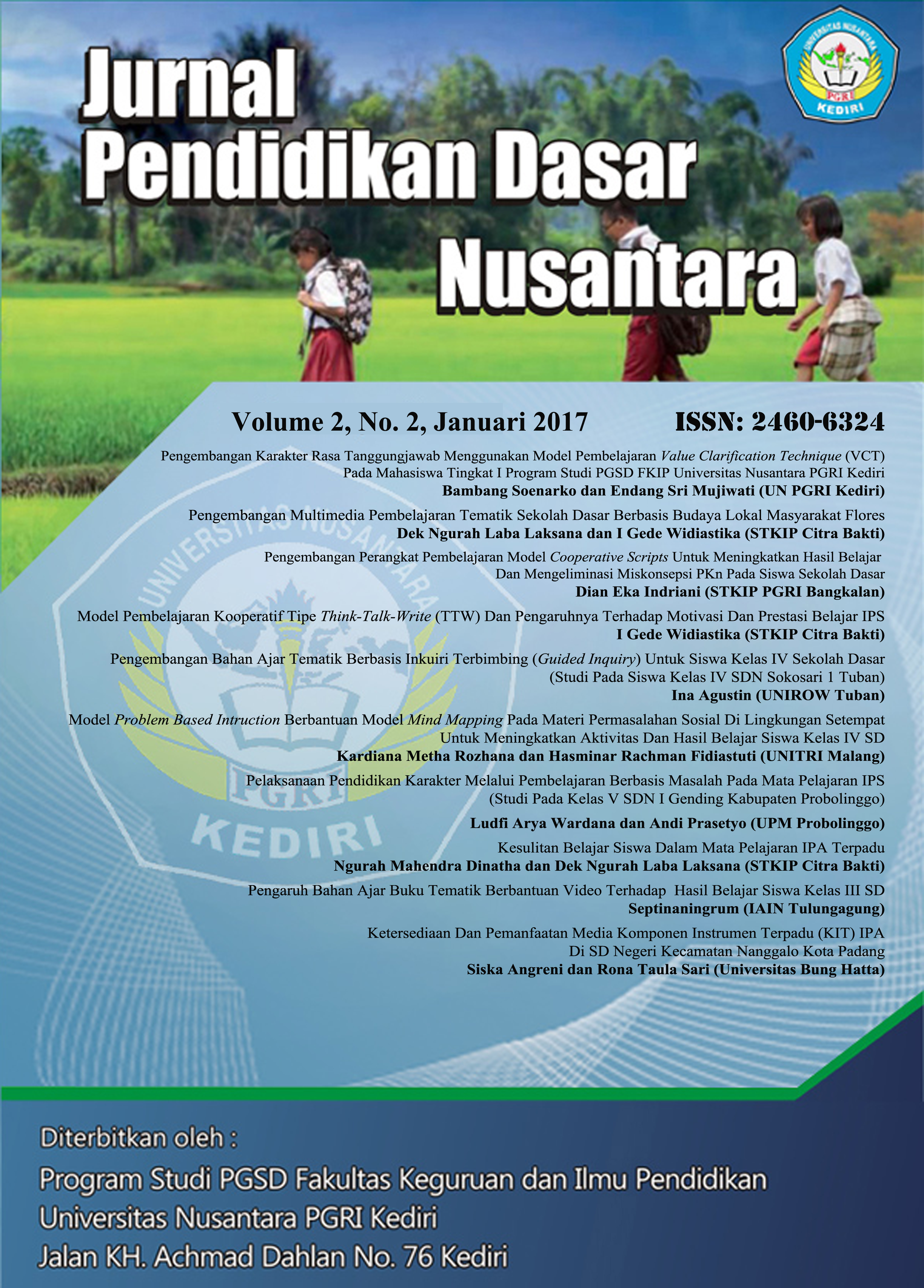 How to Cite
Dinatha, N. M. (2017). KESULITAN BELAJAR SISWA DALAM MATA PELAJARAN IPA TERPADU. JURNAL PENDIDIKAN DASAR NUSANTARA, 2(2). Retrieved from https://ojs.unpkediri.ac.id/index.php/pgsd/article/view/555