PENGEMBANGAN PERANGKAT PEMBELAJARAN MODEL COOPERATIVE SCRIPTS UNTUK MENINGKATKAN HASIL BELAJAR DAN MENGELIMINASI MISKONSEPSI PKn PADA SISWA SEKOLAH DASAR
Dian Eka Indriani

STKIP PGRI Bangkalan
Abstract views:
249
,
PDF (Bahasa Indonesia) downloads:
398
Abstract
Abstract: Has conducted research development of learning tools at the elementary school civics model of Cooperative Scripts with 4D modifications aimed at eliminating misconceptions learning outcomes Civics on the subject matter Cultural Diversity in Indonesia. Research procedure divided into 2 steps that are, first step is the making of learning tools, and second step is the implementation/trial step. Data were analyzed descriptively qualitative and quantitative descriptive. The results show a valid learning tool, learning implementation was good (3.87), activity centered on active student. Student learning outcomes were analyzed by N-gain indicates increased student learning outcomes Civics (0.6) as well as the elimination of misconceptions students. The conclusions of this study, that the learning device models Cooperative Scripts Civics feasible, can enhance and significantly affect the elimination misconception civics student learning outcomes in primary school.
Keywords: Cooperative, Cooperative Scripts, learning outcomes, Misconceptions
Abstrak: Telah dilakukan penelitian pengembangan perangkat pembelajaran PKn di Sekolah Dasar model Cooperative Scripts dengan  4D modifikasi yang bertujuan untuk mengeliminasi Miskonsepsi hasil belajar PKn pada pokok bahasan materi Keanekaragaman Budaya di Indonesia. Prosedur penelitian ini terdiri atas 2 tahap, yakni tahap I merupakan tahap pengembangan perangkat pembelajaran, dan tahap II merupakan tahap uji coba/implementasi. Data dianalisis secara deskriptif kualitatif dan deskriptif kuantitatif. Hasil penelitian menunjukkan perangkat pembelajaran valid, keterlaksanaan pembelajaran baik (3.87), kegiatan berpusat pada murid aktif. Hasil belajar siswa dianalisis dengan N-gain menunjukkan hasil belajar PKn siswa meningkat (0.6) begitu pula dengan eliminasi Miskonsepsi siswa. Simpulan penelitian ini, bahwa perangkat pembelajaran PKn model Cooperative Scripts layak, dapat meningkatkan dan berpengaruh secara signifikan terhadap eliminasi Miskonsepsi hasil belajar PKn siswa di Sekolah Dasar.
Kata Kunci:  Kooperatif, Cooperative Scripts, Hasil belajar, Miskonsepsi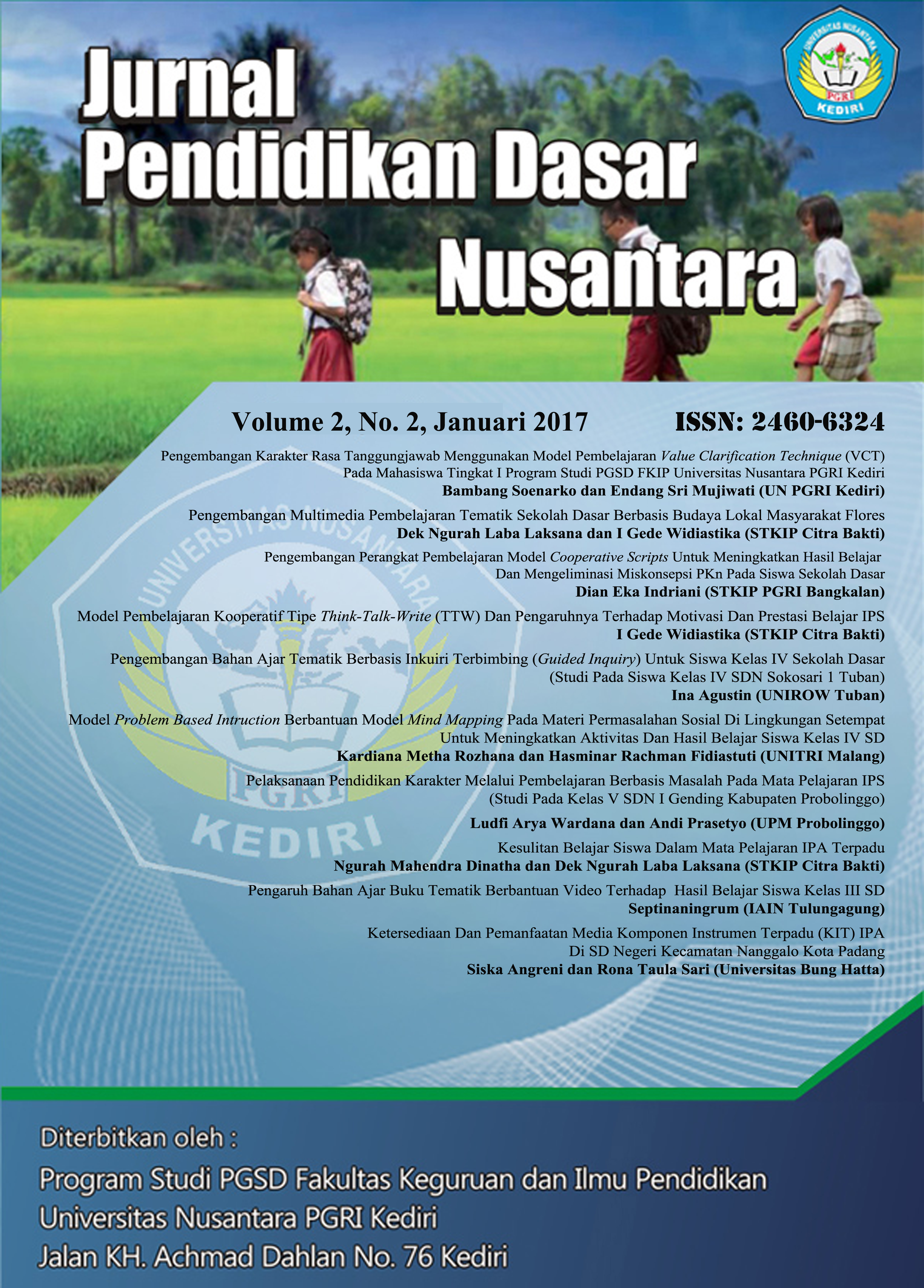 How to Cite
Indriani, D. E. (2017). PENGEMBANGAN PERANGKAT PEMBELAJARAN MODEL COOPERATIVE SCRIPTS UNTUK MENINGKATKAN HASIL BELAJAR DAN MENGELIMINASI MISKONSEPSI PKn PADA SISWA SEKOLAH DASAR. JURNAL PENDIDIKAN DASAR NUSANTARA, 2(2). Retrieved from https://ojs.unpkediri.ac.id/index.php/pgsd/article/view/550