HUBUNGAN SELF ESTEEM DAN KECENDERUNGAN NARSISISME TERHADAP PENGGUNA FACEBOOK PADA MAHASISWA PGSD UN PGRI KEDIRI
Abstract views:
636
,
PDF (Bahasa Indonesia) downloads:
640
Abstract

Abstract:From fenomina facebook users often mempostinmang poto- for a personal photograph in the show or to share with friends - friends. The more thatcomment, they consider themselves more popular.Dalam this case they can be said tobe narcissistic behavior, which means self-love, greatly exaggerated attention toyourself. Narcissism is a personality disorder. People who suffer, suffer from healthypride and self love. Narcissists may have a lot of personal charm, needs more to makethemselves known or requirements grow. While self-esteem is the acceptance ofoneself, by oneself related that we deserve, valuable, capable and useful not concernedwith anything that has been, is being or will terjadi.Peneliti want to know therelationship of self-esteem and narcissism tendency .Peneliti use social networks,namely Facebook , because social networking is widely used class of 2012 studentsProdi PGSD Nusantara University Pgri Kediri academic year 2012 - 2013. In theanalysis hyot t = 0968 means there is a relationship Self Esteem and Narcissism InUser Facebook.Hasil trend research can be used as a measure of the level ofconfidence students and contribute ideas in order to improve implementation of theconcept and practice of education as a strategic effort in developing human resources.


Abstrak: Dari fenomina para pengguna facebook sering mempostinmang poto- potopribadinya untuk di tunjukan atau di pamerkan ke teman – temannya. Semakin banyakyang memberi komentar,mereka beranggapan dirinya makin popular.Dalam hal iniperilaku mereka bisa dikatakan narsis,yang berarti cinta-diri, perhatian yang sangatberlebihan kepada diri sendiri. Narsisme adalah gangguan kepribadian. Orang yang menderita, menderita sehat kesombongan dan cinta diri. Narsisis mungkin memilikibanyak pesona pribadi,kebutuhan yang lebih membuat sendiri dikenal ataupersyaratan tumbuh. Sedangkan self esteem adalah penerimaan diri sendiri, oleh dirisendiri berkaitan bahwa kita pantas, berharga, mampu dan berguna tak peduli denganapa pun yang sudah, sedang atau bakal terjadi.Peneliti ingin mengetahui hubunganself esteem dan kecenderungan narsisisme .Peneliti menggunakan jejaring sosial yaitufacebook ,karena jejaring sosial ini banyak di gunakan  mahasiswa angkatan 2012Prodi Pgsd Universitas Nusantara Pgri Kediri tahun akademik  2012 – 2013. Padaanalisis hyot t= 0.968 artinya ada Hubungan Self Esteem  Dan KecenderunganNarsisisme Pada Pengguna Facebook.Hasil penelitian dapat digunakan sebagai ukurantingkat kepercayaan diri mahasiswa dan sumbangan pemikiran dalam rangkapenyempurnaan konsep maupun implementasi praktik pendidikan sebagai upaya yangstrategis dalam pengembangan kualitas sumberdaya manusia.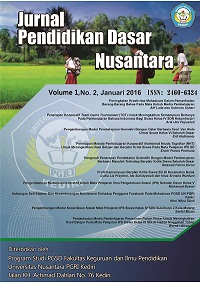 How to Cite
Santi, N. N. (2016). HUBUNGAN SELF ESTEEM DAN KECENDERUNGAN NARSISISME TERHADAP PENGGUNA FACEBOOK PADA MAHASISWA PGSD UN PGRI KEDIRI. JURNAL PENDIDIKAN DASAR NUSANTARA, 1(2). Retrieved from https://ojs.unpkediri.ac.id/index.php/pgsd/article/view/212