PENERAPAN MODEL PROBLEM BASED LEARNING (PBL) UNTUK MENINGKATKAN PEMBELAJARAN IPA SISWA KELAS V SDN PRINGAPUS 2 KECAMATAN DONGKO KABUPATEN TRENGGALEK
Abstract views:
107
,
PDF (Bahasa Indonesia) downloads:
85
Abstract
Abstract: Found the problem that science teaching in class V SDN Pringapus 2 Trenggalek still centered on the teacher, this adversely affects the activity and student learning outcomes in science subjects. The research was conducted with the aim to describe the application of the model PBL, student activity when applied to the model PBL, and student learning outcomes after application of PBL models. This study design was used classroom action research conducted by two cycles, with the subject of fifth grade students of SDN Pringapus 2 Trenggalek. The results showed that the application of the model PBL can improve pembelajran IPA, basic competence "describes the simple plane that can make the job easier and faster" SDN Pringapus 2 Subdistrict Dongko Trenggalek. It is recommended that teachers apply the
model of PBL in science learning.

Keywords: Model Problem Based Learning (PBL), Learning science.
Abstrak : Ditemukan masalah bahwa pembelajaran IPA di kelas V SDNPringapus 2 Kabupaten Trenggalek masih berpusat pada guru, hal ini berdampak pada rendahnya aktivitas dan hasil belajar siswa pada mata pelajaran IPA. Penelitian ini dilaksanakan dengan tujuan untuk mendeskripsikan penerapan model PBL, aktivitas siswa ketika diterapkan model PBL, dan hasil belajar siswa setelah diterapkan model PBL. Penelitian ini menggunakan rancangan penelitian tindakan kelas yang dilakukan dua siklus, dengan latar kelas V SDN Pringapus 2 Kabupaten Trenggalek.Hasil penelitian menunjukkan bahwa penerapan model PBL dapat meningkatkan pembelajran IPA, kompetensi dasar "menjelaskan pesawat sederhana yang dapat membuat pekerjaan lebih mudah dan cepat" SDN Pringapus 2 Kecamatan Dongko Kabupaten Trenggalek.Untuk itu disarankan agar guru menerapkan model PBL dalam pembelajaran IPA.
Kata kunci:
Model
Problem Based Learning
(PBL), Pembelajaran IPA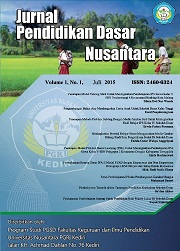 How to Cite
Rachmawati, L. (2015). PENERAPAN MODEL PROBLEM BASED LEARNING (PBL) UNTUK MENINGKATKAN PEMBELAJARAN IPA SISWA KELAS V SDN PRINGAPUS 2 KECAMATAN DONGKO KABUPATEN TRENGGALEK. JURNAL PENDIDIKAN DASAR NUSANTARA, 1(1). Retrieved from https://ojs.unpkediri.ac.id/index.php/pgsd/article/view/147