Meningkatkan hasil belajar matematika siswa pada materi perbandingan dengan menerapkan model ivestigasi kelompok di kelas VII SMP negeri 1 Pringgasela
Agep Agep

SMP Negeri 1 Pringgasela
Abstract views:
129
,
PDF downloads:
144
Keywords:
meningkatkan hasil belajar, Investigsi kelompok
Abstract
Penelitian ini bertujuan untuk mendeskripsikan sejauh mana peningkatan hasil belajar dengan penerapan metode unit teaching pada siswa kelas VII 6 SMP Negeri 1 Pringgasela. Penelitian ini menggunakan pendekatan kualitatif dan jenis penelitian yang dilakukan adalah penelitian tindakan kelas. Penelitian ini dilakukan di SMP Negeri 1 Pringgasela pada bulan Oktober sampai dengan November 2017 dalam 2 tahap, yaitu pratindakan dan tahap tindakan. Tahap tindakan dilaksanakan dalam 2 siklus dan masing-masing siklus terdiri dari 3 pertemuan dimana pertemuan 1 dan 2 menyampaikan materi dan pertemuan 3 evaluasi siklus. Hasil penelitian ini dapat disimpulkan bahwa peningkatan ketuntasan hasil belajar siswa pada siklus I dan siklus II sebesar 14,28% hal ini berarti bahwa dengan penerapan metode unit teaching secara signifikan dapat meningkatkan hasil belajar siswa pada materi perbandingan. Hal tersebut diperkuat dengan hasil observasi aktivitas belajar siswa pada kategori "Baik" dan hasil observasi aktivitas guru pada kategori "Sangat Baik" untuk siklus I dan II.
Kata kunci: Meningkatkan hasil belajar, Model Investigsi kelompok
References
Anggraini, L., Siroj, R.A., & Ilma, R. (2010). Penerapan model pembelajaran investigasi kelompok untuk meningkatkan kemampuan pemecahan masalah matematika siswa kelas VIII-4 SMP Negeri 27 Palembang. Jurnal Pendidikan Matematika, 4(1), 33-43

Cockcroft, W.H. (1982). Mathematics counts. London: Her Majesty's Stationary Office.

Dobson, K. (1986). How is science taught and learnt? dalam J. Nellist & B. Nicoholl (Eds). ASE science teacher's handbook. pp 69-110. London: Hutchinson

Fahradina, N., Bansu, A., & Saiman (2014). Peningkatan kemampuan komunikasi matematis dan kemandirian belajar siswa SMP dengan menggunakan model investigasi kelompok. Jurnal Didaktik Matematika, 1(1), 54-64.

Feiman-Nemser, S., & Buchmann, M. (1986). The first year of teacher preparation: Transition to pedagogical thinking. Journal of Curriculum Studies, 18, 239-256

Height, T.P. (1989). Mathematical investigation in the classroom. Sydney: Longman Cheshire Pty Limited.

Jackson, P. (1986). The practice of teaching. New York: Teachers College Press

Kemmis, S., & Mc Taggart, R. 1998. The action research planner. Victoria: Deakin University Press

Murray, F. (1989). Explanations in education. In M. Reynolds (Ed.), Knowledge base for the beginning teacher (pp. 1-12). New York: Pergamon

Sanjaya, W. (2009). Kurikulum dan pembelajaran: Teori dan praktik pengembangan KTSP. Jakarta: Kencana

Sharan, S. (1980). Cooperative learning in small group: Recent methods and efect on achievement, attitudes, and ethnic relation. Review of Educational Research, 50 (2), 241-271.

Syaban, M. (2008). Menumbuh kembangkan daya dan disposisi matematis siswa sekolah menengah atas melalui model pembelajaran investigasi. Educare, 6(1). 41 – 59

Talmagae, H. & Hart, A. (1977). Investigative teaching of mathematics and its effect on classroom learning environment. Journal for Research in Mathematics Education, 8. 345-356.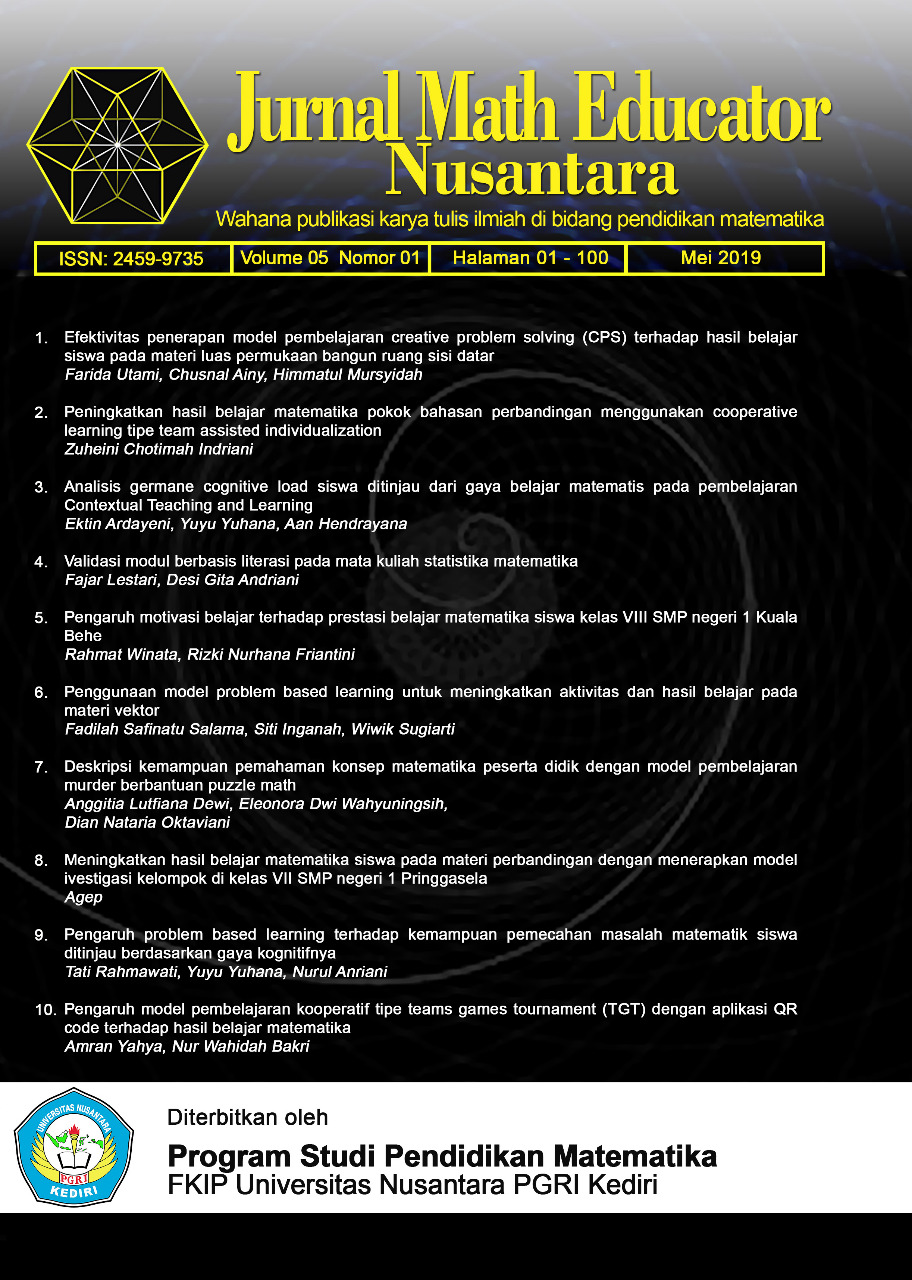 How to Cite
Agep, A. (2019). Meningkatkan hasil belajar matematika siswa pada materi perbandingan dengan menerapkan model ivestigasi kelompok di kelas VII SMP negeri 1 Pringgasela. Jurnal Math Educator Nusantara: Wahana Publikasi Karya Tulis Ilmiah Di Bidang Pendidikan Matematika, 5(01), 70-79. https://doi.org/10.29407/jmen.v5i01.12716
Authors who publish with this journal agree to the following terms:
1. Copyright on any article is retained by the author(s).
2. The author grants the journal, right of first publication with the work simultaneously licensed under a Creative Commons Attribution License that allows others to share the work with an acknowledgment of the work's authorship and initial publication in this journal.
3. Authors are able to enter into separate, additional contractual arrangements for the non-exclusive distribution of the journal's published version of the work (e.g., post it to an institutional repository or publish it in a book), with an acknowledgment of its initial publication in this journal.
4. Authors are permitted and encouraged to post their work online (e.g., in institutional repositories or on their website) prior to and during the submission process, as it can lead to productive exchanges, as well as earlier and greater citation of published work.
5. The article and any associated published material is distributed under the Creative Commons Attribution 4.0 Internasional License