Pengembangan Baja Paduan Tahan Peluru Melalui Proses Hot-Forging Terhadap Morfologi Dan Sifat Mekanik
Ilham Nugrahatama Putra

Jurusan Teknik Mesin, Fakultas Teknik, Universitas Sultan Ageng Tirtayasa
Abstract views:
73
,
pdf downloads:
27
Keywords:
Lateritic steels, nickel, armour material, mechanical properties, microstructure
Abstract
Laterite steel is steel that has a nickel content of up to 2%. The nickel content can produce steel with superior properties such as: high strength, corrosion resistance, and good weldability properties. With the superior nature of laterite steel is needed in the main tool of the indonesian national tantara weapon system. To find out the performance of damage to bulletproof materials, then conducted research on this laterite steel as a tough armour material by conducting research in the form of mechanical properties testing (Hardness, and Impact) and microstructures (Metalography). Samples are prepared in accordance with ASTM standardization. Based on the results of the hardness test, the average values of F and T samples were 663.9 HVN and 170.7 HVN. Material F qualifies as a ballistic resistant material (armour) because the hardness obtained in accordance with the classification and can withstand bullet penetration well. Then the impact test obtained the average value of the F and T samples is 9 joules and 148 joules. For F samples, the type of fault is a granular fracture and a T sample of the type of fault is a tenacious fracture. As a result of metallographics, sample F has a corrected phase is upper bainite as a matrix and martensite is generally shaped like a fine needle. Then the T sample has a formed phase is dominated by ferrite with soft and tenacious properties. As well as perlite as a matrix with quite hard and strong properties.
Downloads
Download data is not yet available.
References
Nugroho,S., Haryanto, I., Anestasia dan Febby Arifin, J., Soedarto, J., & Undip Tembalang, K. (2019). Pembuatan Pelat Baja untuk Material Tahan Peluru untuk Kendaraan Tempur (Vol. 21,Issue 4)
W. Astuti, Z. Zulhan, A. Shofi, K. Isnugroho, F. Nurjaman, dan E. Prasetyo. Pembuatan Nickel Pig Iron (NPI) dari Bijih Nikel Laterit Indonesia Menggunakan Mini Blast Furnace. Pros. InSINas, pp. 66–71, 2012
Purwanto, H., Soenoko, R., Purnowidodo, A., & Suprapto, A. (2016). Pengembangan Material Tahan Balistik Sebagai Bahan Kendaraan Tempur di Indonesia: Review. 62–64.
Adjiantoro, B., Jamali, A., Binudi, R., & Hasbi, M. Y. (2016). Karakteristik Sifat Mekanik Baja Laterit Melalui Proses Pengerjaan dan Perlakuan Panas.
Karagoz, S., Atapek, H. & Yilmaz, A. 2008b. A. Microstructural Characterization And Effects On Mechanical Properties Of Boron Adde Armour Steel. 13th International Conference On Applied mechanics And Mechanical Engineering. Cairo.
Rahmalina, D.. 2012. Pengembangan Komposit Matrik Aluminium Sebagai Material Armour dengan Keunggulan Karateristik Balistik. Disertasi Program Doktor (tidak dipublikasikan) Departemen Teknik Metalurgi dan Material Fakultas Teknik. Jakarta : Universitas Indonesia.
Montgomery, S. & Chin, E. 2004. Protecting a Future Force- A New Generation of Metallic Armors Leads The Way. AMPTIAC Quarterly. 6.
"Pengaruh Proses Pengerolan Terhadap Struktur Mikro dan Sifat Mekanis pada Baja Bainitik untuk Aplikasi Baja Tahan Peluru DIDIEK NOOR ROHMAN, Dr. Kusmono,S.T., M.T.," 2015.
Herbirowo, S., & Adjiantoro, B. (2017). Pengaruh Sifat Mekanik dan Morfologi pada Baja Laterit Hasil Tempa dengan Variasi Perlakuan Panas (Satrio Herbirowo dkk) PENGARUH SIFAT MEKANIK DAN MORFOLOGI PADA BAJA LATERIT HASIL TEMPA DENGAN VARIASI PERLAKUAN PANAS.
Herbirowo, S., Adjiantoro, B., & Citrawati, F. (2018). KARAKTERISTIK SIFAT MEKANIK DAN STRUKTURMIKRO BAJA LATERIT PADUAN NI-CR-MN HASIL TEMPA PANAS DENGAN VARIASI BEBAN TEMPA (Vol. 1). www.ejurnalmaterialmetalurgi.com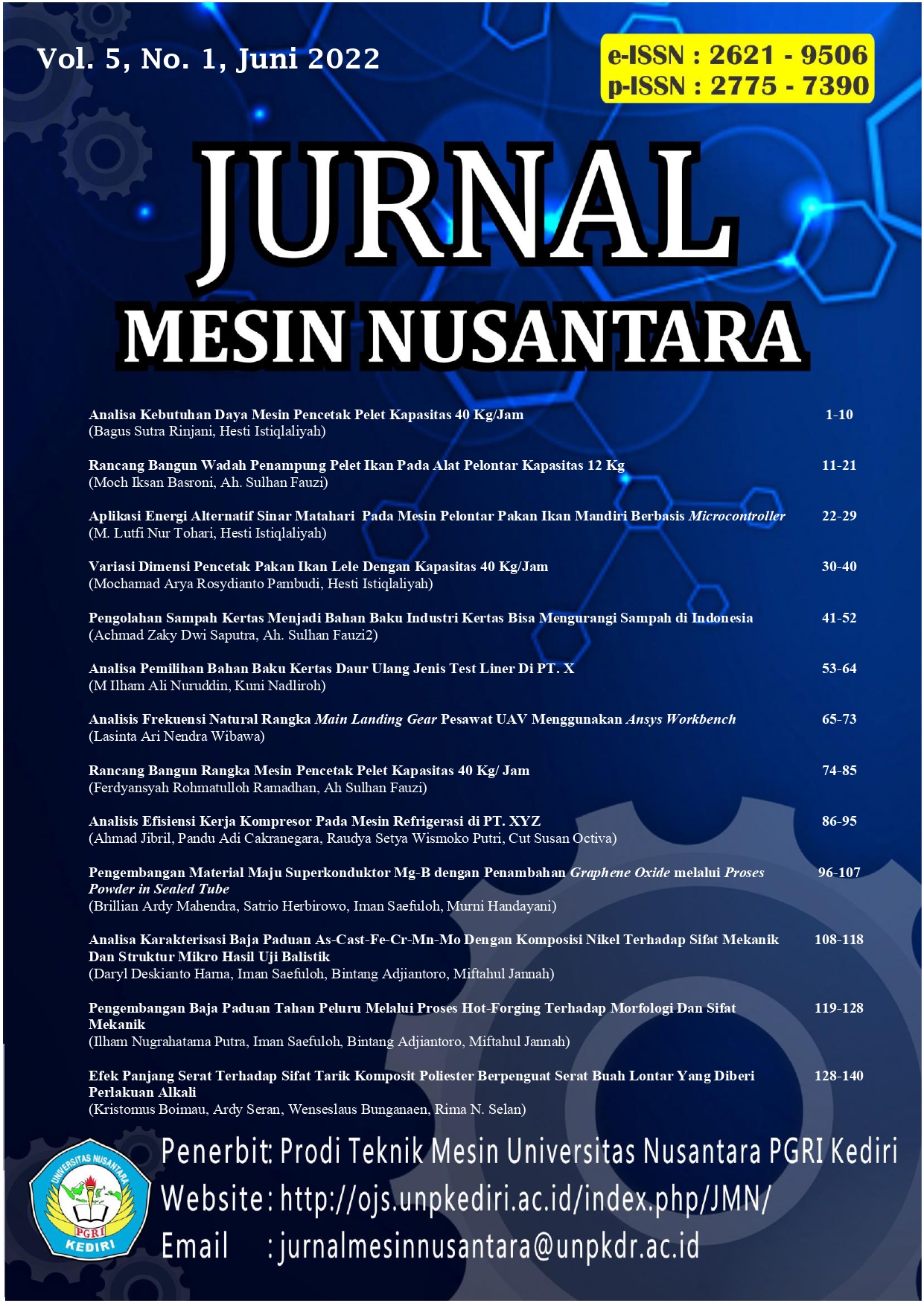 How to Cite
[1]
I. N. Putra, "Pengembangan Baja Paduan Tahan Peluru Melalui Proses Hot-Forging Terhadap Morfologi Dan Sifat Mekanik", J, vol. 5, no. 1, pp. 119-128, Jun. 2022.
Copyright (c) 2022 Ilham Nugrahatama Putra, Iman Saefuloh, Bintang Adjiantoro, Miftahul Jannah
This work is licensed under a Creative Commons Attribution-ShareAlike 4.0 International License.
Authors who publish with this journal agree to the following terms:
Copyright on any article is retained by the author(s).
The author grants the journal, right of first publication with the work simultaneously licensed under a Creative Commons Attribution License that allows others to share the work with an acknowledgment of the work's authorship and initial publication in this journal.
Authors are able to enter into separate, additional contractual arrangements for the non-exclusive distribution of the journal's published version of the work (e.g., post it to an institutional repository or publish it in a book), with an acknowledgment of its initial publication in this journal.
Authors are permitted and encouraged to post their work online (e.g., in institutional repositories or on their website) prior to and during the submission process, as it can lead to productive exchanges, as well as earlier and greater citation of published work.
The article and any associated published material is distributed under the Creative Commons Attribution-ShareAlike 4.0 International License