Deception in Conversation: The Study of Prince Andew's Inteview About Jeffrey Epstein Sexual Allegations
Sofista Lilla Saferia

Universitas Negeri Surabaya
Abstract views:
305
,
pdf downloads:
732
Keywords:
implicature, maxim violation, deception, what is said, what is implied
Abstract
Implicature as one of the prominent element of the principles has been developed in latest
studies, mainly the objective as it could be utilitizes to deliberately deceive the listeners on
occasion. Previous researches has shown how speaker could deceive listener despite not
say something untrue or lie by categorizing lie is not something that is said but what is
implied in conversation. This study aims to investigate implied meaning and deceiving
statements in conversation. The object of this study is Prince Andrew's BBC Newsnight
interview about his involvement with convicted sex offender, Jeffrey Epstein. The data used
document analysis based on the interview video of Prince Andrew's interview with Emily
Maitlis. The result of this study indicates that Prince Andrew's implied statements show
deeper relationship and more involvement with Jeffrey Epstein than what he was trying to
say in the interview.
Downloads
Download data is not yet available.
References
Bachenko, J., Fitzpatrick, E., & Schonwetter, M. (2008). Verification and implementation
of language-based deception indicators in civil and criminal narratives. Coling 2008
- 22nd International Conference on Computational Linguistics, Proceedings of the
Conference, 1(August), 41–48. https://doi.org/10.3115/1599081.1599087
Bowen, G. A. (2009). Document analysis as a qualitative research method. In Qualitative
Research Journal (Vol. 9). https://doi.org/10.3316/QRJ0902027
Choudhury, F. (2014). Can Language Be Useful in Detecting Deception? The Linguistic
Markers of Deception in the Jodi Arias Interview. Diffusion- The UCLan Journal of
Undergraduate Research, 7(2), 78–92. Retrieved from
http://bcur.org/journals/index.php/Diffusion/article/view/16
Dornyei, Z. (2007). [Zolt_n_D_rnyei]_Research_Methods_in_Applied_Lingu(z-lib.org).pdf (p.
. p. 336.
Grice, H. P. (1989). Studies in the Way of Word. Harvard University Press.
Grice, P. (1975). Logic of Conversation. The Semantics-Pragmatics Boundry in Philosophy,
pp. 41–58.
Horn, L., & Ward, G. (2006). The Handbook of Pragmatics.
Makhfiana, L., & Himmawati, D. R. (2017). DECEPTION ANALYSIS OF CHUTNEY
WINDHAM IN LEGALLY BLONDE MOVIE. 05, 66–73.
Meibauer, J. (2018). The Linguistics of Lying. Annual Review of Linguistics, 4(1), 357–375.
https://doi.org/10.1146/annurev-linguistics-011817-045634
Subiyanto, A., & Nip, M. A. (2016). THE MAXIM VIOLATION ON MATA NAJWA TALK SHOW
' Selebriti Pengganda Simpati .'
Willemsen, P., & Wiegmann, A. (2018). How the truth can make a great lie: An empirical
investigation of the folk concept of lying by falsely implicating. CogSci, (August),
–3521. Retrieved from https://www.pascalewillemsen.com/wpcontent/
uploads/2017/12/Wiegmann-Willemsen_How-the-truth-can-make-agreat-
lie.pdf
Bbcnews. (2019, November 17). Prince Andrew & the EPSTEIN scandal: The Newsnight
interview - BBC News. Retrieved March 18, 2021, from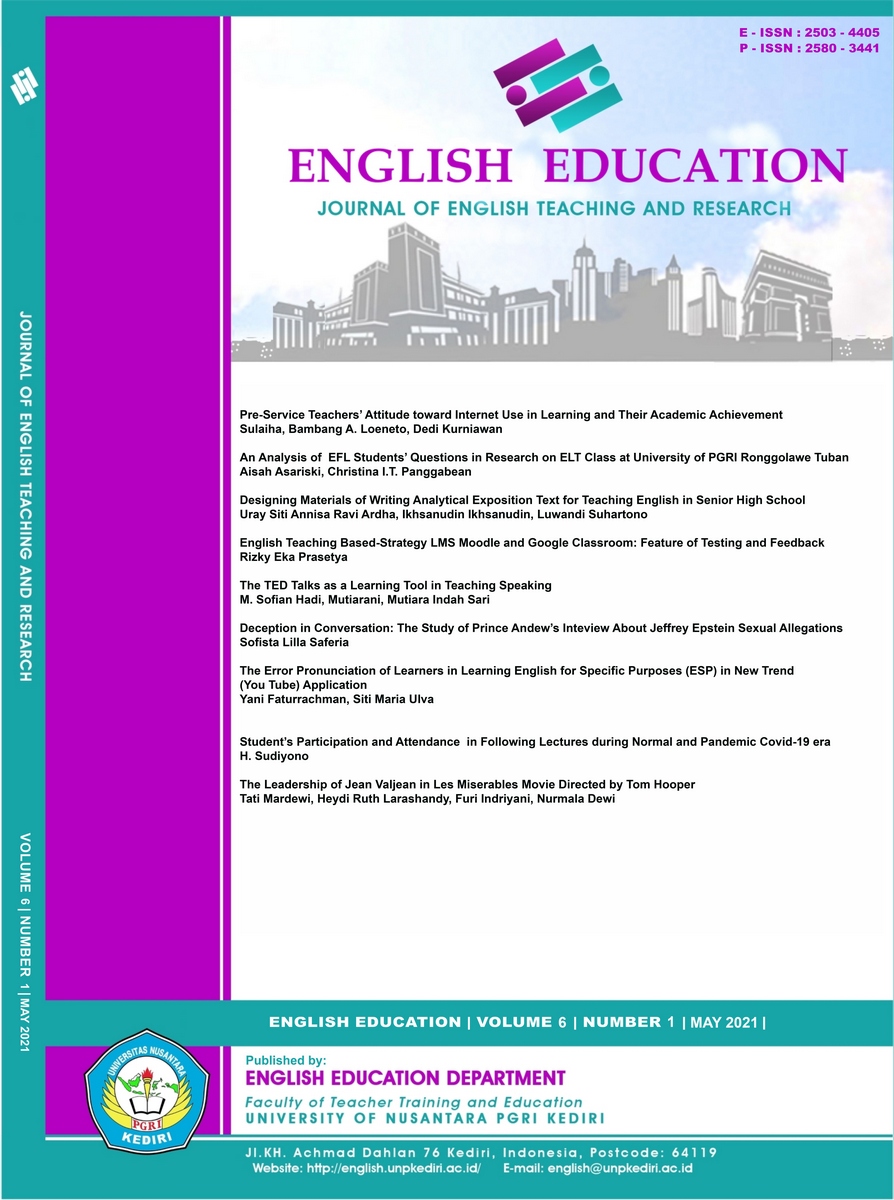 How to Cite
Sofista Lilla Saferia. (2021). Deception in Conversation: The Study of Prince Andew's Inteview About Jeffrey Epstein Sexual Allegations. English Education:Journal of English Teaching and Research, 6(1), 53-65. https://doi.org/10.29407/jetar.v6i1.15791
Authors who publish with this journal agree to the following terms:
1. Copyright on any article is retained by the author(s).
2. The author grants the journal, right of first publication with the work simultaneously licensed under a Creative Commons Attribution License that allows others to share the work with an acknowledgment of the work's authorship and initial publication in this journal.
3. Authors are able to enter into separate, additional contractual arrangements for the non-exclusive distribution of the journal's published version of the work (e.g., post it to an institutional repository or publish it in a book), with an acknowledgment of its initial publication in this journal.
4. Authors are permitted and encouraged to post their work online (e.g., in institutional repositories or on their website) prior to and during the submission process, as it can lead to productive exchanges, as well as earlier and greater citation of published work.
5. The article and any associated published material is distributed under the Creative Commons Attribution-ShareAlike 4.0 International License